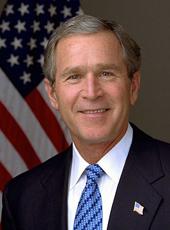 The President's Radio Address
Good morning. In a time of war, America's top priority should be to ensure that our troops on the frontlines get the funding they need. So beginning in February, I submitted detailed funding requests to Congress to fund operations in the war on terror. Congress has had months to pass this funding. Unfortunately, with just days to go before Members leave for their Christmas vacation, they still have not come through with these funds.
This week, Congress considered a defense authorization bill. An authorization bill is a pledge to spend money. Under such a bill, Congress will make a promise to fund our troops in combat. But a congressional promise, even if enacted, does not pay the bills. It is time for Congress to provide our troops with actual funding.
The stakes are high for our men and women on the frontlines. Our troops are striking blows against the terrorists and extremists in Iraq and Afghanistan, and these funds are critical to their continued success. The funds I have requested include money to carry out combat operations against the enemy. They include money to train the Iraqi and Afghan security forces to take on more responsibility for the defense of their countries. They include money for civilian agencies deployed in the field with our military to help build local governments and create jobs. And they include money for intelligence operations to protect our troops on the battlefield.
Congress has had plenty of time to consider the emergency funds our troops need. Time is running out. And Pentagon officials say that continued delay in funding our troops will soon begin to have a damaging impact on the operations of our military. Congress's responsibility is clear: They must deliver vital funds for our troops, and they must do it before they leave for Christmas. Our men and women on the frontlines will be spending this holiday season far from their families and loved ones. And this Christmas, they deserve more than words from Congress; they deserve action.
Thank you for listening.
NOTE: The address was recorded at 11:15 a.m. on December 14 in the Cabinet Room at the White House for broadcast at 10:06 a.m. on December 15. The transcript was made available by the Office of the Press Secretary on December 14, but was embargoed for release until the broadcast. The Office of the Press Secretary also released a Spanish language transcript of this address.
George W. Bush, The President's Radio Address Online by Gerhard Peters and John T. Woolley, The American Presidency Project https://www.presidency.ucsb.edu/node/276557