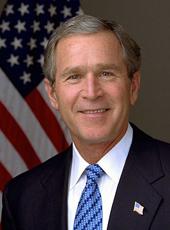 The President's Radio Address
Good morning. Today my administration is releasing our 2008 National Drug Control Strategy. This report lays out the methods we are using to combat drug abuse in America, and it highlights the hopeful progress we're making in the fight against addiction.
When I took office in 2001, our country was facing a troubling rate of drug abuse, particularly among young people. Throughout America, young men and women saw their dreams disrupted by the destructive cycle of addiction. So I committed our Nation to an ambitious goal. In 2002, we began efforts to cut drug use among young people by 25 percent over 5 years.
Our strategy has three key elements. First, we are working to disrupt the supply of drugs by strengthening law enforcement and partnering with other countries to keep drugs out of the United States. Second, we're working to reduce the demand for drugs through prevention and education programs. And third, we're providing treatment options for those who've fallen prey to addiction.
These efforts have produced measurable results. Since 2001, the rate of youth drug abuse has dropped by 24 percent. Young people's use of marijuana is down by 25 percent. Their use of ecstasy has dropped by more than 50 percent. And their use of methamphetamine has declined by 64 percent. Overall, an estimated 860,000 fewer young people in America are using drugs today than when we began these efforts.
Our drug control strategy will continue all three elements of this successful approach. It will also target a growing problem, the abuse of prescription drugs by youth. Unfortunately, many young Americans do not understand how dangerous abusing medication can be. And in recent years, the number of Americans who have died from prescription drug overdoses has increased.
One of the factors behind this trend is the growing availability of highly addictive prescription drugs online. The Internet has brought about tremendous benefits for those who cannot easily get to a pharmacy in person. However, it has also created an opportunity for unscrupulous doctors and pharmacists to profit from addiction.
One victim of such a doctor was Ryan Haight. The young man from California was only 18 when he overdosed on painkillers that were illegally prescribed over the Internet. With only a few clicks of the mouse, Ryan was able to get a prescription from a doctor he had never met and have the pills sent to his front door. The doctor who wrote Ryan's prescription had previously served time in prison for illegally dispensing controlled substances.
We need to prevent tragedies like this from happening in the future. So I'm asking Congress to work with my administration to put an end to the illegal sale of highly addictive prescription drugs on the Internet. By working together to meet this goal, we can ensure a safer future for our children.
Government action is only one part of the solution to the problem of drug abuse. Others in our society have an important role to play as well. People in the entertainment and sports industries serve as role models to millions of young Americans, and that comes with the responsibility to dispel the notion that drug abuse is glamorous and free of consequences. Teachers, pastors, and parents also have an obligation to help young people develop the character and self-respect to resist drugs. The Federal Government will continue to do its part to keep our young people safe, and I urge all Americans to do the same. Our children deserve nothing less.
Thank you for listening.
NOTE: The address was recorded at 7:50 a.m. on February 29 in the Cabinet Room at the White House for broadcast at 10:06 a.m. on March 1. The transcript was made available by the Office of the Press Secretary on February 29, but was embargoed for release until the broadcast. The Office of the Press Secretary also released a Spanish language transcript of this address.
George W. Bush, The President's Radio Address Online by Gerhard Peters and John T. Woolley, The American Presidency Project https://www.presidency.ucsb.edu/node/277526