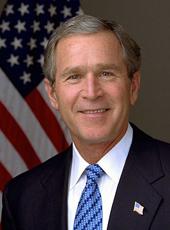 The President's Radio Address
Good morning. As we approach graduation season, many American students are looking forward to beginning college in the fall. This new chapter of life is a time of great expectation but can also be a time of anxiety. And that anxiety is being heightened by the recent credit crunch, which has raised concerns about the potential availability of student loans.
Recently, some lenders have dropped out of the Federal program that provides college loans to students who have often little or no credit. Without an adequate response, this means that many students may approach the upcoming school year uncertain of when they will be able to get their loans or where they will come from.
A slowdown in the economy shouldn't mean a downturn in educational opportunities. So we're taking decisive action now to ensure that college is accessible and affordable for students around the country.
One way we're helping is through the Department of Education's lender of last resort program, which works to provide loans for students who are unable to secure one from a lender. The Department is taking steps to ensure that the agencies involved in this program are ready and able to meet their responsibilities. If necessary, the Government will help fund these loans. With these actions, we will help ensure that a college education is not unnecessarily denied to those who have earned it.
These are important first steps, but more needs to be done. Congress needs to pass legislation that would give my administration greater authority to buy Federal student loans. By doing so, we can ensure that lenders will continue to participate in the guaranteed loan program and ensure that students continue to have access to tuition assistance.
A bill that would do this has already passed the House of Representatives. It is called the "Ensuring Continued Access to Student Loans Act." This bill provides the necessary tools for safeguarding student loans without permanently expanding the Government's role in their financing. The authority the bill grants is temporary and would be used only if it became apparent there was a shortage of loans available to students.
Ensuring the stability of student loans is essential to keeping educational opportunities open to all Americans. Last year alone, Federal loans provided more than $60 billion of aid to American students. This money helped pay for tuition, textbooks, and the lifetime of opportunity that comes with holding a college degree. Members of Congress now have a chance to preserve this opportunity, and they should take it.
I urge Congress to get the "Ensuring Continued Access to Student Loans Act" to my desk as soon as possible. A delay of even a week or two may make it impossible for this legislation to help students going to school this fall. By working together to improve and enact this legislation quickly, we can ensure that higher education remains within the reach for all those who've earned it, and we can ensure that America's college students can spend more time next fall thinking about their textbooks than their pocketbooks.
Thank you for listening.
NOTE: The address was recorded at 7:10 a.m. on April 25 in the Cabinet Room at the White House for broadcast at 10:06 a.m. on April 26. In his address, the President referred to H.R. 5715, the "Ensuring Continued Access to Student Loans Act of 2008." The transcript was made available by the Office of the Press Secretary on April 25, but was embargoed for release until the broadcast. The Office of the Press Secretary also released a Spanish language transcript of this address.
George W. Bush, The President's Radio Address Online by Gerhard Peters and John T. Woolley, The American Presidency Project https://www.presidency.ucsb.edu/node/277771