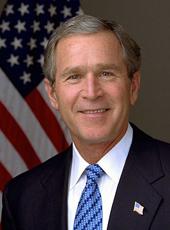 The President's Radio Address
Good morning. I'm speaking to you from the Middle East, where Laura and I are on a trip to Israel, Saudi Arabia, and Egypt.
When Air Force One touched down at Ben Gurion Airport in Tel Aviv, I was greeted by Israel's President and Prime Minister. I joined them in celebrating an historic milestone: Israel's 60th anniversary as an independent nation. And I assured them that Israel could count on America as a strong and steady ally long into the future.
During our visit, I had conversation with Israel's leaders about their efforts to forge peace with the Palestinians and our shared belief that a peace agreement is possible this year. I also had the opportunity to address members of the Knesset, Israel's elected legislature. I reminded these democratic leaders that America was the first nation in the world to recognize Israel's independence. I told them that 60 years later, America is proud to be Israel's best friend in the world. I reaffirmed the principles that make our alliance strong: a love of liberty, a devotion to justice, and a respect for human dignity. And I said that standing firm on these ideals is the surest way to defeat the extremists and build a future of peace for people throughout the Middle East.
For Laura and me, this visit to Israel was an especially moving experience. We toured the Bible Lands Museum, saw the Dead Sea Scrolls, and visited Masada, an inspiring shrine to Jewish courage and sacrifice in the first century. From the window of our hotel room, we had a magnificent view of the Old City of Jerusalem, home to some of the holiest sites in Judaism, Christianity, and Islam. And on our final morning in the city, we met some of Israel's young people, talented and hopeful citizens who gave me confidence in Israel's future.
On Friday, we visited another of America's friends in the Middle East, Saudi Arabia. I had a series of productive meetings with King Abdallah at his farm. We celebrated the 75th anniversary of diplomatic relations between the United States and Saudi Arabia. We reaffirmed our shared objectives of peace in the Holy Land, a secure and united Iraq, and a sovereign, independent Lebanon that is free of outside interference. We talked about oil production and gasoline prices. We discussed the King's efforts to diversify his nation's economy and the importance of political reform. And I thanked him for Saudi Arabia's strong commitment to fighting terror.
Our final stop is Egypt, where we are visiting the beautiful resort city of Sharm el-Sheikh. I am meeting with a number of key leaders from the region, including President Mubarak of Egypt, President Abbas of the Palestinian Authority, King Abdullah of Jordan, President Karzai of Afghanistan, Prime Minister Gilani of Pakistan, and several senior officials from Iraq's democracy.
I will also address the World Economic Forum in the Middle East. I will stress the importance of building dynamic and diverse economies that unleash the creativity and enterprise of citizens throughout the region, especially women and young people. I will make clear that the only way to ensure true prosperity is to expand political and economic freedom. And I will urge leaders across the region to reject spoilers such as the regimes in Iran and Syria, move past old grievances, and embrace the changes necessary for a day when societies across the Middle East are based on justice, tolerance, and freedom.
Reaching that day will not be easy. But with continued leadership from America and our friends in the region, I am confident that it can happen. And when that day arrives, the Middle East will be more hopeful, the world will be more peaceful, and the American people will be more secure.
Thank you for listening.
NOTE: The address was recorded at 7 p.m. on May 15 at the King David Hotel in Jerusalem, Israel, for broadcast at 10:06 a.m. e.d.t., on May 17. The transcript was made available by the Office of the Press Secretary on May 16, but was embargoed for release until the broadcast. Due to the 7-hour time difference, the address was broadcast between the President's meetings with President Hamid Karzai of Afghanistan and President Mahmoud Abbas of the Palestinian Authority in Sharm el-Sheikh, Egypt. In his address, the President referred to President Shimon Peres and Prime Minister Ehud Olmert of Israel; and King Abdallah bin Abd al-Aziz Al Saud of Saudi Arabia. The Office of the Press Secretary also released a Spanish language transcript of this address.
George W. Bush, The President's Radio Address Online by Gerhard Peters and John T. Woolley, The American Presidency Project https://www.presidency.ucsb.edu/node/277786