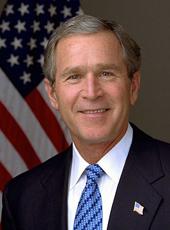 The President's Radio Address
Good morning. This week, the White House Office of Faith-Based and Community Initiatives held a conference to highlight the work being done by our Nation's armies of compassion, with help from the Federal Government. This conference demonstrated the remarkable difference these groups have made over the past 8 years.
When I first came to office, I was troubled to see many of our citizens' greatest needs going unmet: Too many addicts walked the rough road to recovery alone, too many prisoners had the desire for reform, but no one to show them the way. Across our country, the hungry, homeless, and sick begged for deliverance, and too many heard only silence in reply.
The tragedy was that there were good men and women across America who had the desire to help but not the resources. Because many of them worked with small charities, they were overlooked by Washington as potential partners in service. And because many of them belonged to faithbased organizations, they were often barred from receiving support from the Federal Government.
So I set about to change this with a new approach called compassionate conservatism. This approach was compassionate, because it was rooted in a timeless truth: that we ought to love our neighbors as we'd like to be loved ourselves. And this approach was conservative, because it recognized the limits of government: that bureaucracies can put money in people's hands, but they cannot put hope in people's hearts.
Putting hope in people's hearts is the mission of our Nation's faith-based and community groups, so my administration decided to treat them as trusted partners. We held these groups to high standards and insisted on demonstrable results. And they have delivered on those expectations.
Through their partnerships with the Government, these organizations have helped reduce the number of chronically homeless by nearly 12 percent, getting more than 20,000 Americans off the streets. They have helped match nearly 90,000 children of prisoners with adult mentors. And they have helped provide services such as job placement for thousands of former inmates.
Faith-based and community groups have also had a powerful impact overseas. In Africa, they have participated in our malaria initiative. In just over 2 years, this effort has reached more than 25 million people. And according to new data, malaria rates are dropping dramatically in many parts of that continent.
These groups have also been a vital part of the Emergency Plan for AIDS Relief. When we launched this program in 2003, about 50,000 people in sub-Sahara Africa were receiving antiretroviral treatment for HIV/AIDS. Today, that number is nearly 1.7 million.
Behind each of these statistics, there are stories of people whose lives have been changed by the kindness of faith-based and community organizations. One such person is Ramie Siler.
Ramie was once lost to substance abuse, recidivism, and depression. Even when she tried to get clean for her daughter's high school graduation, Ramie couldn't break free from her addiction. Then she found a faith-based group called the Next Door. At the Next Door, Ramie met people who stood by her throughout her difficult recovery. They gave her a second chance to become a productive citizen and good mother.
Today, Ramie is reunited with her daughter. She now helps other women as the Next Door case manager. When Ramie describes her turnaround, she uses the words of Saint Paul: "Old things have passed away; behold, all things are becoming new."
I'm grateful to every American who works to create this spirit of hope. Because of you, our Nation has made great strides toward fulfilling the noble goals that gave rise to the Faith-Based and Community Initiative. And because of you, I'm confident that the progress we have made over the past 8 years will continue. Because of you, countless souls have been touched and lives have been healed.
Thank you for listening.
NOTE: The address was recorded at 7:50 a.m. on June 27 at Camp David, MD, for broadcast at 10:06 a.m. on June 28. The transcript was made available by the Office of the Press Secretary on June 27, but was embargoed for release until the broadcast. The Office of the Press Secretary also released a Spanish language transcript of this address.
George W. Bush, The President's Radio Address Online by Gerhard Peters and John T. Woolley, The American Presidency Project https://www.presidency.ucsb.edu/node/277804