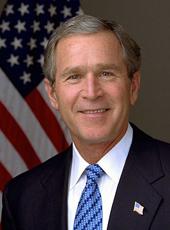 The President's Radio Address
Good morning. Since the attacks of September the 11th, 2001, American military forces, intelligence officers, and law enforcement officials have defended our country with skill and honor and have taken the fight to terrorists abroad. Here at home, we have created the Department of Homeland Security, strengthened our defenses, and improved the collection and analysis of vital intelligence. Yet we must do more.
To protect America, our country needs the best possible intelligence. The recommendations of the 9/11 Commission chart a clear, sensible path toward needed reforms to our Government's intelligence capabilities. I strongly support most of those recommendations, and my administration is already implementing the vast majority of those that can be enacted without a vote of Congress. In August, I established the National Counterterrorism Center, where all the available intelligence on terrorist threats is brought together in one place. Just last month, I issued two directives instructing the FBI and CIA to hire new personnel and to press forward with the transformation of these agencies to meet the threats of our time.
But other key changes require new laws. For the past few months, I have been working with the Congress to produce an intelligence reform bill that will make America more secure. Congress made good progress toward a strong new law. Provisions have been included to strengthen our ability to arrest those who aid and train terrorists, to hold dangerous terrorists who are awaiting trial, and to prosecute those who seek to acquire weapons of mass destruction.
The most important provisions of any new bill must create a strong, focused new management structure for our intelligence services and break down the remaining walls that prevent the timely sharing of vital threat information among Federal agencies and with relevant State, local, and private sector personnel. Our intelligence efforts need a Director of National Intelligence who will oversee all of the foreign and domestic activities of the intelligence community. The legislation I support preserves the existing chain of command and leaves America's 15 intelligence agencies, organizations, and offices in their current Departments. Yet the Director of National Intelligence will oversee all of America's intelligence efforts to help ensure that our Government can find and stop terrorists before they strike. To be effective, this position must have full budget authority over our intelligence agencies. The many elements of our intelligence community must function seamlessly, with an overriding mission to protect America from attack by terrorists or outlaw regimes.
I will continue to work with the Congress to reach an agreement on this intelligence bill. I urge Members of Congress to act next week so I can sign these needed reforms into law.
We have made great progress against the terrorists who seek to harm our Nation. We are safer, but we are not yet safe. The enemy is still plotting, and America must respond with urgency. We must do everything necessary to confront and defeat the terrorist threat, and that includes intelligence reform. By remaining focused and determined in these efforts, we will strengthen the safety of our citizens and defend our Nation from harm.
Thank you for listening.
NOTE: The address was recorded at 7:50 a.m. on December 3 in the Cabinet Room at the White House for broadcast at 10:06 a.m. on December 4. The transcript was made available by the Office of the Press Secretary on December 3 but was embargoed for release until the broadcast. In his remarks, the President referred to the National Commission on Terrorist Attacks Upon the United States (9/11 Commission). The Office of the Press Secretary also released a Spanish language transcript of this address.
George W. Bush, The President's Radio Address Online by Gerhard Peters and John T. Woolley, The American Presidency Project https://www.presidency.ucsb.edu/node/216769