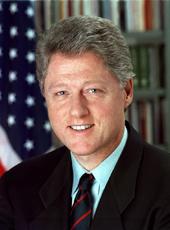 The President's Radio Address
Good morning. Next week, many millions of Americans, indeed people all across the world, will focus on the beaches of Normandy, France, for the commemoration of the 50th anniversary of D-Day. I'll be leaving for Europe in the next few days to represent our people at the ceremonies honoring the sacrifices of those who fought in World War II. D-Day, June 6, 1944, saw the single greatest mobilization of any fighting force in human history. It was the turning point of World War II and in many respects a turning point of the 20th century. It was the beginning of the end of Nazi tyranny and a downpayment on all the years of freedom the rest of us have enjoyed ever since.
Memorial Day, on Monday, reminds Americans everywhere that the ultimate price of freedom is never fully paid. This past week, I presented the Medal of Honor, our Nation's highest award for valor, to the widows and families of Sergeants Gary Gordon and Randall Shughart, who served nobly, fought bravely, and died while saving the life of a comrade in Somalia last October.
It was the first time this medal had been earned in over 20 years. Sergeants Gordon and Shughart served above and beyond the call of duty and died in the most courageous and selfless way any human being can act. They risked their safety without hesitation and gave their lives to save a comrade. Because of their heroism and that of others on October 3d, America was able to complete its mission in Somalia without any further casualties, turn over its responsibilities to the United Nations, to their soldiers from other lands, and to come home knowing that our efforts saved the lives of hundreds of thousands of people and gave Somalia at least a chance to become a stable land. These soldiers and others will live in the memories of those whose lives they touched.
From the American Revolution to the Civil War, down through all the conflicts of our own century, the lives of all Americans have been moved by every patriot who ever fought and died for the freedoms we all share. To honor the sacrifices of those who have gone before, we must build on their service in a very different and challenging world. The World Wars are over. The cold war has been won. Now, it is our job to secure the peace. For the first time in history, there is a chance that democracy and economic progress can reach across all Europe and to the far corners of the world. It is an exciting and promising challenge. But if we are to expand freedom's reach, we must first and foremost stand ready to protect America from danger's reach.
No era is ever free of dangers; none ever will be. And ours is no exception. The cold war world, which was bound up in a nuclear standoff, has been traded for a new world yearning for stability and facing unimaginable chaos. Nations once burdened by the smothering grip of communism faced economic insecurities as they moved toward market economies. The heavy lid of authoritarian regimes has been lifted to reveal the smoldering embers of ethnic and religious hatreds. Millions are dying from hunger rooted in environmental and economic devastation and uncontrolled migration. Millions more hunger to be free. And all of us on this Earth still face serious threats from the spread of nuclear weapons technology and the spread of other weapons of mass destruction around the world.
In this new era we cannot dispatch our troops to solve every problem where our values are offended by human misery, and we should not. But we are prepared to defend ourselves and our fundamental interests when they are threatened. We'll do so on our own whenever necessary, and we'll act with others whenever that's possible and prudent. In all cases, as the great power of this era, we have a responsibility to lead, because millions around the world look to us for strength, for ideals, for the power of example.
Today more than any time in human history, we live in an interdependent world where the fortunes of all nations are tied together. Through two World Wars, we learned that the security of our freedom here at home depends on the survival of freedom overseas. That's why we still have troops in Europe and in Korea. Now more than ever before, the strength of our economy here at home also is joined to the strength of economies abroad.
In an age of increasing interdependence, our mission is to provide for our own security, fighting terrorism, fighting proliferation of weapons of mass destruction, fighting conventional threats; then to help other nations achieve economic reforms and prosperity and become more democratic. A world of free and stable trading partners is not only good for our economic security, it's important for our national security.
That's why we've worked so hard for the North American Free Trade Agreement, for the worldwide GATT trade agreement, to reach out to the countries of the Asian-Pacific region and Latin America, to involve South Africa in the world's growing trade, and now to try to engage the Chinese to support not only human rights in that country but the continuing evolution of economic integration.
To be sure, there is more danger and uncertainty ahead, but there also awaits a world of promise. As we go forward, we should learn from the brave veterans who stormed the shores of Normandy and fought in Italy 50 years ago.
They had no guarantee of survival when they approached their beachhead. Many now say that even with 50 years gone by, they remember expecting that they would not survive. They had no guarantees, but they went on against gunfire, under shelling, over land mines. Against all, they plowed ahead. And they knew that unless they prevailed, our very way of life might be lost.
The sacrifices of their yesterdays have given us the promise of freedom in our tomorrows. A grateful nation must never forget that. It is our obligation to make a world in which no D-Day will ever be necessary again. Working together, with American leadership, we can do that. We can resist tyranny. We can combat terrorism and contain chaos. We can work for peace, for progress, for human rights. The sacrifices of those who went before us demand no less. Like the soldiers who fought on D-Day and in Italy, our great Nation must always push onward to see our freedom endure. For when our memories exceed our dreams, we have begun to grow old. And it is the destiny and the obligation of America to remain forever young.
Thank you for listening.
NOTE: This address was recorded at 4:41 p.m. on May 27 in the Roosevelt Room at the White House for broadcast at 10:06 a.m. on May 28.
William J. Clinton, The President's Radio Address Online by Gerhard Peters and John T. Woolley, The American Presidency Project https://www.presidency.ucsb.edu/node/219110