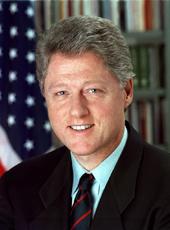 The President's Radio Address
Good morning. I want to talk to you about two important breakthroughs for the health and security of our families that took place in Congress this week, as we work with both parties to agree on a budget for next year that reflects our values and keeps us moving toward a balanced budget.
Nothing is more important to our families than access to quality health care, and we have made real progress. Last year we stopped the Republican majority from repealing the guarantee of quality health care for children, pregnant women, the elderly, and people with disabilities. Last month I signed the Kennedy-Kassebaum bill to guarantee Americans will not lose health coverage as they change jobs or just because a member of their family gets sick. When it comes to improving health care we are finally moving on the right track.
In my acceptance speech in Chicago and across America I have called upon Congress to take the next steps. And yesterday congressional leaders answered this call in two very important ways. First, Congress agreed to tell insurance companies, newborns and their mothers deserve at least 48 hours in the hospital after childbirth.
In 1970, the average length of stay for an uncomplicated delivery was 4 days. By 1992, it was 2 days. Today, a large and growing number of insurers refuse to pay for anything more than 24 hours, and some even recommend release as early as 8 hours after delivery. That's risky and wrong. And it can have severe health consequences for new babies, including feeding problems, dehydration, brain damage, and stroke.
We've all heard heartbreaking stories like the family in New Jersey sent home after 24 hours, whose baby died 24 hours after that from an infection that would have been detected and treated in a hospital. Doctors, not rigid insurance company rules, should decide when a new baby goes home.
This new legislation requires insurance companies to pay for new mothers and their babies to stay in the hospital for 48 hours, and 96 hours if the mother has had a cesarean. From now on, families may still rush to the hospital, but they won't be rushed out of it, because parents deserve at least 2 days of care and comfort when they can hold their child, bond with the child, introduce the child to the world, and make sure their child is in the very best health. America has a responsibility to protect the health of our families, and that's exactly what we're working to do.
Second, Congress agreed that it's time to ensure that people who need treatment for mental illness will get the treatment they need without discrimination. From now on, insurance companies will have to set the same limits for mental illness that they set for physical illness—no more double standards.
I've been with Tipper Gore for the past 2 days. She's one of our most effective advocates for the mentally ill. I know how much this means to her and to millions of other Americans who have dealt with this challenge in their own families.
I repeatedly urged Congress to take these steps, and now I urge them to finish their work as quickly as possible. When I have the bill to guarantee 48 hours in the hospital for new mothers and their babies, and to stop insurance discrimination against the mentally ill, I will sign it with enthusiasm.
Of course, we still have more to do. No child should ever be put at risk in America because a parent has lost his or her job and the health care that goes with it. We must make sure that people continue to have health care coverage when they're between jobs and looking for a new job. My balanced budget includes these reforms, along with expanded coverage under Medicare for mammograms and respite care for families who have Alzheimer's victims.
This week's agreement shows what we can accomplish when we set aside rigid agendas, put aside partisanship, and work together. Just a year ago Congress was consumed by bitter partisanship as the Republican majority sought deep cuts in Medicare, Medicaid, education, and the environment that were unnecessary to balance the budget.
I vetoed their plan, and the American people supported my decision. So this year, in clear contrast, we are getting things done to help protect our children and our parents. And we're doing it even as we move toward a balanced budget. That's good for our families and good for our Nation.
When we recognize that we're all in it together, that no one should have to go it alone, there are things that we must do as a nation together, we are building our bridge to the 21st century.
Thank you for listening.
NOTE: The address was recorded at 4:35 p.m. on September 20 at the Oregon Museum of Science and Industry in Portland, OR, for broadcast at 10:06 a.m. on September 21.
William J. Clinton, The President's Radio Address Online by Gerhard Peters and John T. Woolley, The American Presidency Project https://www.presidency.ucsb.edu/node/221363