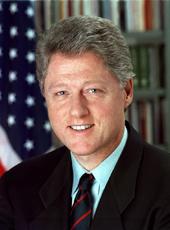 The President's Radio Address
Good morning. Today we're taking important new steps to make adoption easier and to move children out of foster care faster. These efforts will help to give even more children what every child needs and deserves, loving parents and a strong and stable home.
I'm delighted to be joined in the Oval Office today by a remarkable group of children and parents who know firsthand the tremendous possibilities of adoption and by the First Lady, who has worked so long and hard on this issue and whose efforts have made today possible.
I'm especially pleased to be able to take this action now, in this season of hope and light. The holidays we celebrate this month teach us that through faith and love we can truly repair the world. I can think of no better way to fulfill the promise of this season than to bring a child into a family and a family to a child.
There are more than 450,000 children in the Nation's foster care system. They are placed there because of abuse, neglect, or a home life that is neither safe nor secure. While most of these children eventually return to their original homes, nearly 100,000 of them simply don't have that option. Those children wait far too long, typically 3 years or more, to find permanent homes and families to love them.
Promoting adoption has been at the heart of our administration's efforts to protect our children and strengthen our families. Earlier this year I was proud to sign a $5,000 tax credit to help families adopt children. We put an end to racial preferences for adoption. No longer can laws keep children of one race from nurturing arms of adoptive parents of another. This is a good start, but we must do more.
That is why I have just signed a Presidential directive with a clear goal: We will double the number of children we move from foster care to permanent homes, from 27,000 a year today to 54,000 a year by the year 2002. With this effort we're saying no child should be trapped in the limbo of foster care, no child should be uncertain about what the words "family" or "parents" or "home" mean, particularly when there are open arms waiting to welcome these children into safe and strong households where they can build good, caring lives.
As part of this initiative, I'm directing the Secretary of Health and Human Services, Donna Shalala, who is also with us today, to launch an extensive effort to determine what steps we must take to meet our goal. I want the Secretary to report back to me with her recommendations in 60 days. This report must tell us how we can help States set and meet urgent new adoption targets. It must describe how we can improve coordination among local, State, and Federal authorities so that every community has access to the best ways to encourage adoption. And it must outline what sensible financial incentives we can provide States to raise adoption rates.
I also want the Secretary to determine what additional changes we can make in Federal laws and regulations to ensure that children won't get trapped in foster care. And I want to know if there are any new provisions we can put in place to move children through the system faster and to protect them when they leave.
There are other steps we are taking immediately. I'm instructing the Departments of Treasury, Labor, Commerce, and Health and Human Services to launch an all-out effort to heighten public awareness about adoption and to recognize those in the private sector who are committing themselves to this important cause.
Let me also say how grateful I am to those in Congress of both parties who are working so hard to make adoption a reality for America's most vulnerable children. I want to thank especially Senators Rockefeller and DeWine and Representatives Kennelly and Camp for their efforts.
The fact that we are commemorating the birth of a child that began life in a manger and became the Prince of Peace should remind us that the promise of God has been placed in every child. We must work tirelessly to make sure that every boy and girl of America who is up for adoption has a family waiting out to reach him or her. No child should be in foster care for one day longer than he or she needs to be.
This is a season of miracles, and perhaps there is no greater miracle than finding a loving home for a child who needs one.
Thanks for listening.
NOTE: The President spoke at 10:06 a.m. from the Oval Office at the White House. Following the address, the First Lady led a discussion with foster care families which was included in this release.
William J. Clinton, The President's Radio Address Online by Gerhard Peters and John T. Woolley, The American Presidency Project https://www.presidency.ucsb.edu/node/222564