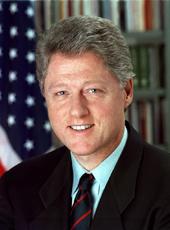 The President's Radio Address
Good morning. Today I want to talk with you about keeping our families safe and secure, and especially about how we can help parents to protect their children.
Since I took office we've worked hard to combat the crime and violence that has become all too familiar to too many Americans. We passed a sweeping crime bill in 1994, against steep opposition from partisan politicians and special interest group pressure. We're now putting 100,000 new police officers on America's streets in community policing. Nearly half of them are already funded. We banned 19 deadly assault weapons, passed the Violence Against Women Act to help our communities resist domestic violence. We passed the Brady bill, and already it's stopped over 60,000 felons, fugitives, and stalkers from buying a gun.
We're helping our communities give children something to say yes to, positive programs and good role models to help them stay away from crime and drugs and gangs. These laws are making a real difference across our country. In city after city and town after town, crime and violence are finally coming down. Crime is coming down this year overall in America for the 4th year in a row. But we all know we've got a long way to go before our streets are safe again.
And as we move forward, we have to remember we're not just fighting against crime, we're fighting for something: for peace of mind, for the freedom to walk around the block at night and feel safe, for the security of neighborhoods that aren't plagued by drugs, where you can leave your doors unlocked and not worry about your children playing in the yard. We're fighting to restore a sense of community, and most of all, we're fighting for our children and their future.
Nothing is more important than keeping our children safe. We have taken decisive steps to help families protect their children, especially from sex offenders, people who, according to study after study, are likely to commit their crimes again and again. We've all read too many tragic stories about young people victimized by repeat offenders. That's why, in the crime bill, we required every State in the country to compile a registry of sex offenders and gave States the power to notify communities about child sex offenders and violent sex offenders that move into their neighborhoods.
But that wasn't enough, and last month I signed Megan's Law that insists that States tell a community whenever a dangerous sexual predator enters its midst. Too many children and their families have paid a terrible price because parents didn't know about the dangers hidden in their own neighborhood. Megan's Law, named after a 7-year-old girl taken so wrongly at the beginning of her life, will help to prevent more of these terrible crimes.
Now we must take the next step. Senator Biden and Senator Gramm have introduced bipartisan legislation to develop a national registry to track sexual offenders and child molesters across the country. They're on the right track, but we have to move forward now, and we can. Today I'm directing the Attorney General to report back in 60 days with a plan to guarantee our police officers this information right away. We must make sure police officers in every State can get the information they need from any State to track sex offenders down and bring them to justice when they commit new crimes. The police officer in Cleveland should be able to get information on all known sex offenders in Cleveland, whether they committed their crimes in New York or Los Angeles. Every bit of information we have about the people who commit these crimes should be available to law enforcement wherever and whenever they need it.
The crime bill laid the foundation for this national registry by requiring States to track sexual offenders within their borders. Megan's Law makes sure parents get this information so they can take steps to watch out for their children. Now I want the Attorney General to work with the States and the Congress to link this information together to make it available to law enforcement at every level in every State. Police officers will be able to prevent more crimes and catch more criminals if they can share and compare the latest information we have.
We respect people's rights, but there is no right greater than a parent's right to raise a child in safety and love. That's why the law should follow those who prey on America's children wherever they go, State to State, town to town.
We'll never be able to eliminate crime completely. But as long as crime is so commonplace that we don't even look up when horror after horror leads the evening news, we know we've got a long way to go. Yes, the crime rate is coming down for 4 years in a row. And, yes, our strategies of 100,000 police, the Brady law, the assault weapons ban, the domestic violence law, the youth prevention programs, these things are helping. But I won't be satisfied until America is once again a place where people who see a report of a serious crime are shocked, not numb to it.
We can make that America real. We know we can if we work together and put our children first.
Thanks for listening.
NOTE: The address was recorded at 12:23 p.m. on June 21 at McCormick Place in Chicago, IL, for broadcast at 10:06 a.m. on June 22.
William J. Clinton, The President's Radio Address Online by Gerhard Peters and John T. Woolley, The American Presidency Project https://www.presidency.ucsb.edu/node/222444