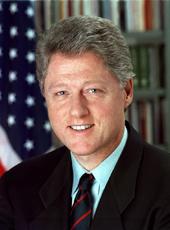 The President's Radio Address
Good morning. I'm speaking to you today from Lyons, France, where the leaders of the world's industrialized democracies have gathered for our annual summit. We're meeting at a time of peace and prosperity but in the shadow of terrorism. The cowardly, brutal attack on American military personnel in Saudi Arabia is on everyone's mind. This weekend, all Americans will join me in mourning the 19 Americans who lost their lives, in sending prayers to their loved ones. I've made it clear that I'll do everything in my power to discover who's responsible, to pursue them, and to punish them.
I am pleased that our summit partners here agreed with me to direct our agenda to the work we can do together to fight terrorism and international crime. This is especially important now. While the international perils of the 20th century, fascism and communism, have been defeated, new dangers are rising up to take their place as we enter the 21st. New technologies and the rapid movement of information, money, and people across borders bring us closer together and enrich our lives. But they also make us all more vulnerable to rogue states, crime, drugs, and terrorism.
Unlike the previous great struggles of this century, we must confront these threats along a moving front, from the Tokyo subway to the streets of London, from a bus in Paris to the World Trade Center in New York and the heartland in Oklahoma City and, of course, in Saudi Arabia. But just as no enemy could drive us from the fight to meet our challenges and protect our values during World War II and the cold war, we will not be driven from the frontiers of our fight against terrorism today. Working with our partners around the world, we will take on the forces of terror.
As a result of United States leadership, here in Lyons we have adopted specific recommendations to combat crime and terrorism, practical steps that all governments can take and should take. They fall into four key areas.
First, we need to make sure that criminals and terrorists have nowhere to hide. So we will strengthen our efforts to prosecute and extradite major criminals and terrorists, to share information, and to develop joint witness protection programs.
Second, we must deny criminals and terrorists the resources they need to do violence to our citizens. So we will work to seize their assets, to gather more information on their financial transactions, and to shut down money laundering.
Third, we have to strengthen the defense of our national borders so that criminals and terrorists cannot violate them. So we will crack down on weapons trafficking, alien smuggling. We'll do a better job in safeguarding travel documents from fraud and abuse. And we will track forged or stolen documents together.
Finally, we must stop criminals and terrorists from misusing the high-tech communications we all rely on for commerce and cooperation, so we will take the fight to those who would abuse government and financial institutional data bases.
There's more we can do together, so we directed our senior officials to come together as soon as possible to discuss additional steps to intensify the worldwide fight against terrorism.
All these steps against terrorism, international crime, drug trafficking, and the spread of weapons of mass destruction are part of a campaign America has been leading for 3 years now. Without our leadership, the job will not get done. The good news is, the United States at this G-7 summit is in the best position we've been in for years to protect the physical security of our people, in part because of our strong leadership toward a more stable and prosperous economic future for ourselves and our allies.
When I attended my first G-7 in Tokyo 3 years ago, the United States was not in a strong position to lead. Our partners said, "Instead of telling us what to do, you should get your own house in order." Well, they were right. When I took office, our budget deficit was at an alltime high. Unemployment was more than 7 percent. We had the slowest job growth since the Great Depression. And we were being outcompeted in everything from automobiles to computer chips. But America has traveled a great distance from Tokyo in 1993.
Here in Lyons in 1996, I was gratified to hear our partners praise the strength of our economy. We cut the budget deficit in half and proposed a plan to balance the budget. Lower interest rates have helped us to slash unemployment to 5.6 percent and create 9.7 million new jobs. Inflation is near a 30-year low. Interest rates have stayed down. Business investment is up nearly 30 percent. And America is the number one exporter and the most competitive nation on Earth.
We stand on the brink of a new century and an age of great possibility. To realize its potential, we must face the threats to our generation, just as previous generations faced the threats to theirs. If we show strength and steadiness and judgment and flexibility in the face of change, if America continues to lead the world and to work with others as we have here in Lyons, we will meet our challenges and protect our values. And we will enter the 21st century prosperous and secure with the greatest opportunity of any time in our history.
Thanks for listening.
NOTE: The address was recorded at 3 p.m. on June 28 in the Cite Internationale in Lyons, France, for broadcast at 10:06 a.m. on June 29.
William J. Clinton, The President's Radio Address Online by Gerhard Peters and John T. Woolley, The American Presidency Project https://www.presidency.ucsb.edu/node/222602