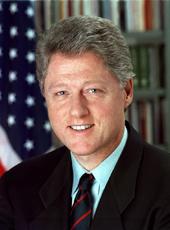 The President's Radio Address
Good morning. This week, millions of Americans have gathered with family and friends to share Thanksgiving. Much has changed for America since George Washington first proclaimed a day of thanksgiving for our new Nation in 1789. But the Thanksgiving spirit—sharing our good fortune with others, coming together to meet our common challenges—that is as important as ever. That's why we must keep that spirit alive throughout the year through citizen service.
Citizen service must be at the heart of our efforts to prepare America for the 21st century, as we work to guarantee all Americans the opportunity and conditions to make the most of their own lives and to help those who need and deserve it with a hand up. My administration's most important contribution to citizen service is AmeriCorps, our national service program that already has given more than 100,000 young Americans the opportunity to serve our country and earn money for a college education. In community after community, AmeriCorps members have proved that service can help us meet our most pressing social needs.
For example, in Simpson County, Kentucky, AmeriCorps members helped second graders jump three grade levels in reading. In boys and girls clubs all across the country, AmeriCorps members are mentors for at-risk young people. Habitat For Humanity relies upon AmeriCorps members to bring in more volunteers and build more houses. In communities beset by floods, tornadoes, and hurricanes, AmeriCorps members have helped to rebuild homes and restore hope.
Now, AmeriCorps members are mobilizing thousands and thousands of college students from 800 campuses in our America Reads program, to make sure that all our young people can read independently by the third grade. AmeriCorps brings people of every background together to work toward common goals. And after years of partisan fighting over it, I'm pleased that Congress now seems ready to come together to support AmeriCorps.
Today I'm proposing legislation to give more Americans the chance to serve by strengthening AmeriCorps and our student and senior citizen service programs and extending them for 5 years. This legislation reflects the spirit of the Presidents' Summit on Service, where last spring thousands of Americans pledged to give our children the support they need to make the most of their lives. As General Colin Powell reported this week, we've made a lot of progress since the summit with more AmeriCorps members, more reading tutors for our children through America Reads, more mentoring programs for young people, more partnerships with private businesses and community groups. At Thanksgiving, I want to thank especially the citizens and businesses who have worked with us to ensure that our Nation's surplus food helps to feed the hungry, not fill up dumpsters.
Now we must create more opportunities for people to serve all year long and, through service, to reach out to one another across the lines that divide us. In honor of the spirit of citizen service embodied in the life of Martin Luther King, Jr., the Congress has designated the Martin Luther King holiday as a day of national service. And I'm pleased to announce that our Corporation for National Service has awarded 73 grants to communities from Boston to Los Angeles, to help make this day of service a resounding success. Dr. King once said that everybody can be great because anybody can serve; you only need a heart full of grace and a soul generated by love.
As we look forward to a joyous holiday season, let us pledge to live up to those words by making citizen service a part of our lives every day.
Thanks for listening.
NOTE: The address was recorded at 6:25 p.m. on November 28 in the Residence at Camp David, MD, for broadcast at 10:06 a.m. on November 29. In his remarks, the President referred to Gen. Colin Powell, USA (Ret.), chairman, America's Promise—The Alliance For Youth.
William J. Clinton, The President's Radio Address Online by Gerhard Peters and John T. Woolley, The American Presidency Project https://www.presidency.ucsb.edu/node/223685