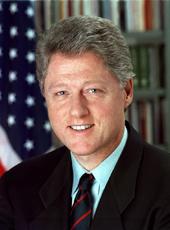 The President's Radio Address
Good morning. Today I'd like to speak to you about a breakthrough for education, our agreement to move forward with national tests to make sure every schoolchild masters the basics. The best way to give our children the world-class education they need to thrive in the 21st century is by setting high standards of academic achievement. When we fail to encourage our children and expect a lot of them, we in fact encourage them to fail. That's why I've called upon America to join me in raising educational standards and adopting national exams to measure our progress at meeting the standards.
We've now taken a significant step forward in this effort. Last week I signed an education bill that supports the high national standards and the development of the first-ever voluntary tests of fourth graders in reading and eighth graders in math. And as I had recommended to Congress, we put control of the tests in the hands of the independent, bipartisan National Assessment Governing Board, often called NAGB. Congress created NAGB a decade ago; it includes Governors and legislators of both parties, business leaders, parents, and teachers.
I'm pleased to be joined in the White House by the NAGB board members, who have just convened for the first time since taking on their new responsibilities, and they've just presented me with their plan for developing the national tests, including a pilot test next fall. Several new members have been appointed to help, including Diane Ravitch, an Assistant Secretary of Education under President Bush; Lynn Marmer, the president of the Cincinnati school board; and Jo Ann Pottorff, a member of the Kansas Legislature. I'm grateful they've agreed to take on this important role.
I'm confident the board will ensure that the new tests measure what they should, the basics—nothing more, nothing less. These tests will be national, not Federal. And as Diane Ravitch has said, they'll be a yardstick, not a harness. They're a vital measuring tool to help parents, teachers, and school officials demand accountability and excellence.
This is a landmark step toward putting high standards in the classroom and keeping politics out. It builds on what is clearly the best year for American education in more than a generation.
This year, we have made great progress on our pledge to ensure that every 8-year-old can read, every 12-year-old can log on to the Internet, every 18-year-old can go on to college. In the bill I signed last week, we helped to build a citizen army of reading tutors; nearly doubled our investment in education technology; we expanded public school choice and competition; and we provided the largest increase in Pell grant scholarships in two decades.
As we raise standards for our children, we're also providing them with the tools they need to meet the challenge and seize the opportunities of the 21st century. Working together, we're lifting our children's sights, raising their hopes, and honoring our obligation to improve education today so that they can meet the challenges of tomorrow.
Thanks for listening.
NOTE: The address was recorded at 7:30 p.m. on November 21 in the Roosevelt Room at the White House for broadcast at 10:06 a.m. on November 22.
William J. Clinton, The President's Radio Address Online by Gerhard Peters and John T. Woolley, The American Presidency Project https://www.presidency.ucsb.edu/node/223562