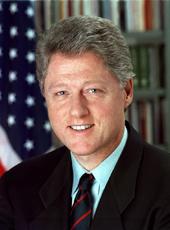 The President's Radio Address
Good morning. Tomorrow I will be in Philadelphia at the Summit for America's Future. Together with Presidents Bush, Carter, and Ford, and General Colin Powell, I will issue a call to citizen service to all Americans. For 3 days we'll explore how we can all play a role in helping America's young people build a better future and, just as important, how all our young people can help to build a better America.
This is the right time to enlist in America. We're on the verge of a new century filled with promise and challenge. But to make the most of it, we must ensure that all our people, and especially all our children, have the opportunity to reach their highest potential. And we must understand that we can do that only if we all join hands, reaching across the lines that divide us, to build one America together. That's an enormous job, but it's a job we'll have to do if we really want to prepare our country for the 21st century.
Citizen service is neighbor helping neighbor. It's part-time volunteers and full-time community service workers. It's communities coming together to solve common problems. And it is an essential part of what it means to be an American. We all have to promote it.
That's why I was so proud to launch our AmeriCorps program 4 years ago. Since then, 50,000 young people have taken a year or two to work full-time, mobilizing hundreds of other volunteers, helping the old and the young, the environment, helping communities afflicted with disaster, as I saw in North Dakota just a couple of days ago. And in the process, they also earn some money for college tuition, as they give back to their country.
But one of the important ways our AmeriCorps volunteers have found to give back is to help our children learn to read. Their success has been remarkable. To give just one example, 25 young AmeriCorps members went to work in Simpson County, Kentucky, where second graders' reading scores were disturbingly low. With the help of AmeriCorps volunteers, second graders all across that county jumped three full reading levels in just one year. The AmeriCorps volunteers made all the difference in those students' lives, and the service changed the lives of the AmeriCorps volunteers.
We know that intensive tutoring like this works. Now we have to do for all America's children what the AmeriCorps volunteers did for the children of Simpson County. That's what our America Reads challenge is all about. It's spearheaded by our Secretary of Education, Dick Riley, and Carol Rasco, my former Domestic Policy Adviser here in the White House. The America Reads challenge marshals the resources of entire communities—schools and libraries, religious institutions, universities, college students and senior citizens, all working together with teachers and parents to teach our children to read.
We need America Reads, and we need it now. Studies show that students who fail to read well by the fourth grade are more likely to drop out of school and less likely to succeed in life. But 40 percent of our fourth graders still can't read at a basic level. We can, and we must, do better than this.
With me today are AmeriCorps members, tutors, and parents from four different organizations who are helping to make a real difference in our children's lives: First, the Home Instruction Program for Preschool Youngsters, or HIPPY, an early learning program involving parents and children; second, Hands On Atlanta, from Georgia; then, Reading One on One from Texas; and Oregon's SMART. All help to recruit volunteers and teach our children to read. Together these groups reach thousands of children every year. America Reads will help them and others to reach millions more.
This Monday I will send my America Reads legislation to the Congress so that we can mobilize the citizen army of one million America Reads tutors I called for in my State of the Union Address, to make sure that every 8-yearold child in America can pick up a book and say, "I can read this all by myself." This legislation is part of my balanced budget. It will fund 25,000 reading specialists and tutor coordinators, including 11,000 AmeriCorps members and many others. They will recruit and train our America Reads citizen army, bringing reading help to the 3 million children who need it the most.
It will also help parents to instill a lifelong learning of reading in children. Parents are our children's first teachers, and we have to do everything we can to make their jobs easier. Community groups like HIPPY, which Hillary and I worked hard to bring to Arkansas, are doing exactly that. The plan I'm sending to Congress will expand their ability to reach more families. My balanced budget also increases Head Start funding to reach one million 3- and 4-year-olds, and expands title I to aid teaching and learning in classrooms and the Even Start Family Literacy Program.
But it will take more than money to make sure that all our children can read. It will take a commitment from our entire community. That's why I'm pleased to announce that as part of the Service Summit, many of our major corporations and nonprofit organizations will help us to recruit tens of thousands of additional tutors for America Reads. One hundred sixtysix colleges all across America already have answered the challenge I issued in December and pledged thousands of their students to be reading tutors. I thank them for their support.
Last summer in Wyandotte, Michigan, when I announced the America Reads program, I sat with two young children and read "The Little Engine That Could," a book that has taught countless children that they can do anything they think they can. I want every child in America to know that he or she can read. And America Reads will make sure that all those children can.
I hope some of you who are listening will consider being part of America Reads. After all, we need a million citizen servants, and we're not there yet. If you're interested, call 1-800- USA-Learn, the Department of Education's hotline, or just contact your local elementary school or library.
All of us can help. All you really need to do is roll up your sleeves, sit with a child, and open a book together. And remember, you'll be doing more than just reading, you'll be writing an exciting new chapter in America's progress.
Thanks for listening.
NOTE: The President spoke at 10:06 a.m. from the Oval Office at the White House.
William J. Clinton, The President's Radio Address Online by Gerhard Peters and John T. Woolley, The American Presidency Project https://www.presidency.ucsb.edu/node/224154