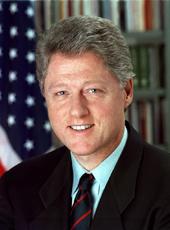 The President's Radio Address
Good morning. This week a record number of American children will be heading back to school, reminding us of our greatest obligation, to prepare our children for the 21st century. We can't do that without a commitment to educational excellence for all those children, expecting them to meet high standards and testing to see if they do.
In my State of the Union Address, I challenged every State to adopt high national standards of academic excellence, defining what every child should learn, and by 1999, to join in a national test for all fourth graders in reading and all eighth graders in math, to ensure they have mastered these basics.
We know that challenging our students to achieve excellence works. This week the College Board announced that SAT math scores continue to rise; and today the National Assessment payments for Education Progress, the organization that issues what we call the Nation's report card, announced that in recent years we have improved math and science performance at every age level. Most exciting, more high schoolers are taking challenging courses and college-level courses.
Still, we all know we have more to do to improve our schools and to raise learning levels for all of our students. I've been working to improve education for nearly 20 years now, and I am convinced we can give our children the education they need to thrive in the 21st century only by setting high standards and by challenging students, teachers, parents, and principals to meet them. National standards will help us to upgrade curricula, improve teaching, and target students and schools who need assistance.
I'm pleased that Governors and mayors from all over the country, business leaders, and educators from States and cities, big and small, people of both parties, are joining in this effort. We're working to make sure this doesn't become a partisan issue.
Some people worry that the Federal Government would play too large a role in developing the test. To meet that concern, I have instructed my staff to rewrite our proposal to make sure these tests are developed not by the Department of Education but by an independent bipartisan board created by Congress many years ago. This will make sure these tests measure what they should, nothing more, nothing less.
Still, there are some in Congress who, even as our children are heading back to school, are working to undermine the very progress in education our children are counting on. They have proposed an amendment that would prevent us from developing a common test for math and reading and, therefore, would prevent your school district or your State or your child from choosing to take the test. That means you won't be able to find out if your child's school is meeting world-class standards.
The arguments they're using are the very same ones we've heard for years now. They amount to a determination to avoid accountability. Some say we shouldn't pay for test development even though it's being done by an independent body. Some say the test will be misused, even though participation is voluntary and is clearly designed to show how students and schools are doing and to show the way toward improving them. Some say it's unfair to poor kids and kids of immigrant parents, even though many big-city school districts, including those in six of seven of our largest cities, say they want to be a part of the test and the national standards movement even if their States don't.
The fact is high standards are essential to providing our children the best education in the world, and I intend to do whatever is necessary to make sure we move forward.
The 21st century will be a time of remarkable opportunity. With high national education standards, we can make sure all our children have the education they need to seize these opportunities. Without them, our children will continue to pay for our own low expectations and our own limited vision for them. Our children, our schools, our future are far too important to be anything less than world class. Let us move forward into the 21st century with high standards and make sure we meet them.
NOTE: The address was recorded at 6:04 p.m. on August 29 at a private residence in Martha's Vineyard, MA, for broadcast at 10:06 a.m. on August 30.
William J. Clinton, The President's Radio Address Online by Gerhard Peters and John T. Woolley, The American Presidency Project https://www.presidency.ucsb.edu/node/224476