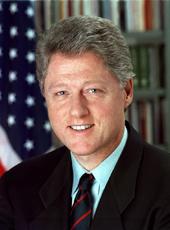 The President's Radio Address
Good morning. As families across America start to prepare for the new school year, I'd like to talk about how students and parents can make the most of the historic higher education opportunities in our new balanced budget.
The balanced budget I signed into law last week meets the Nation's obligation to offer opportunity to every American who's willing to work for it. It opens the doors to college to a new generation, with the largest investment in higher education since the GI bill 50 years ago. We have achieved a truly remarkable goal: For the first time ever, all children in America who study hard will have the opportunity to go on to college. Let me tell you just a few of the ways our budget will make that possible.
First, the budget offers HOPE scholarships, a tax credit of up to $1,500, as much as the average community college tuition, that will help to make the first 2 years of college as universal as 4 years of high school are today.
Second, the budget creates a new lifetime learning credit targeted at college juniors and seniors, graduate students, and adults who want to enhance their skills. Under this initiative, for example, a homemaker who wants to return to school full time to become a teacher can get a 20 percent tax credit on the first $5,000 of her tuition bill. By the year 2003, that credit will grow even larger, applying to up to $10,000 in tuition and fees.
Third, beginning this January, parents and grandparents can withdraw money from their individual retirement accounts, without any penalty, to pay for higher education expenses. They can also open up brandnew education IRA's which will allow them to invest $500 per child every year to build up money, tax-free, for college.
Fourth, our budget agreement provides the largest increase in Pell grants in two decades and gives about 350,000 more students the scholarships they deserve. These new initiatives will greatly expand educational opportunity for American families.
But there is another crucial part of the college equation, and that is responsibility, the responsibility of every student and every parent to prepare for the future. As Hillary and I have learned, parents can't wait to plan for college until their children are in their junior or senior years of high school. In fact, education experts say it's essential that parents sit down with their kids as early as the sixth grade to start charting a course toward college. In the crucial middle school years, parents must encourage their children to take challenging classes. Research shows, for example, that students who take algebra and geometry by the end of the ninth grade are much more likely to go on to college than those who don't.
In the new economy of the 21st century, what our children earn will depend more than ever on what they can learn. Almost 90 percent of the new jobs being created today require more than a high school level of literacy and math skills. Yet more than half of the people entering the work force are not prepared with these skills. So we still have a lot of work to do.
Throughout the fall, my administration will work very hard to make sure that parents and students learn how to take advantage of the new higher education opportunities they now have. As a first step, Education Secretary Dick Riley and his staff have prepared an extremely useful guide for parents of children in middle school, junior high, and high school. It's called "Getting Ready for College Early." You can get a free copy by calling the Department of Education at 1-800-USA-LEARN, 1-800-USA- LEARN.
From the day I took office I have been working on a simple idea: When my child is my age, I want our country to be a place where every person who works hard has a chance to live out his or her God-given abilities and dreams. With the education opportunities contained in our historic balanced budget, we have taken a large step toward that goal.
Thanks for listening.
NOTE: The address was recorded at 1:21 p.m. on August 15 in the Roosevelt Room at the White House for broadcast at 10:06 a.m. on August 16.
William J. Clinton, The President's Radio Address Online by Gerhard Peters and John T. Woolley, The American Presidency Project https://www.presidency.ucsb.edu/node/224323