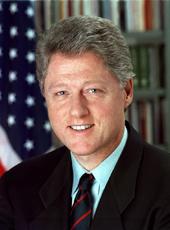 The President's Radio Address
Good morning. More than a year and a half ago, I asked Congress to pass a strong, enforceable Patients' Bill of Rights that ensures critical protections for Americans in managed care, from the right to see a specialist if your doctor recommends it to the right to emergency room care whenever and wherever you need it to the right to keep your doctor through a treatment— even if your employer changes HMO coverage— to the right to hold health plans accountable for harmful decisions.
Now, according to a new survey out just this week, physicians believe that when their patients are denied services under managed care, up to two-thirds of the time those denials lead to serious declines in patients' health. Clearly, patients need protections. The bottom line must never take precedence over patients' needs, and too often it does today.
Using my authority as President, I've already acted to make these rights real for 85 million Americans who get their health care through Federal plans, from Medicare and Medicaid to the veterans administration health plan that serves millions of veterans and their families. Evidence shows putting in patients' rights raised the cost of these plans by only a dollar a month, so we know these rights are affordable, as well as crucial. Yet, until Congress acts, tens of millions of Americans in managed care are still waiting for the full protection of a Patients' Bill of Rights. Democrats in Congress have long been pressing to pass a strong Patients' Bill of Rights that would cover all Americans in all health care plans, and nearly every doctors' association, every nurses' association, every patients' rights group in America—over 200 of them— supports this approach.
The Republican leadership in Congress, on the other hand, has long resisted, supporting instead a weak alternative that is a Patients' Bill of Rights in name only. It doesn't even cover 100 million Americans. Now, the Senate barely passed such a weak bill over the opposition of every single Democratic Member and a couple of brave Republicans. Hopefully, we can still make progress. Just this week several Republican House Members, led by some who, themselves, are doctors, forcefully raised their voices in support of a strong, enforceable Patients' Bill of Rights. This is very good news, indeed. It means there is a bipartisan consensus emerging behind a bill that would give all Americans the health protections they need. This bill should be debated and voted on this coming week, before Congress adjourns for the summer. If that happens, I believe the bill would pass, and the American people would benefit.
Unfortunately, House Republican leaders, who earlier this week said they would schedule a vote on the Patients' Bill of Rights this month, yesterday began backing away from that commitment when it became clear that a real Patients' Bill of Rights might well pass. This is very disappointing, and I call on them to reconsider. If the House is brave enough to protect the American people over the intense lobbying of the health insurance companies, the Republican leadership shouldn't stand in their way. The American people sent us to Washington to get work done, and Congress shouldn't go on summer vacation without voting on the Patients' Bill of Rights.
Protecting patients' rights shouldn't be a political issue; after all, no one asks us what our party affiliation is when we show up at the emergency room or the doctor's office, and in fact, this isn't a partisan issue anywhere else in America. It shouldn't be in Washington, DC. Let's make this summer a season of progress for all Americans. Let's hold an open and fair debate and pass a real Patients' Bill of Rights that will truly strengthen our health care system, strengthen our families, and strengthen our Nation for the 21st century.
Thanks for listening.
NOTE: The address was recorded at approximately 10 p.m. on July 30 aboard Air Force One at Aviano Air Base, Italy, for broadcast at 10:06 a.m. on July 31. The transcript was made available by the Office of the Press Secretary on July 30 but was embargoed for release until the broadcast.
William J. Clinton, The President's Radio Address Online by Gerhard Peters and John T. Woolley, The American Presidency Project https://www.presidency.ucsb.edu/node/227471