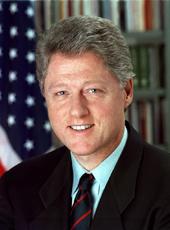 The President's Radio Address
Good morning. Today I want to talk to you about our Nation's duty to ensure that all America's seniors can enjoy their golden years as healthy as modern medicine will allow. I want to talk about my plan to strengthen and modernize Medicare and the important steps we can take to encourage older Americans to undergo health screenings that can save their lives and improve the quality of their lives.
For 34 years now, Medicare has been the cornerstone of our efforts to protect the health of the disabled and our seniors. Last month at the White House, I unveiled a fiscally responsible plan to secure and modernize this vital program for the 21st century. The plan will strengthen Medicare by controlling cost, promoting competition, and dedicating a significant portion of the budget surplus to keeping the Trust Fund solvent until the year 2027. And my plan will modernize Medicare by matching its benefits to the latest advances of modern medicine.
Since Medicare's founding in 1965, a medical revolution has transformed health care in America. Once the cure for many illnesses was a scalpel; now, just as likely, it's a pharmaceutical. That's why I made helping seniors afford the prescription drugs essential to modern medical care a key part of the Medicare plan.
But even as we modernize Medicare with the prescription drug benefit, we also must modernize Medicare's preventive care benefits. Today, doctors have new tools to detect and prevent diseases earlier and more effectively than ever. And for millions, early detection can mean the difference between a full recovery and a bleak prognosis. For instance, if prostate cancer is caught early, the survival rate is 99 percent; but if it isn't, the rate can be a discouraging 31 percent.
In 1997 we worked across party lines to expand Medicare coverage for preventive services. But too few seniors still are using this benefit. Last year just one in seven older women received a mammogram covered by Medicare. For many seniors on fixed incomes, who every day must struggle to pay for food, rent, and other necessities, the cost of even a modest copayment can be prohibitive, and that can cost lives.
It makes no sense for Medicare to put up roadblocks to screenings and then turn around and pick up the hospital bills its screenings might have avoided. No one should have to undergo a dangerous surgical procedure that could have been prevented by a simple test. No senior should have to hesitate to get the preventive care they need. That's why my plan will eliminate the deductible in all copayments for all preventive services, for cancer, diabetes, osteoporosis, and other diseases.
And because 70 percent of beneficiaries still do not even know about all of Medicare's preventive services, we'll launch a nationwide campaign to inform and encourage seniors to take these tests. We'll keep looking into ways to improve preventive care for seniors, including strategies to help them stop smoking.
In the meantime, I call on older Americans to take advantage of the preventive benefits that already are available to you. They could save your life.
We must seize America's moment of prosperity to strengthen and modernize Medicare for the 21st century. There are some who propose spending our new budget surpluses on tax cuts. Well, I support tax cuts for retirement savings, for child care, for education, but it would be wrong to spend our hard-earned surplus on tax cuts before we first have honored our obligations to our seniors and to all our families in the 21st century. First things first.
I've invited leaders of both parties to meet with me at the White House on Monday to discuss the urgency of acting on Medicare now. We have an unprecedented opportunity to prepare Medicare and Social Security for the retirement of the baby boomers and to pay down our debt, to make America debt-free over the next 15 years. We can't let this opportunity slip away. Together, we can find a way to make this summer a true season of progress for all Americans.
Thanks for listening.
NOTE: The address was recorded at 11:20 a.m. on July 9 in Room 210 at the Harbor-UCLA Medical Center in Torrance, CA, for broadcast at 10:06 a.m. on July 10. The transcript was made available by the Office of the Press Secretary on July 9 but was embargoed for release until the broadcast.
William J. Clinton, The President's Radio Address Online by Gerhard Peters and John T. Woolley, The American Presidency Project https://www.presidency.ucsb.edu/node/226689