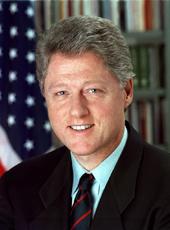 The President's Radio Address
Good morning. Today I want to speak with you about an opportunity to shape the future of our country, and a responsibility we all have to make our voices count. I want to talk about this year's census and the importance of filling out and sending in your census form right away.
The Constitution mandates that our Nation conduct a census every 10 years. The first was taken back in 1790 and was directed by Thomas Jefferson when he served as Secretary of State. Every decade since then, the census has helped tell the story of America—who we are and what we're becoming.
Census 2000 is our chance to write the latest chapter in the unfolding epoch of America. Even though the census is taken only once in a decade, it has an impact on our lives every day. A report I'm releasing today by the Council of Economic Advisers shows just how much we need the census.
We need the census to help decide how almost $200 billion in Federal funds will be invested in States and communities. We need the census to draw legislative district lines and allocate seats for each State in the U.S. House of Representatives. We need the census to help our hometowns determine where to build everything from roads to schools to hospitals to child care centers. And we need the census to help businesses make decisions about where to invest and help individuals make informed decisions about where to buy a home or take a job.
For all of these reasons, it's important to make sure the first census of the 21st century is fair, accurate, and complete. After all, if we want to make good decisions about where we need to go as a nation, we first have to know where we are.
In the last census, we didn't know where more than 8 million people were. They were left uncounted. Many of them were children, minorities, and low income families. When people are uncounted, their voices are unheard in the Halls of Congress and in their own communities.
Those who suggest that filling out your census form isn't essential are plainly wrong. An inaccurate census distorts our understanding of a community's needs, denies people their fair share of resources, and diminishes the quality of life not only for them but for all of us. If we believe everybody in our American community counts, we simply must make sure everyone is counted.
That's an enormous undertaking. This year's census represents the largest peacetime mobilization in American history, involving hundreds of thousands of local census takers and community volunteers. But the most important person in the process is you.
I want to thank the millions of Americans who have sent in their forms. As of today, we're halfway there. But we must do better. We need the most accurate picture of America in the dawn of the 21st century.
So today I'm issuing a proclamation declaring this Census Day and urging all Americans to take a little time this weekend to fill out and send in your form. I've also issued a memorandum to all Federal employees urging them to do the same. Having completed our census form, I can tell you it only takes a few moments.
You can also fill out your census form online, as the Vice President did just recently. The on-line form can be found at www.2000.census.gov. It won't take long. The short form is the shortest since 1820. The long form is the shortest in history. And every question on both forms was reviewed by Congress 2 years ago.
But more important, information from the long form is critical for everything from helping communities design mass transit systems to providing 911 emergency services. It also helps us calculate cost-of-living increases for Social Security, military retirement, and veterans' pensions.
I know Americans are concerned about their privacy, and that's why I also want to stress that the information you provide is strictly, absolutely confidential. Individual information will not be available to anyone outside the Census Bureau for any reason.
So whether you have a long or a short form, please fill it out completely and send it in promptly. America is counting on you. This is your future. Don't leave it blank.
Thanks for listening.
NOTE: The address was recorded at 12:38 p.m. on March 31 in the Map Room at the White House for broadcast at 10:06 a.m. on April 1. The transcript was made available by the Office of the Press Secretary on March 31 but was embargoed for release until the broadcast. The proclamation is listed in Appendix D at the end of this volume.
William J. Clinton, The President's Radio Address Online by Gerhard Peters and John T. Woolley, The American Presidency Project https://www.presidency.ucsb.edu/node/228026