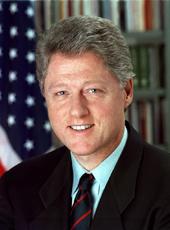 The President's Radio Address
Good morning. Earlier this week, I attended a summit with European leaders to focus on the opportunities and challenges of the new economy. One of those changes, clearly, is bridging the digital divide and helping all our people make the most of technology's promise. Today I want to talk with you about new steps our administration is taking to help America's students and teachers do just that.
I'm proud of the progress we've made over the last 7 years to expand access to technology in our schools. In 1994 only 35 percent of our schools had any Internet connection; today, 95 percent do. In 1994 only 3 percent of our classrooms were actually connected to the Internet. Today, thanks in large part to the E-rate program championed by Vice President Gore, 95 percent of our schools, as I said, are wired, but now 63 percent of our classrooms have an Internet connection. That's a very big step. But there's more to do, and it's about more than computers and connections.
Access is important, but it's only a means to an end. The ultimate purpose of computers in the classroom is to boost student performance and help children learn. That can only happen if teachers have the best training to make the most of this technology.
Today, two out of three teachers with access to a computer say they don't feel well-prepared to use it in class. We owe it to America's children to help their teachers become as comfortable with a computer as they are with a chalkboard. And we must start early. With rising student enrollment and teacher retirements, America will need more than 2 million new teachers over the next 10 years. We have to make sure every one of them can use a computer to help students meet high standards. We're taking steps to do that.
Earlier this year, the deans of over 200 colleges of education committed to work with our administration to meet this goal. Today I'm announcing $128 million in new 3-year technology grants to help tomorrow's teachers prepare 21st century students. We're awarding 122 grants to teacher colleges and other partners in every region of the country. These resources will train new teachers to use technology to improve student achievement.
A grant to Western Michigan University, for example, will be used to build partnerships with business leaders and local school districts to help future teachers use technology in the classroom. San Diego State University is receiving a grant to develop advanced technologies to improve student reading and teach educators throughout California.
Combined with past grants, today's awards will help train as many as 600,000 new teachers nationwide. My budget for the coming year doubles our investment in quality technology training to reach a million teachers by 2004.
Unfortunately, so far, Congress has failed to provide the resources to meet that target. The House budget would deny hundreds of thousands of future teachers the training they need to use technology to help students meet challenging academic standards. Their budget also denies the funding I requested to create up to 1,000 new community technology centers to help young people and adults gain critical technology skills.
In too many ways, the education budget making its way through Congress simply doesn't make the grade. It invests too little in our schools and demands too little from them. In order to pay for large and irresponsible tax breaks, it fails to address some of our schools' most pressing needs, from increasing accountability to building and modernizing schools to improving teacher quality and reducing class size.
In this time of unprecedented prosperity, there is no reason to shortchange our children and our schools. So I ask Congress again to pass a budget that reflects our values and puts education first, a budget that strengthens accountability and helps turn around low-performing schools, reduces class size and increases after-school opportunities, closes the digital divide and opens doors to help disadvantaged children gear up for college, rebuilds crumbling schools and boosts teacher quality.
If Congress sends me a budget that fails that test, I'll have to veto it. But I hope Congress will work with me to pass balanced, responsible budget increases to invest in our children and their future. Instead of widening the divide in technology and education, we can widen the circle of opportunity for every American. And now is the time to get this done.
Thanks for listening.
NOTE: The address was recorded at 3 p.m. on June 2 in the Presidential Suite at the Intercon Hotel in Berlin, Germany, for broadcast at 10:06 a.m. on June 3. The transcript was made available by the Office of the Press Secretary on June 2 but was embargoed for release until the broadcast.
William J. Clinton, The President's Radio Address Online by Gerhard Peters and John T. Woolley, The American Presidency Project https://www.presidency.ucsb.edu/node/226848