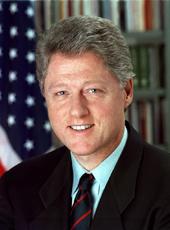 The President's Radio Address
Good morning, and happy Earth Day. I've always thought it appropriate that Earth Day falls in this season of renewal and hope, as millions of Americans celebrate Easter and Passover. As we celebrate the first Earth Day of the 21st century, I want to challenge all of us to renew our commitment to protect and preserve God's precious gift to us, our earthly home.
Last weekend in California I stood beneath a magnificent sequoia tree, more than 1,000 years old, to announce permanent protection for more than 30 giant sequoia groves. And I was grateful for every opportunity the Vice President and I have had to act as stewards of our environment over the last 7 years.
All Americans can be proud of the tremendous progress we've made since the first Earth Day 30 years ago. Our air, water, and land are cleaner, and we've protected millions of acres of America's green places. But today I want to focus on the most critical environmental challenge we face in this new century, global warming.
The 1990's were the hottest decade on record, and the first 3 months of 2000 were the hottest here in 100 years. Scientists say that the temperature rise is at least partly due to human activity, and that if left unchecked, climate change will result in more violent storms, more economic disruptions, and more permanent flooding of coastal areas.
If we value our coastlines, our farm lands, and our vital biodiversity, we must build a national consensus to reduce our emissions of greenhouse gases and to help others around the world do the same. Our Government must lead by example.
Today I'm announcing two Federal initiatives that point the way to a cleaner environment and a stronger economy. First, I'm issuing an Executive order requiring that Federal agencies reduce the amount of petroleum their vehicle fleets use by 20 percent in 5 years. We can do this with technology we already have. For example, the Postal Service has purchased 500 electric trucks and may purchase more than 5,000. Here in Washington, DC, 2,600 Federal and local government vehicles are running on clean natural gas or ethanol. Next month we'll open the first of seven gas stations offering those fuels here, and I'll order every White House vehicle that can use these fuels to make the switch. This Executive order will cut oil consumption by 45 million gallons a year, help stop global warming, and ease pressure on gas prices.
Second, I'm also announcing new incentives to cut pollution and greenhouse gases while we help Federal workers across the country reduce the growing hassle of commuting. All Federal workers now will be able to set aside up to $65 tax-free every month to pay for public transportation. And in the Washington area, every Federal agency will actually fund some or all of its employees' public transportation costs.
It is clear citizens and businesses across America are building support for a strong response to global warming. But one voice is still missing, the United States Congress. While the science on climate change has grown stronger and the need for American leadership has grown greater, some in Congress have buried their heads even deeper in the sand. I urge them to recognize that reversing global warming will strengthen our economy while safeguarding our future.
In the next 20 years, the international energy market will reach $5 trillion, and consumers everywhere increasingly will demand clean energy. We're the world leader in those technologies. We should be promoting them, not denying their need. Instead, for the past 7 years, Congress has blocked our initiatives to fight climate change and cut America's fuel bills.
I'm deeply disappointed the Republican budget resolution just adopted fails again to support America's environmental priorities. And again I call on Congress to reverse its opposition and work with us to pass my $4-billion package of tax credits for energy-efficient homes, cars, and appliances, to invest in clean energy research, and to help us promote clean technology in developing countries. Congress should also end its opposition and help us improve the fuel economy of all our cars and trucks so Americans can have the vehicles they want with the efficiency they deserve.
More than 100 years ago, the great American poet Henry Wadsworth Longfellow reminded us that "nature is a revelation of God." This Earth Day, let us remember that we are only stewards, in our time, of the Earth God gave us for all time. And let us strengthen our resolve to preserve the beauty and the natural bounty that sustains us and must sustain generations yet to come.
Happy holidays, and thanks for listening.
NOTE: The address was recorded at 5:12 p.m. on April 21 in the East Room at the White House for broadcast at 10:06 a.m. on April 22. The transcript was made available by the Office of the Press Secretary on April 21 but was embargoed for release until the broadcast. The Executive orders of April 21 on leadership in environmental management, Federal fleet and transportation efficiency, and Federal workforce transportation are listed in Appendix D at the end of this volume.
William J. Clinton, The President's Radio Address Online by Gerhard Peters and John T. Woolley, The American Presidency Project https://www.presidency.ucsb.edu/node/226947