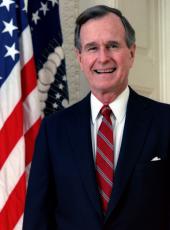 The President's News Conference With President Leonid Kravchuk of Ukraine
President Bush. Mr. President and distinguished members of the Ukrainian delegation, on behalf of the people of the United States it's been my honor to welcome you on the first official visit by a freely elected President of independent Ukraine. May I also acknowledge Senators Pell and Lugar, who are with us today. Congressmen Broomfield and Leach were supposed to be; they are missing in action. But nevertheless, welcome to the Senators. All of us join in celebrating the renaissance of freedom and independence for the great and ancient nation of Ukraine.
A few blocks from here stands an imposing monument erected by an act of the United States Congress approved by President Eisenhower. It's a statue of Taras Shevchenko, the poet and prophet of a free Ukrainian nation. And inscribed on the monument is this verse composed by Shevchenko more than a century ago:
Our soul shall never perish. Freedom knows no dying. And the greedy cannot harvest fields where seas are lying; cannot bind the living spirit, nor the living word; cannot smirch the sacred glory of the Almighty Lord.
Mr. President, when we welcome Ukraine's new independence we honor generations of women and men who kept a flame of hope alive through years of darkness. And free people must never forget the suffering Ukraine endured under the totalitarian yoke. We must remember the victims of Stalin's forced famine, the Harvest of Sorrow. We must remember the religious believers who endured persecution for their faith. We must remember the thousands who faced punishment in the gulag because they spoke out for cultural, political, or economic reform.
Now the darkness is lifted. Ukraine has entered a season of hope and rebirth. The Ukrainian people reclaimed their independence on December 1, 1991. And I am proud that the United States was among the first in welcoming that vote, in recognizing Ukrainian independence, and in establishing diplomatic relations. We also were one of the first to establish an Embassy in Kiev, soon to be led by a Ukrainian-American, Ambassador-designate Roman Popadiuk.
In our intensive and successful talks today the President and I, President Kravchuk and I agreed that the United States and Ukraine should be not just friends but partners. Ukraine's future security is important for the United States and for stability in Europe. We welcome President Kravchuk's assurance that Ukraine will remove all nuclear weapons from its territory and join the Non-Proliferation Treaty as a non-nuclear-weapons state. We have pledged to assist Ukraine in the accounting and control of its nuclear reaction materials, to establish a science and technology center in the Ukraine, and to explore additional assistance for weapons destruction.
We also are committed to Ukraine's future economic prosperity in a free market system. The United States will continue its program of technical assistance, including advice in establishing a new Ukrainian currency. We will extend $110 million in Commodity Credit Corporation guarantees to permit sales of American agricultural commodities to Ukraine. Opening up markets and expanding trade are essential to our new partnership. A robust exchange of goods and services, of ideas and technologies will create better jobs and enhance the quality of life for people in both of our countries.
The agreement we've just signed on trade and the opening of our new OPIC, Overseas Private Investment Corporation, program are an excellent beginning. This week I plan to waive the Jackson-Vanik amendment, and as soon as possible I hope to confer most-favored-nation status on Ukraine.
And finally, we hope to assure the closest possible political and cultural ties between independent Ukraine and the United States. We will continue to consult on our vision of a democratic peace in Europe. Our new Peace Corps program, established by another agreement that was just signed here, will bring volunteers to help develop small businesses and build personal links between our two peoples.
Mr. President, Ukraine is the birthplace or ancestral home of more than a million American citizens. They enliven and enrich this country with their creative talent and with their passion for freedom. Decade after decade, Americans of Ukrainian heritage have kept alive in this country the cause of Ukraine's freedom and independence. And this historic day is a tribute to them as well as to their kinsmen in Ukraine. We know Ukrainians face many challenges in the years ahead, during your historic transition to free enterprise and democracy. And let me assure you, the United States will stand beside a democratic Ukraine.
And again, thank you, Mr. President. May God bless you and the people of your wonderful country. We're delighted that you came our way.
President Kravchuk. Mr. President, ladies and gentleman, friends, the official part of my first visit to the United States as the President of Ukraine is coming to an end. In this respect, I would like to sincerely and frankly say that the meetings with the President of the United States, the talks we had, the air of openness and the friendly nature of the talks and mutual understanding of the position and interests of our two states surpassed the limits of official ceremonies.
As you know, we have already had an opportunity of meeting President Bush and many officials of his administration, both in Kiev and Washington. No doubt such contacts always get appropriate and well-justified international coverage and attract public interest and that of the media. Most important, in my view, is our gradual progress from general political statements to the bilateral state-to-state relations filled with visible content.
We are very pleased to mention that yesterday in Washington, DC, we inaugurated the Ukrainian Embassy in the United States, headed by our first Ambassador, Mr. Oleh Bilorus, who's present here. We believe that we will soon welcome the Ambassador of the United States, Mr. Popadiuk, in Kiev.
For us, the opening of our own Embassy in your great country is an event of great historic and political significance. This is another step towards a true state independence of Ukraine. We will next have to solve the problems related to the establishment of consular and other respected offices of Ukraine in your country. These institutions should give a substantial impetus to further development of our cooperation in the areas that present mutual interest.
Today the President of the United States and myself and the Government officials authorized by us signed a number of important bilateral agreements, such as the agreement on trade, promotion of investment, implementation of the U.S. Peace Corps program in Ukraine, on the environmental protection, and some other documents. Our experts agreed on further cooperation, and I believe in the nearest future Ukraine and the United States could sign some new agreements, among them the agreements on the sea shipping, the lifting of dual taxation, preservation of and protection of religious national cultural monuments on the territories of both countries, and cooperation and facilitating programs of assistance.
But the most important issue now is to ensure that the signed agreements be implemented. I hope that the spirit of mutual understanding, openness, and trust which gradually turns into a characteristic feature of the Ukraine and American relations at the official level would be transferred into the relationships between the peoples of our two countries.
The entire experience of creating new international ties after the collapse of totalitarianism and the end of the long cold war period shows that the major issue now is to establish effective cooperation in the interests of universal, peaceful future, and to ensure such international conditions which would allow to find an optimal compromise of state, national, and general human interests.
That is why I'm deeply convinced that the development of friendly and equal relations between our two states, Ukraine and the United States of America, corresponds to their innate national interests. We are ready to further develop and deepen our fruitful bilateral dialog.
Ukraine is a young state, and it will have to go along a very difficult road. But we are totally convinced, including the experience of the United States, that we will go along that road if we would abide by the general human values.
With all my heart, I would like to wish peace, happiness, accord, and further prosperity to the great American people and every American home.
President Bush. I think the President has agreed to take a few questions, and I'll be glad to do the same.
President's Visit to Los Angeles
Q. Mr. President, I'd like to ask you about another subject. Your spokesman says that you're not going to Los Angeles today with any kind of new blueprint for the cities. Where does that leave matters for these hard-pressed urban areas, given that Congress has largely ignored your proposals and many people believe that you haven't fought very hard for them anyway?
President Bush. I have fought hard for them, and we have some excellent proposals. But what I want to do is go out there and see that we are doing everything we can to assist in the recovery. That will also be accompanied by my keen interest in seeing where we go from here. I'll have more to say about that. We have some excellent ideas. I am very interested in what is underway there from getting reports. Both the Mayor and Peter Ueberroth and the Governor feel things are moving in the right direction.
So we want to be sure that we have supplemented the overall effort for civil tranquility. I do think that that's in better shape, and I think the Federal Government responded very, very well. I'm pleased that both Mayor Bradley and the Governor felt that way. Then we've got to begin the healing process, and we also have to find answers that will guarantee tranquility in these cities. I come back to my emphasis that was brought home to me loud and clear by Mayor Bradley himself when he talked about, we must find ways to strengthen the family, he and other mayors having come in before this happened. So we have some good new ideas. I will try to bring those forth to the American people after I've had a chance to look at the scene there.
Anybody that would like to ask President Kravchuk a question?
Q. I'd like to ask you one.
President Bush. All right, go ahead, Helen [Helen Thomas, United Press International], and then you've got one for -- --
Urban Policy Assessment
Q. Mr. President, both you and Marlin Fitzwater have blamed Great Society programs for what's happened in our country. But your critics say that through the benign neglect of the Reagan-Bush years, we are becoming what the Kerner Commission prophesied, which is a nation -- two nations, white and black, separate but unequal. What do you say to that?
President Bush. I say that we're not trying to assign blame. There's no point emphasizing programs that haven't worked, however. We want new programs. We want new ideas. We've put forward some, and we may have others to put forward. But there's no point trying to convince the American people that programs that have not worked is the answer to this problem. It isn't. I don't believe in -- what I'm trying to do is heal and bring the people together. And I will go forward with ideas that have not been tried, emphasizing that it is far more important to give people a piece of the action than it is to have the Federal Government simply dump largesse on them.
We've tried it the other way. Now this gives us an opportunity, an excellent opportunity, to try some new ideas, and that's all. It's not a question of assigning blame. It's a question of a realistic assessment: Have we, as a country, done everything we can to help those people that have been left behind? I am not satisfied. We need to do more, and we are trying to do more.
So I told my Cabinet today that I think this offers us an excellent opportunity not to assign blame but to try to come out with ideas that can offer hope and upward mobility to people that have been bypassed. That's exactly what I'll be trying to do, and that's what I think we've been trying to do. We've got to get it in better focus, and we need some action.
But this isn't any time for blame. This a time to heal. It -- --
Q. You're not saying that Medicare or Head Start or vocational rehabilitation, Federal aid to education at all levels, and all the other laws that were implemented in the Great Society era didn't work?
President Bush. Not all of them, no. But I'm saying we can do better, and I think we should try. We ought to offer -- here we are talking to Ukraine who's moving to privatization, moving to market economies, and I'd like to be sure we've done everything we can to give people a part of the real action in the private sector. Let's just see if we can't do a better job in terms of ownership for some of these people that have been passed by and assigned in the past to these endless construction projects that all seem to fall apart. There's a better way to do it, is all I'm saying, and that's what we want to try to do.
Ukrainian Nuclear Weapons
Q. For President Kravchuk. My name is Susan Cornwall with Reuters. I have two questions for you. The first is, you said this morning that all tactical nuclear weapons would leave the Ukraine by July. But some Russian officials in Moscow said today that all of the tactical nuclear weapons had already left the Ukraine. Could you clarify please, and tell us, have they all, indeed, left the Ukraine? The second question is, when do you think you might sign a protocol to the START Treaty? Thank you.
President Kravchuk. By the time of the statements that we would terminate the removal of the tactical weapons, because of lack of respective control, we have moved out about 50 percent of all the tactical weapons. On the 16th of April, President Yeltsin and I signed an agreement which formed the joint commission which is now verifying the process of removal of tactical weapons from Ukraine. As soon as the document was signed and the verification control groups were created, the removal was resumed. It is going on according to the schedule which we have, and we will move all of the tactical weapons by the 1st of July. This is where Ukraine stands. The weapons were not taken yet.
As to the START Treaty, we have discussed many details with Secretary of State James Baker. Our Minister for Foreign Relations and Mr. Baker had lengthy consultations. We prepared a letter signed by the President of Ukraine, and the letter clarifies all the aspects which are acceptable both by the United States and Ukraine. And as soon as the protocol is signed, the Ukraine would ratify the START Treaty and would fulfill all the commitments stipulated in that treaty.
Ukraine-U.S. Relations
Q. Would you estimate the relationship of partnerships between the Ukraine and such a developed country as the United States -- What can we do to help?
President Kravchuk. We have done lots today by the simple fact that we have signed very important documents which open up our relationship on an interstate level. As to the everyday practice, we had a very interesting meeting with the Secretary of Commerce and will meet other secretaries. We brought a delegation of businessmen who met and will continue meeting their counterparts in the United States. We would create mechanisms and working groups that might help implement what we have agreed upon already, and I think we would continue to go in that direction.
I think those actions would be beneficial for both the United States and the Ukraine. I would like to emphasize again that Ukraine is not asking for anything. Ukraine would like to have some credits to create new technologies and to transfer to a market economy as soon as possible, a free economy. We are not asking for credits to eat them up as food products; we've got other intentions.
Urban Policy Assessment
Q. Sir, you say you're not interested in the politics of blame nor assigning blame. In fact, starting this Monday you blamed Congress for not passing some of your domestic programs for the inner cities. Marlin Fitzwater attacked the Great Society. Vice President Quayle yesterday also attacked Lyndon Johnson's programs. A year ago in Michigan you said that the Great Society programs actually exacerbated racial animosity. You actually used the words "racial animosity." We still are unable to get a specific list out of the White House as to which programs have done this.
President Bush. John [John Cochran, NBC News], I think this is an inappropriate time to try to divide. I think it's a very appropriate time to rethink whether we've done it just exactly right in the past, whether it's the Great Society or all the way up to our administration. I cannot certify to the American people that we have tried the new ideas that might make urban America better, might give a better opportunity for everybody.
So there is no point trying to go into your question, answering the specifics, trying to assign blame. I don't think that's what the country needs right now. I think it needs to come together. If I have my fights with Congress on getting some proposals through, some of which I have been proposing for 3 years, that's another matter. But this isn't the time to go out and try to divide the country. This is the time to bring it together.
Now, we've started on that. We started to bring it together by doing everything we could to assist the local law enforcement people because the American people are outraged by the violence. Secondly, we started to bring it together by providing every asset we could to the local people out there, the Mayor and Peter Ueberroth and the localities, to have the Federal Government assist, whether it's Department of Labor, whether it's HUD, whether it's HHS. We've got a good program moving forward right now to do that. Then I owe it to the American people to say, here's what I think is the longer range answer; can help right now if we can get some of these things through and if I can convince the American people that this is what we ought to do. And I'll have some proposals to that effect.
But I say I don't want to assign blame; I don't. If I said a year ago that these programs weren't working, perhaps I have been vindicated. But there's no point in going into that. Nobody in the United States political system can certify today that every program we've had has worked just perfectly; it hasn't. So there's no point going back on it. The point is, try to take this as an opportunity and bring the country together and then move it forward. That's exactly what I'm going to do, and I'm not going to go trying to help you get into what's worked and what hasn't. I will present that to the United States Congress in the future, as I have in the past.
Q. Mr. President, so much of the problems in California and the inner cities have been addressed in economic terms about enterprise zones, about homeownership. But how do you, sir, begin to address the social problems, the antipathy between not only blacks and whites but blacks, whites, Koreans, Hispanics? How do you attack it from the social, not the financial, side?
President Bush. Some of it's rhetorical. Some of it is trying to build on what we've started by this Family Commission. I remember when Tom Bradley, the Mayor of Los Angeles, came to see me before the outbreak there. He joined a lot of other mayors in telling me that the number one concern that the mayors have -- all of them had it, Republican, Democrat, liberal, conservative -- was the dissolution and the decline of the American family. We've got to find ways to help strengthen the family. One of them is through the education program; one of them through neighborhood activities; one of them is through the kind of private sector involvement that we've been talking about through our Points of Light and that Peter Ueberroth is now trying to bring to bear on the solution to the problem.
So that's the approach we'll be taking. But I'm very anxious to hear, before I make final decisions, from the local people as to what they think. One of the things that I mentioned in my speech to the Nation was the concern I felt and the concern that Mayor Bradley felt about the attacks on the Korean community. These people were peaceful people, and they were all assaulted. We've got to do something about it. I don't have an easy answer to it, but you put your finger on something that I think we have to find answer to. And somehow in the field of strengthening the family and in the field of ownership and in the field of the dignity that comes with having a piece of the action lies the answer.
Q. Have those questions, sir, been neglected simply by dealing with it from other aspects, from financial -- --
President Bush. I can't say that they haven't. Anytime you see problems, we've got to figure out that we haven't done all we can to have them solved if they're still out there.
Ukrainian Security
Q. President Kravchuk, you said a moment ago you didn't ask for anything in the economic. Can you tell us if you asked for anything from the U.S. security field vis-a-vis Russia? And second, on the protocol, is the protocol pretty much in place, or is there some detail where even some disagreement is still to be resolved?
President Kravchuk. We do not have serious differences. We had some misinterpretation of the text during the translation period, but we have agreed upon those minor details. And the protocol is ready to be signed.
There is a problem of security for Ukraine because Ukraine is a large European country with a population of 53 million, with a powerful nuclear arsenal. And we initiated to annihilate those weapons. We think that this policy is correct in its concept, and we would not change that policy. But some of our neighbors, especially the great neighbors such as Russia, have political forces which would like to make territorial claims as to Ukraine. That certainly worries us. It worries the people in the Ukraine. We would do anything in our power to solve possible conflicts with Russia.
These problems will exist because the empire crumbled, and people have different interests. We would continue to proclaim our request for the international community to find a necessary forum to express its viewpoint as to the Ukrainian stand on the elimination of nuclear weapons and also provide some guarantees for the national security of Ukraine in case there is a possible threat.
Crimea
Q. Do you fear losing Crimea to your powerful neighbors?
President Kravchuk. The thing is the Crimea, from the legal point of view, is the 1954 act was totally legitimate. They acted according to the legal norms and standards which were in effect at that time in our huge country. You can't reverse the law because if we start to reconsider the 18th-century rules, we can come to a total absurdity. So we think that the problem was solved in 1954 correctly according to law. The situation in the Crimea would have been totally normal. There is a multinational population there; nobody is deprived of their rights. But there are some forces from the outside that stimulate and instigate separatist moods. They also finance those moods and, in a way, egg on those moods from the part of Russia.
Let us take the example of the Vice President of Russia, Mr. Rutskoy, who stepped on the Crimean soil and made a first statement that Crimea is Russian. He hugged the barrel of a huge gun and said, "Can we lose Crimea with that type of weapon? No." He's not a man in the street but a Vice President of Russia. Such statements are very dangerous. They are politically ungrounded. And the people in the Ukraine can hardly understand the type of statements. People in Ukraine and Russia used to live in peace, and they want to live in peace. They want to associate. They want to have contacts in science and culture. We have many common problems dating back into history. But we should not use power play and political play and lead a situation toward danger.
Nuclear Power Plants
Q. Sir, did you raise the issue of Chernobyl at all? And did you seek any sort of help from the United States for safety of nuclear power plants? And President Bush, are you concerned about safety of nuclear power plants in the former Soviet Union?
President Kravchuk. We have shut down the Chernobyl power plant after the accident that people had near Leningrad, at the power station over there. We have shut down the reactors in Chernobyl, and we can see that we cannot resume their functions. A lot of money and a lot of effort would be required. We will need about a year to resume their activities. Our Parliament decided that the Chernobyl power station should be shut down by 1993. And we decided we should not resume the work of the reactors.
The most important thing for us is how to neutralize the ruined fourth power unit. We do not have any scientific solution of the problem yet. We have not addressed the President of the United States definitely about this problem. We think that the people in many countries, including our kin brothers here in the United States who are providing help to us. But we think that the liquidation are consequences of the Chernobyl tragedy if that is possible at all. And the taking of the station out of the commission is a very, very difficult financial, technical problem. As to other nuclear power plants in Ukraine, they are based on a totally different principle. They do not present any threat similar to the Chernobyl power plants. The Leningrad station is similar to what we have in Chernobyl.
President Bush. My answer to your question would be, yes, of course, we'd be concerned about safety. And I would like to offer cooperation on the part of our side as to our technologically competent people in every way possible, cooperating with whoever needs our help. We think we've got good, safe systems here, and we'd like to be of assistance to others. But any time you have systems that have caused trouble, we must all be concerned in this world.
Urban Policy Assessment
Q. Mr. President, you and your predecessor, Ronald Reagan, came to office 12 years ago under an economic system that promised a rising tide would lift all boats. During both of your terms in office we had the longest postwar, or peacetime recovery and economic expansion in history, and yet, the conditions that produced the riots in Los Angeles still existed. Are you now, as part of your effort to look at whether everything has worked, reassessing your economic programs and the role of the Federal Government in proving help to the cities, States, and social classes of the country?
President Bush. Yes, I think we ought to look at everything. I'm not satisfied. And I think we ought to look at everything, and we ought to move forward on these three tracks: One, the question of restoration of law, American citizens should not be asked to put up with wanton looting and pillaging; secondly, short-term answers to assist the city and the State in the cleanup and in the restoration of things in Los Angeles; and then, three, proposals that would really assist in rebuilding and in harmonizing in this country.
That's the way I'm going to approach it, and I'll look at what we've done and what we've tried to do, what others have done, but not with the question of blaming. I really don't think that's what's wanted. If we point out differences, if I point out a program that I think has failed, it's not to blame. It is simply to say I'm not satisfied with the tensions that I see and want to try to do something about it.
Q. If I may ask about a specific, sir, to follow up, revenue-sharing, a program started by a Republican President, was also ended by your predecessor. A lot of people who have been studying the Los Angeles riots say that may have -- the cities may be overburdened now; that because of the new federalism, the shifting of programs to the cities who may not have been able to provide. Is that a specific area, Federal aid to the cities, that you're willing to reconsider?
President Bush. If I can find some revenue to share. We are operating at unacceptably high levels of deficit, and everyone knows that. What I think we also need to do is consider that a vigorous economy, with job creation as its goal or as its hallmark, is the best poverty program. So we've proposed instead, as you know, a rather substantial block grant. We've not gotten that through, but we'll try again. It's very close to revenue-sharing, as a matter of fact. It's no strings attached, and it is something that we think is a good approach. But I think we should look at all of this.
Q. In the past when faced with a budget crisis, you and your predecessor called for a budget summit. Do you foresee anything like that in the area of urban problems, given the fact that enterprise legislation and things along that line have been proposed and reproposed in the past without success?
President Bush. I think there's enough focus on this now that if we come forward with a good, sound program, I would like to think we'd have a good opportunity to encourage the Congress and to get it passed by Congress. I don't know that we need another commission or another study group, anything of that nature.
Q. But as far as the leadership in both the House and the Senate, a bipartisan group getting together to try to form a consensus on this.
President Bush. I'd like to think that we could get it. We'd have to get a consensus if we're going to get it through. And so we'd have to do whatever is required to get the proposals, some of which I have made, the new ones I'll make, to get it through the Congress. Yes, I'll have to do that.
Q. Not a summit?
President Bush. Well, what's a summit? Everything's a summit, I guess, these days. But I don't know how you define that. But we'd certainly want a -- we need to get cooperation on both sides of the aisle to get something done for America.
START Treaty
Q. Mr. President, could I follow up on what Mr. President Kravchuk said about the START Treaty? He said the protocol was ready to be signed by Ukraine. But of course, you have a complicated situation where you have several countries involved, Russia, Byelarus, and Kazakhstan. How close are you to being able to work something that is mutually acceptable so you can go forward with the Senate?
President Bush. I think we've made progress, as the President said here today. And Jim and the Foreign Minister worked out the details this morning. So this one is in pretty good shape. But we have work to do with others, and it's not complete. And I would think that Jim might be going soon to try to hammer out some of the differences that exist with the countries that you mentioned.
Q. Would you expect that while President Kravchuk is here he would sign this protocol, or is not something you can sign now?
President Bush. I'd defer to the President. I just don't know whether there's any plan to be signed on it. But the agreement, the letters, the language has been worked out. I doubt it will be signed on this visit. But the language is; we sat there in the Oval Office, and I think the President would agree that we agreed on it. Correct?
President Kravchuk. Yes. [Laughter]
President Bush. Yes.
Legislation on Social Programs
Q. Mr. President, have you personally lobbied Democratic Members of Congress on enterprise zones and on the HOPE program?
President Bush. Yes, and I'll continue to, but let me come forward with a package now. And I don't know how you quantify it, but I think you'll note that that's been part of our proposal for a long, long time. And when I look at the devastation and look at some of the hopelessness, not just in this particular area but others, it seems to me that the time has come to try something different.
I thought I heard the Congresswoman from the area say that the time has come for enterprise zones. Well, that's a very interesting development and an interesting shift, if true. But again, you don't get something done by saying, we were with A, B, or C before when we were trying to get these programs through. What we do say is, you mentioned enterprise zones, I think enterprise zones make a good deal of sense; to bring business into the area and get jobs, you've got to get some tax breaks in the area, get the jobs moving in the area, get the production in the area. We haven't really tried that at the Federal level, and I'd like to see it tried. And without assigning blame for failures in the past, I think that this is an idea whose time has come. And so we will try again. And I have tried, and I'll keep trying.
Q. To follow up on that, you say that you will try to get your proposals through. When we talked to Democrats on the Hill, they say that you're not willing to compromise, that you want it your way or you don't want it at all. Have the L.A. riots provided maybe the tone for a compromise?
President Bush. I don't know that the L.A. riots -- but I think I'm the guy that's held out my hands to the United States Congress, saying let's try. But I'm not going to suggest that that means doing it somebody else's way all the time. But I think the time has come when the American people want action. They don't want any more rhetoric, and they say, "Let's try something new. Let's try something that will really help. Let's have order. Let's not condone the violence, but out of this, let's see if we can't find better answers." And you mentioned enterprise zones, I happen to think it's a better answer. And I think it's almost unarguable. But -- --
Q. Mr. President, to follow up on that. The Democrats say, in fact, the enterprise zones was in the growth package, but you vetoed it. And secondly, on the homeownership program, the HOPE program, as you mentioned several times, that was approved, but the funding was cut by 60 percent. And we're told that Jack Kemp asked you to veto the bill so you could get full funding but that you didn't because the bill also had full funding for the space station. So my question is, will you shift your priorities perhaps away from things like the space station and more towards the homeownership, as your Secretary asked you?
President Bush. I don't think he suggested we move it away from the space station. But my view is, here's an opportunity. I'm glad they're saying that they support this. And I hope we can do it in a way that is acceptable to us because I have to also keep in mind the overall economy of this country. The bill I vetoed was not vetoed on space stations or on HOPE; it was vetoed on a wide range of broad matters that would have burdened the taxpayer in this country. But let's hope that with this new interest in finding new answers, that we can get done these programs that I'm talking about. Yes, I'd like to think we can do that.
Last one. No, not again, Terry [Terence Hunt, Associated Press]. [Laughter] Well, last one. Go ahead.
Federal Law Enforcement Role in Los Angeles
Q. How long are you going to keep the Army and the Marine Corps on duty in Los Angeles?
President Bush. Well, it won't be much longer, and I will be very much interested in getting recommendations on that from the Mayor and from the Governor. As you know, we've federalized the Guard at the request of the Governor and the request of the Mayor. They are there. The law enforcement officials and the civilian officials there have felt that their presence inhibited further rioting. I'm convinced in my mind that the fact that we moved as quickly as we did in federalizing them had a very quieting effect.
But we'll start moving out. We've moved out some of the Federal law enforcement people already. I think that's been reduced by about a half, maybe more by now, Terry, the FBI people, the Customs people, Border Patrol people, and all of those who were in the law enforcement end of the Federal Government. But in terms of the Army and the Marines and the National Guard, I will be talking about that, I'm sure, tonight with our task force when I get out there.
Q. The benefit of hindsight, do you wish that you had put them on duty Thursday night or Wednesday night, rather than waiting until Friday?
President Bush. No, I still believe that you ought to work closely with the local officials. I think they are the ones that activate the Guard, and that's the way it should be. I don't think the President should call up and insist on something like that. So I have confidence in their judgment, and I think they did the right thing. And similarly, federalizing, a President can do that, but it is far better to do it when you have the full request and full cooperation of the local officials and of the Governor. And that's exactly what we did in very timely fashion. So I don't have any regrets on that.
Q. Will you be seeing Mr. Gates?
President Bush. Gates? I don't know. I don't know. I don't know.
Legislation on Social Programs
Q. When you say "new proposals," do you mean the ones you've already submitted?
President Bush. John, I'll tell you about that when I get ready to. I'll announce the program when I'm ready, not sooner; not an answer to one question or another. But when I'm ready to do it, I will. I'm going to follow it just the way I've told you, do it without recrimination, without trying to blame anybody, in an effort to try to move this country forward.
Q. Are you sorry the White House has looked divisive the last couple of days?
President Bush. I don't feel it has. I don't feel it has.
Note: The President's 127th news conference began at 12:47 p.m. in the East Room at the White House. President Kravchuk spoke in Ukrainian, and his remarks were translated by an interpreter. In his remarks, President Bush referred to Peter Ueberroth, chairman of the Rebuild L.A. Committee, and Daryl F. Gates, chief of police for the city of Los Angeles. The news conference followed a ceremony in which President Bush and President Kravchuk signed the Agreement on Trade Relations Between the United States and Ukraine; the United States-Ukraine Overseas Private Investment Corporation Agreement; and the Agreement Establishing a Peace Corps Program Between the United States and Ukraine.
George Bush, The President's News Conference With President Leonid Kravchuk of Ukraine Online by Gerhard Peters and John T. Woolley, The American Presidency Project https://www.presidency.ucsb.edu/node/267204