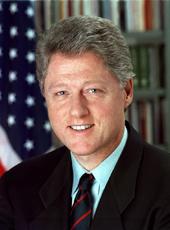 The President's News Conference With President Hosni Mubarak of Egypt
President Clinton. Good afternoon. Please be seated. As always, it's a great pleasure to have President Mubarak back at the White House. For 14 years, he has been a valued friend and partner to the United States. He was one of the first foreign leaders to visit me here after I became President, and I began my trip to the Middle East last fall by visiting him in Cairo to seek his counsel. Under his wise leadership, Egypt has been an ally, as well as a source of stability in the region and throughout the world.
In the last 2 years, we've witnessed the dawn of a new era in the Middle East. Without President Mubarak's tireless efforts on behalf of peace, these landmark achievements would not have occurred. Thanks to his persistence, the promise of Camp David, where Egypt took its stand against war, has been redeemed. In the months and years ahead, we will continue to look to President Mubarak to play a vital role in broadening the circle of peace. We're determined to do everything we can meanwhile to deepen our own partnership for peace and prosperity.
He and his government have already made great strides toward reforming and restructuring the Egyptian economy. I got a very impressive report on the progress that has been made at the luncheon we just concluded. But more is necessary to stimulate the economy so that it can provide good jobs and a future of hope for the hundreds of thousands of young people who enter the Egyptian work force every year.
The United States is committed to helping. Vice President Gore just returned from his second visit to Egypt in the last 6 months. On my behalf, he began a dialog for growth and development with President Mubarak that is unprecedented in its scope and ambition. Today he and I have taken another step forward in this partnership by meeting with the new members of our Presidents' Council at their first gathering. These top American and Egyptian businessmen will advise us on several vital issues: expanding the private sector, building stronger commercial ties between our peoples, creating better conditions to attract United States investment to Egypt.
We're also working together to bring more prosperity and stability to the entire region, efforts that are essential for peace to establish firm roots. We reaffirmed our support for greater regional cooperation and development, especially the economic initiative that began at the Casablanca summit. We also had a good discussion about the need to lift the boycott of Israel and ways to accomplish this as soon as possible.
Egypt and the United States share a determination to confront and to defeat all those who would undermine peace and security through the use of terror and weapons of mass destruction. President Mubarak told me of Egypt's regional proliferation concerns and of its commitment to a strong, universal Non-Proliferation Treaty and to a Middle East that is free of all weapons of mass destruction. The United States shares those goals.
To create the confidence and security that will make those aims a reality, we must continue to do all we can to bring a comprehensive and lasting peace to the Middle East. For the same reason, I believe we must ensure that the NPT is strong and as enduring as possible. Indefinite and unconditional extension of NPT is vital to achieving the goals that we both share.
When President Mubarak and I first met here 2 years ago, he told me that together we could help to make a just and comprehensive peace in the Middle East. He was right. We have worked side by side to fulfill that vision. Doing so, we have deepened the friendship between our two nations. Our goal is now within grasp, and America is proud to be Egypt's partner on this great mission.
Mr. President.
President Mubarak. Thank you. Once again I meet with my good friend President Clinton in order to pursue our joint endeavor for the benefit of our two nations.
We discussed all issues of mutual interest in the spirit of friendship, candor, and mutual confidence. Our views were similar on various issues. Our paramount commitment is to strengthen the structure of world peace and security and to promote cooperation among nations. Our two countries are destined to play a pivotal role throughout the world and in their regions, respectively. We are determined to pursue our mission with vigor and determination. We realize that the challenge is awesome, but our commitment to our noble goals is firm, and quite firm.
President Clinton, together we worked tirelessly for decades to promote peace and security in the Middle East. We achieve tangible success year after year, and we remain determined to pursue this goal until a just and comprehensive peace is reached throughout the area. We should never allow enemies of peace to threaten the gains which were made in the recent past. We will never hesitate to condemn terrorism and all forms of violence. Our aim is to eliminate the sources of hatred and conflict.
As we move to cement the structure of peace and security in the Middle East, we should do our utmost in order to remove all potential threats. Our purpose is to build together a new future of hope and promise for this troubled region. With this in mind, I deemed it necessary to propose in 1990 the establishment of a Middle East free of all weapons of mass destruction. My objective was and still is to make every Arab and Israeli feel more secure and less worried about the future and that of his children.
I explained to President Clinton and his able assistants our position on the NPT. We remain among the most enthusiastic supporters of the treaty. We consider it one of the pillars of the stable world order. Hence, we would like to reinforce the moral authority of the NPT. By the same token, we have a certain concern which emanates from the existence of nuclear programs in our region.
Our view is that since peace is spreading throughout the region, all the parts ought to work together towards the elimination of the potential threats, especially the spreading of nuclear, chemical, and biological weapons. This is the true application of the principle of the universality and adherence to the NPT. All states of the region should realize that it serves in their own interests to accede to the treaty. Unless this is done, no one would have control over the spread of such lethal weapons in a fragile and vulnerable region which has suffered long enough from war and devastation.
We propose, for our common good, to achieve that through serious but friendly negotiations between Egypt, and perhaps other Arab countries, and Israel. It is our sincere hope that Israel will approach this issue in a positive and constructive spirit. The U.S., under the leadership of President Clinton, can help attain this objective.
Our bilateral relations, Mr. President, are excellent. We work together in various fields in harmony and mutual trust. As we have been partners in peace and security, we are establishing a new solid partnership for economic growth and development. Thanks to President Clinton and Vice President Al Gore, we have developed a new concept for this partnership. The idea is to stimulate growth and productivity. It is vital to create jobs for our young people. We shall do that through promoting trade and investment.
We have already begun the implementation of this concept, and we are determined to make it a success story. We are encouraging the private sector to play a major role in this endeavor. As you know, our economy is becoming more and more business-friendly. This is a cornerstone of our economic reform program. We are fully committed to pursue this reform until it bears fruit.
In conclusion, I would like to thank President Clinton for his warm reception and hospitality. We are most appreciative of the understanding and the cooperation we have been receiving from every American. We will leave this great country with a renewed assurance of the solidity of the friendship and the depth of our cooperation.
Thank you, Mr. President.
President Clinton. Thank you.
I'd like to alternate questions now between the American and the Egyptian press. We'll start with Ms. Santos [Lori Santos, United Press International].
Nuclear Non-Proliferation Treaty
Q. Mr. President, did President Mubarak assure you that he will sign the extension of the Nuclear Non-Proliferation Treaty and stop urging other Arab nations not to sign unless Israel does?
President Clinton. Let me tell you the position that I took on it. And I think I'll let President Mubarak speak for himself. We believe that the NPT should be universal. And we believe that the Middle East should be free of all weapons of mass destruction, nuclear, biological, chemical. We also believe that cannot be accomplished overnight and that Egypt and Israel, as the first two parties to make peace in the Middle East, should work on this together. And I'm encouraged that the Foreign Ministers, Mr. Moussa and Mr. Peres, are going to meet soon on this issue.
The reason we believe, however, that we should vote for an NPT extension that is indefinite, without regard to whether every country in the world that we think should be in the NPT is in it, is that it seems to us that with the indefinite extension of the NPT, that will allay a lot of the security concerns of countries that are not in it and encourage them to get in it, whereas if we don't indefinitely extend it, then countries that are not fully participating may think they should hedge their bets for the future. So that's our policy; that's why we support it and why we hope it will prevail.
Mr. President, would you——
President Mubarak. I would like to say something about the NPT. In 1968, we were one of the 18 countries who participated in drafting the agreement of the NPT. We are supporting the NPT. We know that the NPT is for the welfare of the whole world in the new world order. And we know it's very important that all parties should join the NPT. We are working very hard for that, and we will never withdraw from the NPT—just to make sure of what you may mean that way.
Egypt-Israel Relations
Q. President Mubarak, the new peace between Jordan and Israel is warming up fast. The first peace between Israel and Egypt is still somewhat chilly. Will you come to Israel for the first time and personally warm it up so we can move ahead together?
President Mubarak. Jordan has about 3 million population, Egypt about 60 million. Jordan and Israel are living with each other, let us be very realistic and frank, long time ago. They have so many Palestinians here and there. But believe me, without the key of peace which was started by late President Sadat, I don't think that neither Jordan nor Palestinian would have the courage or would have thought of opening peace with this country.
Peace is not cold, as some people could say, but sometimes it's affected by a statement here or there. But believe me, there is much more progress on the cooperation with the Israelis between Israel and Egypt now. And this is the cornerstone.
President Clinton. Someone from the Egyptian press.
Q. Mr. President——
President Clinton. Go ahead.
Q. As the national security is top priority for the United States and Egypt and we are friends and allies, how can the United States help Egypt to secure its national security while there are nuclear weapons at its borders, a few kilometers from its borders? And my question is to both Presidents.
President Clinton. Well, I will restate what I said before. I believe that we—Egypt's security is best served in terms of what the United States can do in three ways, first of all, by continuing the general search to rid the entire region of all kinds of weapons of mass destruction. And we realize that we deal with the history and the facts of the countries as we find them, that it cannot be done overnight, but that that must be our goal and we must be working on that. And universal application of NPT is one of the ways we think that should be done.
The second thing is a comprehensive peace in the Middle East. If we can resolve the issues still outstanding among the other countries in the Middle East, that clearly will help to bolster Egypt's security.
Then the third thing I think we can do is what we are doing here by trying to strengthen our economic ties, so that the reform policies that have been adopted by President Mubarak and his government will be rewarded and people who live inside Egypt will feel more personally secure with their own opportunities.
I think all those things have to be pursued, but I don't think that we can—any of us can pretend that we can do it without regard to the past history of the countries involved.
President Mubarak. I think I agree to all of what President Clinton already mentioned, and I have nothing to add more than that.
Q. Mr. President——
President Clinton. Go ahead, Terry [Terence Hunt, Associated Press].
CIA and Guatemala
Q. Mr. President, the Senate is holding hearings today on CIA dealings in Guatemala, and I know that you've ordered an investigation. Can you say if the CIA's activities were appropriate in Guatemala, and were the White House and Congress kept fully and properly informed?
President Clinton. Well, I cannot answer the questions fully until I see the investigation. I think both those questions are—they're still open questions. I wish I could say absolutely yes to both of them. But because I can't say, with absolute conviction, yes to both of them, I have ordered an investigation that, as you know, is reasonably unusual in its scope and in terms of who's doing it. And so, I'm going to keep working until we get to the bottom of it. And then when I do, I'll give you the best answer I can.
Yes, ma'am.
Middle East Peace Process
Q. Egypt and the United States have played a pivotal role in the peace process since its inception. What, in your views, are—this is for both Presidents—the steps that should be taken by all parties concerned to further the peace process, especially that the Israeli and the American elections are soon, close?
President Clinton. Do you want to go first? [Laughter]
President Mubarak. As you like.
About the peace process, you know there is a Declaration of Principles, first of all, with the Palestinians, and we consider that, the Palestinian problem, the main problem in the whole Middle East issue.
The implementation may be a little bit lagging behind, because some terroristic action taking place—[inaudible]—and the Israelis are looking for their security. My proposal is—and I spoke with Mr. Arafat and Mr. Rabin—they should both cooperate. The two authorities should cooperate to avoid all this terroristic action, because if we surrender to these people, they will feel it is a success for them and the whole peace process will be a failure. I think both understand this very well, and I hope that they could do well in that direction and to continue the implementation of the Declaration of Principles.
If it is in the course of the Syrians, I know that the Syrians are now negotiating on the level of ambassadors here. I hope that there will be progress in the future. I am very sure that President Asad want reach a settlement to the problem and want sign—to reach an agreement, peace agreement with Israel.
President Clinton. I agree with the points that have been made. I would only make two other points. With regard to the Palestinians, it's also important that we try to resolve—as we resolve the security issues, that we try to work on getting economic investment back into Gaza and to Jericho, so that there is some opportunity for people there, some alternative to the destructive behavior that many are urging.
And with regard to the Syrians, I agree with what President Mubarak said, but—I think President Asad does want peace, and I think Prime Minister Rabin wants peace, but I think it is important that they reach an agreement fairly soon for the reasons that you said.
And let me say further, let me reiterate something I said in my opening statement. I think we've got a good chance to keep implementing the principles, with all the difficulties the Palestinians are having. I think we've got a good chance to reach an agreement with Syria and Israel. And I don't think either thing would happen if it weren't for the intense involvement of both the United States and Egypt.
Go ahead.
Nuclear Non-Proliferation Treaty
Q. This is a question for both of you. Are you saying that it would be acceptable if Israel would agree to sign the NPT at some point in the future, say, at the time a comprehensive Middle East peace is reached?
President Clinton. Well, I think President Mubarak should answer that, since it's really a question about whether it would be acceptable from his point of view. My position is that all countries should joint the NPT; that the Middle East should be free of all weapons of mass destruction, nuclear, biological and chemical; that that objective will be more easily achieved, notwithstanding the differences between Israel and the other countries, if we have an indefinite extension. That is the position of the United States and the position that I strongly believe to be the correct one. At any rate, I hope we'll be able to prevail with that position when the vote comes with a healthy majority.
The President of Egypt has his own views and convictions, and what he said is absolutely true: Egypt has been a complete and consistent supporter of the NPT regime from its inception. So I think I should let him answer for himself.
President Mubarak. We have no problem even with the United States concerning the NPT, as I have already mentioned before. The NPT— as I said, we were one of the 18 countries who drafted, participated in the draft. The point is, there is peace in the area. Egypt signed peace agreement, and we are in peace with Israel. Jordan signed peace agreement. Palestinian Declaration of Principles has been implemented now. Syria is on its way to reach an agreement. So there will be peace in the whole area.
So I don't think that Israel will be in need for any nuclear weapons in the future. But we are negotiating this issue to find any kind of formula to be agreed upon. We are not asking them to join the NPT now or tomorrow. We would like to know what we are going to do just for our national security. I think the ministers are going to meet tomorrow. I hope, with the help of the United States, we could narrow the gap and reach something concerning this issue.
Middle East Peace Process
Q. My question is for President Clinton. The Middle East continues to give rise to cynicism regarding the wider peace. Do you think that this might be due to lack of forceful American engagement?
President Clinton. Because of the continuing problems?
Q. Yes, because of the feeling that nothing is happening.
President Clinton. Well, first of all, a very great deal has happened in the last 2 years, and more than at any time in the last 15 years since the Camp David accords. So we have accomplished a great deal. We're about half of the way home toward a complete resolution of it.
The Secretary of State just got back from the Middle East. The Vice President has been to Egypt twice in the last 6 months. I am sending another envoy out today. I have been in regular and extensive contact with President Asad and Prime Minister Rabin, who was just here to see me recently. So we are working at it very, very hard.
I was concerned and, frankly, I would have agreed with a little bit of your question until about a month ago. About a month ago we got some new energy, some new direction, some new sense that both parties were really committed to trying to resolve this in the reasonably near future. So I'm more optimistic now, and I just think we have to keep working and people have to believe that there is not an unlimited amount of time within which to resolve this before other factors intervene.
Wolf [Wolf Blitzer, Cable News Network].
104th Congress
Q. Mr. President, if I could ask you a domestic question. The 100 days of the Republican Contract is about to end. Could you give us your assessment of these 100 days, what lessons have you learned, and where are you planning to go from here?
President Clinton. Well, I think, for one thing, I thought it got off to a pretty good start. From my point of view and my convictions, it's not ending as well as it started, because I don't agree with this tax bill. But it got off to a good start. The first three issues that were really taken up in earnest were issues that I also campaigned on: Applying to Congress the same laws they apply to the private sector—that's been passed and I've signed it; reducing the ability of the Federal Government to pass mandates on to State and local governments that cost the taxpayers there—I've signed that into law and I applaud the Congress for doing that; and both Houses have passed a version of the line-item veto, which I think is badly needed to control unnecessary spending. So those things I think are quite good.
In terms of a lot of the other measures which have made their way through the House, I think it depends on what the Senate does to them in terms of whether I think they're good for America. I do not believe that it's wise to have a tax cut of this magnitude where—with the deficit we've got and with our need to invest in our future and our children, where one percent of the people get 20 percent of the benefits and 12 percent of the people get half of the benefits, and in order to pay for it we run the risk of exploding the deficit or devastating our commitment to our children, to our educational system, and to our support for families, all of which are critical to our future economic growth.
I mean, we don't want to go back to trickledown economics here under another term. The reason I ran for President was to get out of the old fight between tax-and-spend economics and trickle-down economics. I wanted to invest and grow the economy. So we reduced the deficit and increased our investment in education and technology and our efforts in trade. That economic strategy is working to lift Americans' incomes. Now we have to add an educational component. And this tax approach is just wrong in my judgment.
So I'm going to keep working. Let's see what happens in the next 100 days and the 100 days after that and the 100 days after that. But our goals should be to lift the future prospects of the American people and grow the middle class again. And that's my assessment at this point.
Middle East Peace Process
Q. President Clinton, in the serious effort that your administration is dedicating to our Israeli-Palestinian peace, you are to be commended and your administration. And in the attempt to assist the Palestinian Authority in receiving the needed funds to build its infrastructure, can you please call, you and President Mubarak, on the Israeli Government and Mr. Rabin to end the closure of the Gaza Strip and the territories and allow more workers to enter Israel seeking employment as a way of injecting more funds in Gaza and the West Bank and all of the territories and help improve the economic conditions of the Palestinians that you are also working hard on that? Thank you.
President Clinton. We talked about this at some length together. I think it's the toughest issue, frankly, that we face between the Israelis and the Palestinians for this reason. When the borders were open, it made Israel more vulnerable to terrorism. When innocent people are killed, it undermines support in Israel for the peace process and weakens the government's ability to go forward. When the borders are closed, the incomes of the Palestinian people drop dramatically, and it makes young people more vulnerable to the appeals of the terrorists.
So it is an almost insoluble problem in that sense. It is the most difficult problem. And it is—obviously, the enemies of peace know this, and they seek to be rewarded whether the borders are open or the borders are closed. They think they will get their reward.
So I would say to you that I wish I had an easy answer. We are working on this problem. We are certainly talking to the Israelis about it. But it is the most difficult aspect of this process. And it is something that we have to be—I'm very sympathetic with the Palestinians who are within Gaza, and with the instability there, which undermines our ability to get, for example, Palestinian-Americans to invest there.
On the other hand, I understand Prime Minister Rabin's situation. I saw what it did to Israel when these acts of terror started occurring again, what it did to the psychology of the people, their feeling of confidence that peace could make a difference for them. So I won't presume to give you a final answer today, except to say I am very focused on this, and I know that this is the toughest part of the problem and that we're going to have to resolve it.
President Mubarak. I think what—we discussed this at length with President Clinton and we had long talks about it, realizing the situation will be much more difficult in Jericho and the Gaza because the income of the people nearly stopped. And we're wondering how are they going to live. And this may complicate the whole situation. That's why we have—already I have contact Mr. Rabin several times, and I spoke with Arafat. They should find a way for these people to have their income. Otherwise we'll return to terrorists, as the President already said, and it will be very difficult after that to solve the problem because complications will continue and the terrorist groups will feel that they succeed.
President Clinton. Brian [Brian Williams, NBC News].
President's Role in the Legislative Process
Q. Mr. President, one more domestic question. I'm curious as to your role over the next 100 days. Do you see it changing from that of dissenter to something, for lack of a better word, more proactive, more proactive legislatively?
President Clinton. Well, we were quite active in the—first of all, I agreed with—let me go back to the three areas which have passed. With regard to the bill applying to Congress the laws they put on the private sector, there was no activity for us to undertake, since I agree with the bill as it was drafted by the congressional leadership.
With regard to the bill on unfunded mandates, we were quite active in the Senate there and in the conference committee to try to get a bill which would permit us to protect the national interest and still give relief to State and local governments.
And with regard to the line-item veto, I personally lobbied a number of Democratic Senators very hard to make sure that we would be able to get a line-item veto through the Senate so we could go to conference and get one to my desk. Now, as I said, all three of those things I have worked very hard on.
All the other contract items that have passed with which I disagree, we are working in the United States Senate and we will work in the conference committee to try to get bills that are consistent with the principles that I hold to my desk so that I can sign them, not veto them. I do not want a pile of vetoes.
In the next 100 days, you're going to see a very exciting debate about welfare reform, something I've been involved in for 15 years. I have laid out my principles very, very clearly on that. You're going to see a debate about the larger budget that will run for the next 6 months, I think, in which I have very strong feelings about what we should be doing. I hope that I can focus the attention of the Congress on the need to lift the incomes of the American people, which means that if we're going to have a tax cut it ought to be for middle-class people to raise their children and educate themselves and their children, because that will raise incomes over the long run. And I hope I'll be able to persuade the Congress to raise the minimum wage. So I think I'll be involved in this debate with Congress.
Meanwhile, we're going to be pursuing our efforts to reform Government that we can do through the executive branch and our efforts to expand the American economy and our efforts to make the American people more secure. We will be pursuing those things just as we always have. And it will be a very exciting time.
I'm enjoying this, but I'm determined to see that the American people come out the winner. I do not want us to go back to trickle-down economics and to go back to the old debate, which is we should spend more on everything or less on everything. The less-on-everything crowd now has a majority in the Congress. What we should do is spend less on some things and more on some things and invest in things that will grow our economy and raise our incomes.
So I'm looking forward to being part of this debate. And I'm determined to see that it's a positive thing for the American people.
One more question from an Egyptian.
Antiterrorism Efforts
Q. Mr. President, Egypt has been—has a very good record combating and containing terrorism inside the country. What could the neighbors of Egypt in North Africa and the Middle East learn from the Egyptian experience?
President Mubarak. This question to me?
Q. Yes.
President Mubarak. Each country has its own tradition, its own way of living, its own way of dealing with the problems. We could manage to put down all the terroristic action to a great extent by law. We are not violating the law. Our neighbors, they have different characters, different situation, and they have their own idea that could make a good estimation of a situation to adopt what decision which could suit them to put an end to terrorism that's completely different from ours.
President Clinton. Thank you.
NOTE: The President's 91st news conference began at 2:44 p.m. in the East Room at the White House. During the news conference, the following persons were referred to: Minister of Foreign Affairs Amre Mahmoud Moussa of Egypt, Foreign Minister Shimon Peres of Israel, Palestine Liberation Organization Chairman Yasser Arafat, Prime Minister Yitzhak Rabin of Israel, and President Hafiz al-Asad of Syria.
William J. Clinton, The President's News Conference With President Hosni Mubarak of Egypt Online by Gerhard Peters and John T. Woolley, The American Presidency Project https://www.presidency.ucsb.edu/node/220591