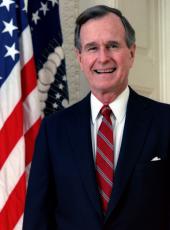 The President's News Conference With Chancellor Helmut Kohl of Germany
The President. I had a chance to welcome Chancellor Kohl, the Chancellor of a united Germany. And I was delighted to do that and welcome him and his Foreign Minister, Hans-Dietrich Genscher, and others in his party. We've had a good meeting.
We discussed the European security and the importance of NATO in terms of future security for Europe. We both agreed that we have a lot at stake in the successful conclusion of the Uruguay round. We had detailed discussions about the Soviet Union, and Chancellor Kohl shared with me his thoughts on that important question. And I had a chance to thank Chancellor Kohl for Germany's support during the war and to congratulate him for the leadership role that Germany took in trying to bring aid to the Kurds over there in Iraq.
The Chancellor. Thank you very much, Mr. President. Mr. President, ladies and gentlemen, I would like to take this opportunity to thank you and all of our American friends for the unrelenting support which we have been given on our way to complete German unification.
For over 40 years our American friends have guaranteed peace and freedom of the free part of our fatherland of what was then the Federal Republic of Germany. Millions of American soldiers have served their military service in our country, far away from their home country. We will never forget that because that was a precondition for the 3d of October, for the Day of German Unity.
Today again we talked about the process of political unity for Europe, as we have done numerous times during our telephone conversations. This is really what we have always wanted: to get the support of our American friends and partners. And I'm very pleased to be able to be part of that process, a process which Winston Churchill talked about already in 1946 in his famous speech in Zurich, a process leading up to what he called then "the united states of Europe."
And this process, heading towards political unity, economic unity within Europe, obviously also includes cooperation with the United States of America. German-American friendship and friendship between Europe and the United States is of existential importance for a future for all of us. And this also goes for NATO, which is why it is also important in the future that the United States maintains a substantial troop presence in Germany, but also in Europe as a whole.
Mr. President, we talked about GATT, about the Uruguay round. The two of us know that it would deal a fatal blow to world trade if we would let protectionism come in and take the upper hand. That does not only hold true for us Germans, we, as one of the leading exporting nations in the world. A failure of GATT would also be a catastrophe for the developing countries. This is why we have to work very hard in order to bring about a success for the Uruguay round, for GATT. And although it is a very difficult subject, I think that we have cause to be carefully optimistic and to see -- to state that things are actually moving.
As far as the conflict -- the war in the Gulf is concerned, I would like to mention here once again what I already told the President. We in Germany and we as Europeans, in Europe as a whole, we want to see his initiatives to be successful. We are very grateful for what Jim Baker did, and I hope that he will continue his missions and that this war, which has been won, will lead also to a peace which is won.
The last thing I wanted to mention here has already been, I think, touched upon by the President, and let me say this in one brief sentence. We have a joint interest, and we as Germans have a particular interest, in seeing the reform movements in Central Europe and southeastern Europe and also in the Soviet Union to be successful.
The President. May I suggest that, on the questions, we alternate one to Chancellor and one to me. I'd be glad to start.
Soviet Union
Q. Chancellor, would you like to see President Gorbachev have a role at the London economic summit?
The Chancellor. President Gorbachev is going to play a role irrespective of whether he's actually bodily present or not. And I think that we have to take a break and talk about it in some detail, about what is going to happen at that summit.
Q. Would you support it?
The Chancellor. I would support what is reasonable and what is beneficial to both sides. And one has to weigh carefully the pros and cons, and one has to talk to them personally about this. And let me say that, at this very point here in this press meeting, I'm not yet in a position to have any sort of definitive answer to that, but I'll soon have one.
Q. Mr. President, did the Chancellor ask you to give any increased aid to the Soviet Union? And where do you stand now on the request for $1.5 million in agricultural credits?
The President. No, there was no specific request. I think there was general agreement that we'd like to be able to help the Soviet Union in every way possible. And we both expressed our confidence in President Gorbachev. Still under consideration.
The Chancellor. I would like to underline this -- taking this occasion to underline this, that we both completely agree in that -- that we support Gorbachev here, that we completely agree with that.
U.S. Troops in Europe
Q. Chancellor, why do you want U.S. troops to remain in Europe? And President Bush, do you think they should stay there?
The Chancellor. Because I think that in spite of the fact that the situation has obviously changed and that indisputably the danger has decreased, I still say and I still think that NATO makes sense, albeit in an adjusted form. It will have to develop. But I still think that NATO should remain. It makes sense. And if NATO is there, then it makes sense that the United States maintain a troop presence.
And let me say, I think that this is both in the American and in the European interest.
Q. And, President Bush, your reaction to that?
The President. I agree with it. NATO kept the peace for 40 years, and the U.S. is a significant participant in NATO, obviously. And we don't want to pull back into some sphere of isolation.
Soviet Union
Q. Mr. President, would you pay an invitation to Mr. Gorbachev for the G - 7 meeting in London?
The President. I agree with what the Chancellor said on that same question: that we're waiting and considering, and see what would be most helpful in terms of the economic recovery in the Soviet Union and Eastern Europe.
Q. Mr. President, is it now -- --
The President. Can you shoot it to the Chancellor? It's his turn. We're going in turns here. Or forever hold your peace, and I'll get around to it later.
Yugoslavia
Q. Mr. Chancellor, Yugoslavia seems to be falling apart at an accelerating pace. Is there anything that you believe that the United States and the NATO allies can do to try to halt the process from disintegrating into violence? And did you discuss that with the President?
The Chancellor. I think that we can all do something. I don't think that this is something which will fall specifically into the sphere of confidence of NATO. I think the European Community could also do something here and must, indeed, do something here. And Yugoslavia must have a very vested interest in cooperation with the European Community. And I think that we are in total agreement here with our American friends that we must act together here, but that, as it is a very delicate subject, we must also be very prudent, very careful in the way we deal with it. It's, as I said, a very delicate, a very difficult problem which actually goes back centuries.
The President. Now we'll go over here. Yes, sir.
Iraq
Q. Mr. President, is it now your policy not to lift sanctions against Iraq as long as Saddam Hussein remains in power? Is that a hard, fast position?
The President. We will abide by the United Nations resolutions, of course. It is our policy that there will not be normalized relations. And it is my view that only if the sanctions are complied with will we be willing to -- I mean, only if every provision of the United Nations resolutions are complied with would we, the United States, be willing to lift sanctions.
Q. Are there any conditions under which sanctions could be lifted and Saddam Hussein still remain in power?
The President. There are certain areas where Iraq, in order to comply with United Nations sanctions, must sell abroad. They've got funds set up to put some of their oil revenues into it. But all of these things are down the road. At this juncture, my view is we don't want to lift these sanctions as long as Saddam Hussein is in power.
Soviet Union
Q. Mr. Chancellor, you talk about the general support to Gorbachev. Did you discuss any specific measures you can take to help him?
The Chancellor. We are in total agreement about one principle: it can only be help for self-help, because these reforms must actually be carried out in the Soviet Union itself. For example, a restructuring of the overall system there, actually bringing about what we call a federative structure. And this also goes for reforms leading up to the introduction of a market economy.
This is, incidentally, a dramatic process. We, ourselves, have now experiences with the kinds of problems that you incur if you try to achieve that transformation if we look to the so-called new Lander, the Eastern Lander [States] of what is now the Federal Republic of Germany.
Q. Mr. President, was progress made today by the negotiators on resolving the issues around the CFE treaty? And if those issues are resolved, would you be willing to go ahead with a summit in June or July with President Gorbachev?
The President. Are you referring to Mr. Moiseyev's visit?
Q. I am, but I can't say his name.
The President. I'm just getting briefed on it here. The answer is, not much progress. And they've not reported to me on that visit yet. But yes, we get that matter resolved and START resolved, I'd like to have a summit with Mr. Gorbachev.
Iran
Q. Chancellor Kohl, you recently spoke over the telephone with Iranian President Mr. Rafsanjani, and your Foreign Minister was recently in Iran. Did you discuss that subject with the President? Do you feel that Iran is opening to the West -- wants to open to the West? Did you discuss the question of hostages?
The Chancellor. Actually, we touched on this issue very briefly, but we're going to take it up at a later stage. I've actually had a number of telephone calls with President Rafsanjani. Hans-Dietrich Genscher was there and had very interesting discussions with him. And my impression is -- and let me be very careful here -- that after years of abstinence, they seem to be willing to show more of an openness, more of a willingness to actually have contacts and talks with the West, which will be in the common interest, particularly if the preconditions would develop favorably.
A precondition, for example, would be that the American hostages are finally allowed to go home to their families. Let me say to you, I pointed this out very, very clearly in no uncertain terms to him. I told him that's more than just a question of improving the political climate here.
The President. We have time to take one more question each.
Kuwait
Q. Mr. President, we've seen over the weekend trials in Kuwait. What is your assessment and what are your concerns about the nature of Kuwaiti justice right now?
The President. I haven't had a report on the trials themselves yet. And when I read about them, I tried to put myself in the place of the Kuwaiti citizens who were brutalized by Saddam Hussein. I tried to think back, and it wasn't hard, to the brutality and the terrible grief that the families that stayed in Kuwait had. And I can understand that there's a lot of bitterness from those Kuwaitis who saw their country raped and pillaged in an unconscionable way.
Having said that, I think it would be in Kuwait's interest to extend the fair trial to everybody and to be as compassionate as one can given the outrages that they faced.
The last question's for the Chancellor.
Q. Do I take that, sir, as meaning you think they can do a better job?
The President. All I know of the trials is what I read in the paper today, and so I'd want to reserve on that until I understand exactly how the system works.
World Economy
Q. Chancellor Kohl, did President Bush reiterate the American request for lower German interest rates? And what's your position on that question?
The Chancellor. Actually, we did talk about that in passing. But I think that the opinions here are well-known. We as Germans have an interest in seeing sound economic growth worldwide. And we are giving an important contribution to that, not least as a consequence of German unification. As a consequence of German unification, we have seen the German economy emerge -- and I don't like that word all that well -- emerge as a sort of locomotive, as a sort of engine motor of the worldwide economy. And I think that this is of advantage to all of us, which is why I think that discussing what can we do in order to push, in order to promote world economy is going to be a very important subject during the G - 7 meeting in London.
The President. Sarah [Sarah McClendon, McClendon News Service], you missed what I said. I said these were the two last ones. I'm very sorry.
Note: The President's 83d news conference began at 6:07 p.m. in the Rose Garden at the White House. The Chancellor spoke in German, and his remarks were translated by an interpreter. In the news conference, the following persons were referred to: Foreign Minister Hans-Dietrich Genscher of Germany; Secretary of State James A. Baker III; President Mikhail Gorbachev of the Soviet Union; President Saddam Hussein of Iraq; Gen. Mikhail Moiseyev, Chief of the General Staff of the Soviet Union; and President Ali Akbar Hashemi-Rafsanjani of Iran.
George Bush, The President's News Conference With Chancellor Helmut Kohl of Germany Online by Gerhard Peters and John T. Woolley, The American Presidency Project https://www.presidency.ucsb.edu/node/265368