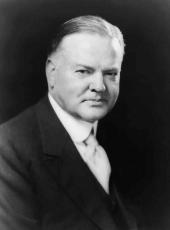 The President's News Conference
HOME FINANCING
THE PRESIDENT. This conference this afternoon has little or no relation to the current problem. It is just by way of background that I can tell you about it. I have no public statement to make. The committees of the Housing Conference, which is going to meet in December, have been working on various problems in connection with finance of homeownership, looking to the long view rather than the short. They wanted to have a discussion with me as to the views they have developed before final conclusions, and they are working along the line of some sort of organization of building and loan societies and in cooperation with such societies to make them more liquid and stronger. But it is not a question of the emergency at all. It is one of those series of ideas in process of development that have not reached any finality. It is not part of the economic plan.
Q. It has been suggested that you might create some sort of central agency to liquidate mortgages.
THE PRESIDENT. The real estate people have been suggesting a central mortgage rediscount bank as a permanent institution but that committee is not in agreement and have not completed their arguments. Another suggestion is that a central rediscount institution should be created by the building and loan associations in order to expand and assure their position, but this is typical of the questions brought up. There is nothing conclusive about any of them. They have a number of investigations going on endeavoring to determine facts bearing on these various problems. A number of agencies like the mutual insurance companies and the building and loans are not entirely in accord with the ideas of the real estate people, although they have ideas leading in the same direction. But there is no finality to their plans.
This meeting today was a progress meeting and there will be no final results until the meeting in December. They are working toward having an effective program for that meeting. The major object is to build up some better form, more reliable and substantial form of finance for homeownership. That is the purpose of the committee and the point toward which they are driving. At the present moment they are investigating half a dozen different ideas. There is that problem of frozen mortgages. A proposal made this morning will undertake to assist that situation, as part of the object of the general plan now in progress to take care of the situation.
Note: President Hoover's two hundred and thirteenth news conference was held in the White House at 5:45 p.m. on Wednesday, October 7, 1931.
Prior to the news conference, the President and Secretary of Commerce Robert P. Lamont met with members of the Finance Committee of the White House Conference on Home Building and Home Ownership, representing insurance, mortgage, building and loan, and construction interests (see Appendix E, October 7, 1931).
Herbert Hoover, The President's News Conference Online by Gerhard Peters and John T. Woolley, The American Presidency Project https://www.presidency.ucsb.edu/node/207815