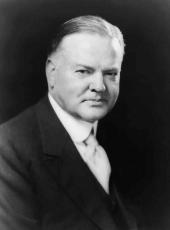 The President's News Conference
THE HAITIAN COMMISSION
THE PRESIDENT. I have had on one or two occasions, and again this morning, some questions about Haiti. And now that the Senate and House have approved the appropriation for a thorough investigation of conditions in Haiti, I shall appoint a commission at once, and I hope to be able to announce the names this week.
The primary question which is to be investigated is when and how we are to withdraw from Haiti.
The second question is what we are to do in the meantime. Certainly we will withdraw from Haiti sometime--both our military officials and our civil officials. There are some who have been advocating immediate scuttling from that situation. I am advised from every group in Haiti that such action would bring complete chaos in that island. On the other hand, the Treaty of 1915 [39 Stat. 1654] expires in 1936--or at least its major provisions expire at that time, and we have no mandate to continue there after that time.
We have an obligation to the people of Haiti, and we need to plan now as to how we are going to discharge that obligation prior to 1936. There is a necessity to build up an assurance of an effective and stable government so that life and property may be protected when we withdraw. So we need to know the sequent steps that should be taken to build up stability in Haiti. And the answers to these questions must need be worked out with an understanding of the background of social and political problems in Haiti, and it needs to be done by men with unbiased minds. So I have determined some time ago to send such a commission to Haiti to determine the facts and to survey the whole problem in all of its aspects, and to confer on all sides with the people of Haiti, and to come to some conclusion as to the liquidation of our responsibility and at the same time develop some positive method of securing a stable government.
I stated before that I have no desire that we should be represented abroad by marines. We entered Haiti in 1915 under a treaty that provided we should assist the Republic of Haiti to restore order, to organize an effective police force, to rehabilitate its finances, and develop its natural resources. We entered at that time because of the distress and chaos brought about by continued revolutions. Peace and order have been restored, the finances have been rehabilitated, the police force has been functioning under the leadership of marine officers. We have built up roads and schools and sanitation. General Russell deserves great credit for the work that he has done in that country.
What we need now is a definite policy and a knowledge of the sequent steps that we ought to take prior to the expiration of our treaty. That question can only be determined by an effective examination of the subject by men of experience and national standing, and I propose, therefore, to send a commission to do it. That is all.
Q. How much of a commission, Mr. President?
THE PRESIDENT. Either five or seven.
Q. Do you intend to appoint that commission, Mr. President, before you take your little holiday ?
THE PRESIDENT. Yes, and just between ourselves that holiday is no certainty.
Note: President Hoover's eighty-eighth news conference was held in the State, War, and Navy Building at 12 noon on Tuesday, February 4, 1930.
Brig. Gen. John H. Russell, USMC, was the American High Commissioner for Haiti.
The White House also issued a text of the President's statement on the President's Commission for the Study and Review of Conditions in the Republic of Haiti (see Item 39).
Herbert Hoover, The President's News Conference Online by Gerhard Peters and John T. Woolley, The American Presidency Project https://www.presidency.ucsb.edu/node/212491