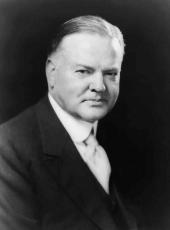 The President's News Conference
MEETING WITH CONGRESSIONAL LEADERSHIP
THE PRESIDENT. I have had a number of questions about the conference we had this morning at the White House. I do not want to make any public statement on the question. I will be very glad to tell you the background for your own information.
The House leaders are very anxious for expedition in legislative matters. They have completed, or will within another week or 10 days have completed, their major program--appropriation bills, et cetera-and they are likely to have a period when they will have nothing to do due to the delays in the Senate. And we had a general discussion on what might be done to expedite matters before the Senate, chiefly the tariff bill. 1
1 As of February 18, 1930, the House of Representatives had passed the tariff bill that had been under consideration since April 1929, but Senate action was still incomplete.
The matter is one of pressing character because, as you know, the business situation of the country is more sensitive now than it normally would be to legislative reactions, and the delays in legislation have a tendency to slowdown recovery a little.
And there is still another phase of it, that we have general cooperation of the whole of the community--business, agriculture, and labor--in getting by a difficult period. And that cooperation is going on magnificently over the entire country, and a little more cooperation in legislation would help us to get by. That arises in some very definite particulars. For instance, we have been expediting public works very largely--have taken on quite a number more employees to help meet contracts, especially in waterway development and things of that kind, and our funds will be exhausted of the present fiscal year appropriation somewhere about the middle to the end of March. Appropriation bills provide that we can draw on next year's appropriations for anticipated work for this special period, and we have been counting on the use of appropriations in that form to keep going. So that unless we can have some assistance in those particulars, the Government itself will be in the position of letting out anything from 10 to 20,000 men from employment by the end of March. So that expedition does press.
There is no discussion as to means of appeal to the country or anything of that kind. The discussions we had were purely as to methods that might be taken up as to [the] best [way of] working in the tariff legislation. We discussed the whole question of procedure, and what could be done by way of expedition of debate, et cetera. And I have no doubt that the Senate leaders will have discussions with the leaders in the opposition to see what can be done to expedite the whole question in view of the public necessity for as early action as possible.
REPORT ON PAY INCREASES FOR THE ARMY AND NAVY
So that is the entire story there, and I have nothing else ready this morning except that we are issuing the reports made by the Budget Bureau and the Bureau of Efficiency on the interdepartmental report recommending some 6 or 8 months ago very large increases in Army and Navy pay. Those have been printed so that you will have them available today. There is, as you know, a Joint Select Committee of the House and Senate considering that question, and they have asked to have those reports, and they have been sent up to them, and I have had a few extra copies printed so that you may have them available, and that is all.
Note: President Hoover's ninetieth news conference was held in the State, War, and Navy Building at 12 noon on Tuesday, February 18, 1930.
The reports the President referred to are published as Appendixes A and B in Senate Document No. 259 (71st Cong., 3d sess.), entitled "Pay and Allowances of Commissioned and Enlisted Personnel of the Army, Navy, Marine Corps, Coast Guard, Coast and Geodetic Survey, and Public Health Service."
At issue was a new pay system proposed by the Interdepartmental Pay Board created in March 1929. The system would abolish most officers' allowances and substitute rates computed from standard grade bases and standard seniority increments, uniform for all services. The Bureau of the Budget estimated that it would mean pay increases of about 27 percent for commissioned personnel.
The President also referred to the Joint Committee To Investigate Pay and Allowances in the Army, Navy, Marine Corps, Coast Guard, Coast and Geodetic Survey, and Public Health Service, created under Public Resolution 36, February 3, 1930.
Herbert Hoover, The President's News Conference Online by Gerhard Peters and John T. Woolley, The American Presidency Project https://www.presidency.ucsb.edu/node/211384