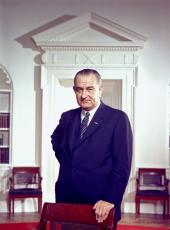 The President's News Conference
THE PRESIDENT. [1.] I want to take this opportunity to restate our position on Panama and the Canal Zone. No purpose is served by rehashing either recent or ancient events. There have been excesses and errors on the part of both Americans and Panamanians. Earlier this month, actions of imprudent students from both countries played into the hands of agitators seeking to divide us. What followed was a needless and tragic loss of life on both sides.1
1 In defiance of an order of the Governor of Panama to eliminate the flying of flags at schools, American students on January 7 hoisted their own flag at Balboa High School. Two days later Panamanian students attempted to display their flag and disorder followed. On January 10 Panama broke diplomatic relations with the United States. (See also Items 95, 104, 114.
Our own forces were confronted with sniper fire and mob attack. Their role was one of resisting aggression and not committing it. At all times they remained inside the Canal Zone and they took only those defensive actions required to maintain law and order and to protect lives and property and the Canal itself. Our obligation to safeguard the Canal against riots and vandals and sabotage and other interference rests on the precepts of international law, the requirements of international commerce, and the needs of free world security.
These obligations cannot be abandoned. But the security of the Panama Canal is not inconsistent with the interests of the Republic of Panama. Both of these objectives can and should be assured by the actions and the agreement of Panama and the United States. This Government has long recognized that our operation of the Canal across Panama poses special problems for both countries. It is necessary, therefore, that our relations be given constant attention.
Over the past few years we have taken a number of actions to remove inequities and irritants. We recognize that there are things to be done and we are prepared to talk about the ways and means of doing them. But violence is never justified and is never a basis for talks. Consequently, the first item of business has been the restoration of public order. The Inter-American Peace Committee, which I met this morning, deserves the thanks of us all, not only for helping to restore order, but for its good offices.2 For the future, we have stated our willingness to engage without limitation or delay in a full and frank review and reconsideration of all issues between our two countries.
2 The Inter-American Peace Committee of the Organization of American States, composed of Argentina, Colombia, the Dominican Republic, the United States (in connection with this matter the OAS Council elected Chile to serve in place of the United States), and Venezuela, was called upon jointly by the two countries to study the U.S.-Panamanian dispute and to recommend measures for its settlement.
We have set no preconditions to the resumption of peaceful discussions. We are bound by no preconceptions of what they will produce. And we hope that Panama can take the same approach. In the meantime, we expect neither country to either foster or yield to any kind of pressure with respect to such discussions. We are prepared, 30 days after relations are restored, to sit in conference with Panamanian officials to seek concrete solutions to all problems dividing our countries. Each government will be free to raise any issue and to take any position. And our Government will consider all practical solutions to practical problems that are offered in good faith.
Certainly solutions can be found which are compatible with the dignity and the security of both countries, as well as the needs of world commerce. And certainly Panama and the United States can remain, as they should remain, good friends and good neighbors.
[2.] Q. Mr. President, before you go, I wonder if you could entertain another question or so. For example, how do you think things are going up on the Hill?
THE PRESIDENT. Well, we signed the cultural bill this morning. We finished up the appropriation bill before we went home Christmas. We completed the education bills that were then in conference, and signed them.
We had two big items that are high on the agenda; the civil rights bill.
We have the feeling and the belief of the leadership that we will have that bill before the House early in the month and that we will have final action on it before they take a holiday for Lincoln's Birthday.
On the tax bill, Senator Byrd has called me within the hour and told me that they reversed the decision earlier made and today they took the language out, all repeal language, dealing with excises and restored $450 million in the bill by a 9 to 8 vote and then reported the bill to the Senate by a vote of 12 to 5.
[3.] You are also writing some other stories, I think, about an insurance policy that was written on my life some 7 years ago, and I am still here.
The company in which Mrs. Johnson and my daughters have a majority interest, along with some other stockholders, were somewhat concerned when I had a heart attack in 1955, and in 1957 they purchased insurance on my life made payable to the company. And the insurance premiums were never included as a business expense, but they thought that was good business practice in case something happened to me, so Mrs. Johnson and the children wouldn't have to sell their stock on the open market and lose control of the company.
That insurance was purchased here in Washington, and on a portion of the premiums paid, Mr. Don Reynolds got a small commission. Mr. George Sampson, the general agent for the Manhattan Insurance Company, handled it and we have paid some $78,000 in premiums up to date and there is another $11,800 due next month which the company will probably pay to take care of that insurance.
[4.] There is a question also which has been raised about a gift of a stereo set that an employee of mine made to me and Mrs. Johnson. That happened some 2 years later, some 5 years ago. The Baker family gave us a stereo set. We used it for a period, and we had exchanged gifts before. He was an employee of the public and had no business pending before me and was asking for nothing, and so far as I knew expected nothing in return any more than I did when I had presented him with gifts.
I think that is about all I know that is going on on the Hill, but I hope that covers it rather fully. That is all I have to say about it and all I know about it.
Merriman Smith, United Press International: Thank you, sir.
Note: The text of this conference was originally issued in the form of a White House press release. It was later made public in the news conference series and was designated "News Conference No. 10 (Out of Sequence)." The conference was held in the Fish Room at the White House at 5 p.m. on Thursday, January 23, 1964.
Subsequent news conferences in this volume carry the sequential numbers as they appear in the official transcript. Thus, the news conference of January 25 (Item 150), actually the fifth in the series, retains the original designation "President Lyndon B. Johnson's News Conference No. 4."
Lyndon B. Johnson, The President's News Conference Online by Gerhard Peters and John T. Woolley, The American Presidency Project https://www.presidency.ucsb.edu/node/240164