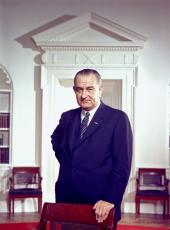 The President's News Conference
THE PRESIDENT. [1.] Today the President held his 12th meeting with the Members of the leadership of both parties in the Congress and related his observations resulting from his personal conversation with British Prime Minister Wilson, Soviet Ambassador Dobrynin, and other Government leaders.
The President presented to the leadership a highly classified briefing on recent events in the Soviet Union and Communist China.
Director McCone and Chairman Seaborg presented details on the development of the Chinese nuclear effort.1 Mr. McCone reviewed in detail the evidence which supports the conclusions the President announced in recent days.
1John A. McCone, Director of the Central Intelligence Agency, and Glenn T. Seaborg, Chairman of the Atomic Energy Commission.
Secretary McNamara reported in detail on the U.S. defense plans and deployments which take full account of the Chinese effort now and for the future. He emphasized as well the enormous cost to all mankind of any nuclear holocaust, and he showed how the heavy strategic superiority of the United States deters, and will continue to deter, all possible opponents.
Ambassador Thompson2 discussed the probable causes and estimated meaning of the removal of Chairman Khrushchev and reviewed the evidence with which political developments in the Soviet Union are observed, assessed, and analyzed by U.S. experts.
2 Llewellyn E. Thompson, Ambassador at Large for the Department of State and former Ambassador to the Soviet Union.
The Secretary of State reviewed the political meaning of these important events and explained the political and diplomatic steps which the United States is taking in support of the basic positions set forth by the President last night. The Secretary also reported that the President had talked with Prime Minister Wilson and now intends to have a preliminary discussion of international problems early next week with the new British Foreign Secretary, Patrick Gordon Walker.
The President invited the Members of the leadership to offer their own evaluations and to pursue any questions of interest to them, and a thorough discussion followed. The President expressed his pleasure at the cooperation of the leadership of the Congress in all matters affecting our country's foreign policy. The President reaffirmed his conviction that while these new developments require a careful watch by the United States, they only reinforce the need for continuation of our basic bipartisan foreign policy.
I will give that to the radio and television people as soon as they can have it.
[2.] In addition to that, I made brief statements concerning the civilian employment of the Government and the expenditures for the first few months of this fiscal year.
[3.] I also pointed out that I would try to meet in the next few days with the group that I set up to counsel with me on international matters, made up of General Bradley, Mr. John Coles, Arthur Dean, Allen Dulles, Roswell Gilpatric, George Kistiakowsky, Bob Lovett, John McCloy, and Honorable James Perkins and James Wadsworth. And I expect to try to meet with them Wednesday before we go out to have some visits with people.3
3 See Items 591, 696.
[4.] I pointed out that the Federal civilian employment in September was 2,449,327. At this level, it was 14,000 under the preceding month, down 14,000, down 21,000 from the beginning of the Johnson administration, the lowest level in 2½ years.
I pointed out that we spent $676 million less in July and August than last July and August. The figure for September looks like we spent $635 million more. We have a net difference of probably $41 million less expenditure for the 3 months than last year's 3 months. In other words, our expenditures for the first quarter, fiscal quarter of the Johnson administration, is $41 million less than the 3 months for the other administration. It would have been $250 million or $300 million more except we borrowed $134 million for FNMA, and Civil Service made a big lump contribution that was not spread out over the years for the Government Employees' Trust Fund.
The important thing is we have 21,000 less people working now than we had when we took over. We had 25,000 less in July and 17,000 in August and 14,000 less in September, but the net is as of October 14th through the month of September we had 21,000 less working, which is the lowest level in 2 years, and for the quarter we spent $41 million less. I reviewed that with them.
[5.] I also told them about the Hoover report involving Mr. Jenkins,4 that we would get those facts and what the indications were at this time. I made available to them a copy of Mr. Dillon's5 letter to the Attorney General where he says he was not checked further with District of Columbia authorities, the Secret Service, nor were any other high officials informed of the report, speaking of the '59 incident. It was not specifically brought to the attention of any member of the White House staff, the Kennedy staff, in 1961 and 1962, the then Vice President, or any member of his staff. That is the result of the study by the man in charge of the Secret Service.
4 Walter Jenkins, former Special Assistant to the President (see Item 671).
5 Secretary of the Treasury Douglas Dillon.
[6.] I reviewed with them some of the efforts that I am making in the budget field to try to keep our employment down and our expenditures down, notwithstanding the new programs and the first quarter spending below last year, notwithstanding a major civilian pay increase in July, notwithstanding two military pay increases effective October 1, 1963, and September 1964. So notwithstanding those three increases we are still, for the quarter, under it. That will fluctuate, but we are trying to make rather material reductions under what we had last year, and we think we will be able to.
I also expressed appreciation for their consideration of my budget. It was cut about 3 percent, a little over 3, the lowest budget cut in years.
I think that is about all.
[7.] Q. Mr. President, when you referred to going back to visiting people, did you mean on Wednesday?
THE PRESIDENT. I hope to. I don't have any definite plans at the moment, but I will check as soon as I get out. I have not had my lunch. You worry about my health, and I want to get my lunch. I was never in better health. I never felt better, notwithstanding some of the rather heavy problems that have come across my desk this week.
[8.] I have had a heavy schedule of meetings with my advisers in USIA, Defense and Treasury, Secret Service, with Mr. Hoover, and other people. And I would hope that I can get this group in here Wednesday--Mr. McCloy and company, Arthur Dean, Bob Lovett--and review with them this world picture.
I have been with Mr. Erhard twice, and there is the situation in Germany; with a new government in Britain; Mr. de Gaulle just made his trip to the Latin American countries; we have had very interesting developments in Brazil--and Chile has given us some concern, and Panama and Cuba, since we have been here; but we think the OAS meeting with 19 out of 20 passed a resolution which is very good.
We are trying to keep abreast and be very prompt in our actions on this hemisphere. We are happy for the work Tom Mann6 has done. He has brought us where we can act quickly and cut the red tape over there, and he has funds obligated which were not piled up. I talked with the businessmen's committee, headed by David Rockefeller.7 I want to get their ideas.
6 Thomas C. Mann, Secretary of State for Inter-American Affairs, U.S. Coordinator, Alliance for Progress, and Special Assistant to the President for Latin America.
7 Business Group for Latin America (see Item 169).
We have a new government in India. We have a new government in Russia. And I want to draw upon their wide experience on a bipartisan basis, from Lovett and McCloy and Dean and Kistiakowsky, Dean Acheson, all of whom I have had individual talks with in the last few days, but I want to have their collective thinking.
I also asked these people to give me any suggestions they could. I will be glad to have any criticism they have to offer or any corrections that they would like to suggest.
[At this point the President spoke of the record. He then resumed speaking on the record.]
I pointed out to them that we now have over 11 countries that have moved into Viet-Nam. We now have something over 1,000 people that those countries are contributing. It is now exceeding the 1,000 mark and General Taylor8 has just told us and we are very appreciative of the efforts of various countries--Australia and others. I think that is about all we said.
8 Gen. Maxwell D. Taylor, Ambassador to Viet-Nam.
They didn't ask any questions. I don't want to imply that their silence approved what we said or did anything, although I asked for corrections and suggestions as falling within that area. Some questions were asked to develop information on what is happening in this area of the world or that one.
Ambassador Thompson gave a very excellent review, as did Secretary Rusk and Secretary McNamara who went into everything from warheads to airplanes and all those things.
That is it now.
Note: President Johnson's thirty-third news conference was held in the Cabinet Room at the White House at 4:03 p.m. on Monday, October 19, 1964.
Lyndon B. Johnson, The President's News Conference Online by Gerhard Peters and John T. Woolley, The American Presidency Project https://www.presidency.ucsb.edu/node/242159