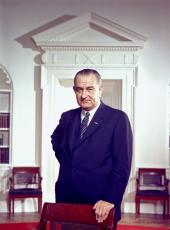 The President's Meeting With the Press on His Departure From the Hospital
THE PRESIDENT [replying to the question, "How are you?"]. I am glad to be going home.
Q. What do you look forward to doing out at the ranch, sir, in the next few weeks?
THE PRESIDENT. Working.
Q. How do you feel, Mr. President?
THE PRESIDENT. I feel pretty good.
Q. Do you still have aches and pains?
THE PRESIDENT. Some. Not as much as the first day or two.
Q. Mr. President, you have surely boomed the sale of tapioca. How do you feel about that?
THE PRESIDENT. Well, I like it.
Q. Mr. President, how is your voice? Do you feel more comfortable?
THE PRESIDENT. It is hoarse. It has some ache. It will have for several weeks, but I think it is going to be all right.
Q. Mr. President, some of the doctors said they thought the tonal quality of your voice might be a bit different. Do you think it is different?
THE PRESIDENT. I can't tell. You will be a better judge than I.
Q. Mr. President, how do you plan to spend the rest of the year?
THE PRESIDENT. Well, I just finished up the work that was rather important here. I cleared my desk with Mr. Rostow. I had a rather nice conversation with Secretary McNamara. I visited with Secretary Rusk yesterday. I expect Mr. Rostow, Secretary Rusk, Mr. McCloy, and others to be visiting us next week.1
I spent some time this morning on the budget. So from now until January we will have a rather full workload, but we will try to get some sun and some relaxation. And we will at least be in the surroundings that we like most.
Q. How long do you think you will be at the ranch, Mr. President?
THE PRESIDENT. I expect we will be in and out. But I would think we will be there until just before Congress resumes.
Q. So we may not see you until January?
THE PRESIDENT. I thought you were going with me.
Q. We will be down.
THE PRESIDENT. Sorry about the football game, Frank.2 They called me, though, from Austin last night and said they were having a special show for you this afternoon at 5 o'clock.
Q. That's very kind--thank you very much, sir.
Q. Mr. President, do you have any special instructions from Mrs. Johnson?
THE PRESIDENT. She is never short of instructions.
Q. The doctors have said they want you to take it easy. Are the doctors going to be successful?
THE PRESIDENT. Yes.
Q. Does she think you talk too much these days, Mr. President?
MRS. JOHNSON. No. I think he is behaving very well.
Q. Mrs. Johnson, what are these here? What is in this basket?
MRS. JOHNSON. These are a gift to me for our wedding anniversary. They are daffodils. I am going to take them home to the ranch and plant them by the front gate so they will say "hello" in March.
Q. We wish you all a Happy Thanksgiving.
THE PRESIDENT. I have reviewed all of the messages I have received from the heads of state and even little children. We have a heart full of gratitude to our country and to the people of the world as we leave this great institution, the doctors, the nurses, and all of those who worked with us and prayed for us, and particularly the humanitarians around the world who were concerned about our indisposition.
We thank all of you for your interest and we think that we are mighty lucky that everything is all right.
Reporter: Thank you.
1 See Item 626.
2 Frank Reynolds, ABC News. Mr. Reynolds in a television broadcast the evening before had stated that the President would be returning to Texas "followed by a planeload of weeping reporters" who because of the trip would miss seeing a major collegiate football game.
Note: The President spoke at 12:37 p.m. on the grounds of the Naval Hospital at Bethesda, Md.
Lyndon B. Johnson, The President's Meeting With the Press on His Departure From the Hospital Online by Gerhard Peters and John T. Woolley, The American Presidency Project https://www.presidency.ucsb.edu/node/238337