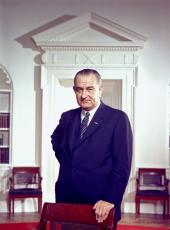 The President's Foreword to the Report of the World Food Panel of the President's Science Advisory Committee.
IN ALL of recorded history, none have surpassed the American people in willingness to share their abundance with others. We have given unstintingly of our material wealth and our precious human resources to benefit the less fortunate of this earth. We have sought to restore those whom war has shattered. We have sought to provide assistance to the newly independent members of the family of nations who are making the effort to break the shackles of tradition and achieve a better life for their peoples.
But as success in programs to eradicate disease and to improve health have given more and more millions the opportunity to live out their natural span of life, the problem of hunger has lingered on and the shadow of starvation and impending famine has grown ever darker.
Hunger's unceasing anguish drains hope, crushes aspirations, and obstructs the generation of programs of self-help. The threat of starvation sets man against man and citizen against government, leading to civil strife and political unrest.
Our programs to help these new countries to increase food production have brought about striking improvement in a few instances. But in the total balance, food has not kept pace with population and the developing world continues to lose ground in this race.
The World Food Problem is one of the foremost challenges of mankind today. The dimension of the challenge will define the dimension of our response and the means for that response. We must join with others in a massive effort to help the less fortunate of the earth to help themselves. I am making this report public because of its significance for the American people and people all over the world.
LYNDON B. JOHNSON
Note: The report is entitled "The World Food Problem: A Report of the President's Science Advisory Committee" (3 vol., Government Printing Office). A White House announcement and summary of the first two volumes, with a list of the members of the World Food Panel, is printed in the Weekly Compilation of Presidential Documents (vol. 3, p. 894). A similar announcement and summary of the third volume was issued following its publication in November (vol. 3, p. 1631).
The President's foreword was not made public in the form of a White House press release.
Lyndon B. Johnson, The President's Foreword to the Report of the World Food Panel of the President's Science Advisory Committee. Online by Gerhard Peters and John T. Woolley, The American Presidency Project https://www.presidency.ucsb.edu/node/238311