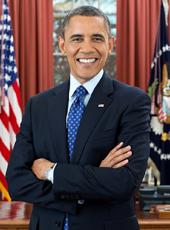 The President-Elect's Radio Address
Good morning.
Earlier this week, we learned that the number of Americans filing their first claim for unemployment insurance rose to a nearly 30-year high. This news reflects the pain that's been rippling across this entire economy. Jobs are being cut. Wages are being slashed. Credit is tight and people can't get loans. In cities and towns all across this country, families enter a holiday season with unease and uncertainty.
To end this economic crisis, we must end the mortgage crisis where it began. This all started when Americans took out mortgages they couldn't afford. Some were reckless, aware of the risks they were accepting, but many were innocent, tricked by lenders out to make a quick buck. With banks creating securities they could not value, and regulators looking the other way, the problem began infecting the whole economy, leading to the crisis we're now facing.
One in ten families who owns a home is now in some form of distress, the most ever recorded. This is deeply troubling. It not only shakes the foundation of our economy, but the foundation of the American Dream. There is nothing more fundamental than having a home to call your own. It's not just a place to live or raise your kids or return after a hard day's work – it's the cornerstone of a family's financial security.
To stem the rising tide of foreclosures and strengthen our economy, I've asked my economic team to develop a bold plan that will dramatically increase the number of families who can stay in their homes. But this plan will only work with a comprehensive, coordinated federal effort to make it a reality. We need every part of our government working together – from the Treasury Department to the Federal Deposit Insurance Corporation, the agency that protects the money you've put in the bank. And few will be more essential to this effort than the Department of Housing and Urban Development.
From providing shelter to those displaced by Katrina to giving help to those facing the loss of a home to revitalizing our cities and communities, HUD's role has never been more important. Since its founding, HUD has been dedicated to tearing down barriers in access to affordable housing – in an effort to make America more equal and more just. Too often, these efforts have had mixed results.
That is why we can't keep doing things the old Washington way. We can't keep throwing money at the problem, hoping for a different result. We need to approach the old challenge of affordable housing with new energy, new ideas, and a new, efficient style of leadership. We need to understand that the old ways of looking at our cities just won't do. That means promoting cities as the backbone of regional growth by not only solving the problems in our cities, but seizing the opportunities in our growing suburbs, exurbs, and metropolitan areas. No one knows this better than the outstanding public servant I am announcing today as our next Secretary of Housing and Urban Development – Shaun Donovan.
As Commissioner of Housing Preservation and Development in New York City, Shaun has led the effort to create the largest housing plan in the nation, helping hundreds of thousands of our citizens buy or rent their homes. Prior to joining Mayor Bloomberg's administration, Shaun worked both in business, where he was responsible for affordable housing investments, and at one of our nation's top universities, where he researched and wrote about housing issues. This appointment represents something of a homecoming for Shaun, who worked at HUD in the Clinton administration, leading an effort to help make housing affordable for nearly two million Americans. Trained as an architect, Shaun understands housing down to how homes are designed, built, and wired.
With experience that stretches from the public sector to the private sector to academia, Shaun will bring to this important post fresh thinking, unencumbered by old ideology and outdated ideas. He understands that we need to move past the stale arguments that say low-income Americans shouldn't even try to own a home or that our mortgage crisis is due solely to a few greedy lenders. He knows that we can put the dream of owning a home within reach for more families, so long as we're making loans in the right way, and so long as those who buy a home are prepared for the responsibilities of homeownership.
In the end, expanding access to affordable housing isn't just about caring for the least fortunate among us and strengthening our middle class – it's about ending our housing mess, climbing out of our financial crisis, and putting our economy on the path to long-term growth and prosperity. And that is what Shaun and I will work to do together when I am President of the United States.
Thank you.
---
Shaun Donovan, Nominee for Secretary of Housing and Urban Development

A Record of Reform and Expanding Access to Affordable Housing
Donovan Leads the Largest Housing Plan in the Nation; Has helped Hundreds of Thousands of People Own or Rent a Home New York City Department of Housing Preservation and Development (HPD): HPD's $7.5 Billion New Housing Marketplace Plan to build and preserve 165,000 units of affordable housing for 500,000 New Yorkers is the largest municipal affordable housing plan in the nation. Donovan has been the originator of countless new programs bringing together public and private partnerships. In September 2008, Donovan, together with Mayor Bloomberg, announced that the Plan reached the midway point on schedule with more than 82,500 units funded.
Donovan Has Spearheaded Initiatives to Tackle the Subprime and Foreclosure Crisis In 2005, HPD began a program to provide financial education, legal and credit assistance to those most at risk of predatory lending. More recently, HPD has helped to found the Center for New York City Neighborhoods to offer counseling, legal services and education, resources that owners or renters facing eviction due to foreclosure can use to remain in their homes. Just this week, the Center awarded $2.3 million in new grants to help homeowners and announced a new call center linked to New York City's innovative 311 citizen service hotline. HPD's programs have shown that low and moderate-income people can succeed as homeowners - of more than 17,000 new or preserved homes under the New Housing Marketplace plan, only 5 owners have lost their homes to foreclosure.
Donovan Led Reforms in New York City that Meant Higher Quality Affordable Housing for Low-Income Residents

At HPD, Donovan spearheaded reform of New York City's 421A tax abatement provision, which provides tax breaks to developers who include affordable housing in upscale development projects. Previously, developers could obtain the tax breaks even if they included no low-income housing, or built it at a separate location. Donovan ended that practice, requiring developers who receive the tax break to devote space within a higher-end building to affordable housing, thereby ensuring mixed-income neighborhoods rather than the failed, segregated housing of past housing programs.
Donovan Set Standards for Energy Efficiency in Affordable Housing Units

Many of the new affordable housing projects during Donovan's tenure at HPD have included LEED green building certifications. Through groundbreaking projects such as an international design competition, the Via Verde development brought together quality design with sustainable, affordable housing. He has also worked on an initiative to retrofit affordable housing rehabilitations with energy-efficient appliances and other energy-saving technology, not only saving excess energy but reducing costs for residents.
Donovan Shepherded the Development of Cutting-Edge Funding Mechanisms for Affordable Housing Creation

To compete in a challenging market, Donovan led the creation of the New York City Acquisition Fund, a partnership that combined more than $30 million in philanthropic commitments with sophisticated private finance tools to level the playing field for developers committed to building affordable housing. The Fund has become a model for other cities and won the prestigious 2008 Innovations in American Government Award from Harvard University.
Donovan Led the Development of the Country's Most Aggressive Inclusionary Zoning Laws

Through Mayor Bloomberg's PlaNYC sustainability initiative, Donovan expanded inclusionary zoning, coupled together with a rezoning plan covering more than one-sixth of the city, to knit neighborhoods together. These more than 60 publicly initiated rezonings focus on transit-oriented and underutilized land with existing infrastructure, paving the way to address projected population growth for the next 20 years; while reducing carbon emissions through access to mass transit, and sustainable development.
As Deputy Assistant Secretary for Multifamily Housing at HUD, Donovan Oversaw Over Two Million Housing Units

At HUD, Donovan ran housing subsidy programs that provided over $9 billion annually to 1.7 million American families. He oversaw 30,000 multifamily properties with over 2 million housing units, and pioneered new tools for preserving this precious resource.
Commissioner Shaun Donovan's full biography is below:
Donovan was appointed Commissioner of the New York City Department of Housing Preservation and Development (HPD) in March 2004 by Mayor Michael R. Bloomberg. Before joining the Bloomberg administration, Mr. Donovan worked at Prudential Mortgage Capital Company as managing director of its FHA lending and affordable housing investments.
Prior to Prudential, Donovan was a visiting scholar at New York University, where he researched and wrote about the preservation of federally-assisted housing. He was also a consultant to the Millennial Housing Commission on strategies for increasing the production of multifamily housing. The Commission was created by the United States Congress to recommend ways to expand housing opportunities across the nation.
Until March of 2001, he was Deputy Assistant Secretary for Multifamily Housing at HUD, the primary federal official responsible for privately-owned multifamily housing. He also served as acting FHA Commissioner during the presidential transition. Prior to joining HUD, Donovan worked at the Community Preservation Corporation (CPC) in New York City, a non-profit lender and developer of affordable housing. He also researched and wrote about housing policy at the Joint Center for Housing Studies at Harvard University and worked as an architect in New York and Italy. He holds Masters degrees in Public Administration and Architecture from Harvard University.
Barack Obama, The President-Elect's Radio Address Online by Gerhard Peters and John T. Woolley, The American Presidency Project https://www.presidency.ucsb.edu/node/285356