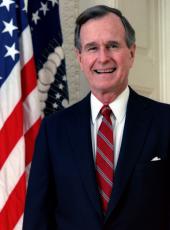 The President-Elect's News Conference in Houston
Let me say at the outset, once again as I did last night, how thankful I am for the help and support of our family and our President, and my running mate and his family, and all those who worked so hard on this long campaign, and particularly the American people. I also want to thank Martin Van Buren for paving the way - it's been a long time, Marty!
Let me also add a word of thanks to you in the press, particularly those in our traveling squad. We've had a bump in the road here and there, some differences, but that's natural. And I know, I think as a result of this last couple of years better than most Americans, how hard you must work and the dedication it requires and how much the health of our whole system depends on that, depends on that dedication. You may not know it, but those who've traveled with us are going to miss Alixe Reed and Bruce Zanca. It's a little early but I know you will.
Now we've just come from a church service at our home parish, St. Martin's Church, and I'd just begun as a result of that - or just prior to that, to think about the task ahead. And I am certain that God's help is absolutely essential for anyone chosen to lead this great country of ours.
To my opponents, again - our opponents -I offer my congratulations for a hard-fought campaign. Both the Governor and Senator Bentsen have given a major portion of their own lives to public service, and I have the greatest respect for that commitment. And I know that each one is going to serve the public interest as they see it, with the same energy and conviction that they demonstrated so well in this campaign.
The very real differences between us have been highlighted by the glare of the television lights, but for my part I've never had any doubt that we share a common interest in building a better America. And that's fundamentally what the American election is all about.
The Business of Transition
Now, just a few comments on the business of transition. I'm pleased to announce the following initial set of appointments: I've asked my current chief of staff, Craig Fuller, and my senior campaign adviser, Bob Teeter, to serve as co-directors of the Bush-Quayle transition. Working closely with them will be the counsel to the Vice President, Boyden Gray, who will serve as the transition's legal adviser and will be my general counsel in the White House.
My former executive assistant and Secretary of the Navy, Chase Untermyer, who will serve as the - will serve as the transition's personnel director, and I expect him to continue that after the transition. And campaign press secretary Sheila Tate will now serve as the press secretary of the transition.
The transition organization will of necessity grow over time, but it is nevertheless my intention to return to the tradition of a somewhat leaner transition organization than we had in 1980, just given the nature of what has to be done.
I've asked my friends Bobby Holt, of Midland, Tex., and Penny Corth, of Washington, to co-chair the inaugural committee, and they have generously agreed to serve.
And today I can inform you of my first decision regarding my Cabinet. I talked to Secretary of State George Shultz this morning and he told me that he enthusiastically endorsed my choice for the next Secretary of State. George Shultz has given a great deal of extraordinary service to this country, a distinguished career. And he's given us the highest possible standards for public service, and he has helped our President achieve many foreign policy successes. And I salute him.
Service in Reagan Administration
As his successor, it is my intention to name James A. Baker 3d. I first persuaded Jim Baker to leave Houston and come to Washington many years ago in the Ford Administration, when he first came up to the Commerce Department. And since then he has distinguished himself in every position that he has held in the Reagan Administration. He set a new standard of excellence in his four-year tenure as White House chief of staff, and then over three years as Secretary of the Treasury and that experience - his seven and a half years as a member of the National Security Council, his proven skills as a negotiator and the personal respect in which he is held - will allow him again to demonstrate the highest standards of performance as our next Secretary of State.
He has big shoes to fill but will get the job done. And I know he feels as I do about the distinguished men and women in our Foreign Service; he will lead them and he will work constructively with them to achieve our foreign policy objectives. In these coming months, Jim Baker will not only be prepared for his responsibilities but he'll also serve as an adviser to me on key aspects of the transition.
That said, on the subject of appointments, I note the obvious: President Reagan is still the President of the United States and I will not be using the transition to try to make or unduly influence decisions that are properly the President's. And, rather, I'll be using the transition to assemble the very best possible team to meet the challenges that lie before us, while also doing what I can to help bring us together after this long and difficult campaign.
As I said in the campaign, I will for the most part bring in a brand new team of people from across the country, and in my view that will reinvigorate the process. It will in no way reflect lack of confidence in those who have served President Reagan so well.
After this press conference, we head back to Washington, D.C., for a day or two, and then probably Friday morning I will head South for perhaps four days and nights, and then back to Washington. I'd be glad to respond to questions. Gene?
Unity and Cooperation
Q: Mr. Vice President, last night when you celebrated your victory here in Houston you spoke of reaching out to all Americans, including those who did not support your candidacy. Other than simply calling for unity, what specifically do you intend to do to achieve it? And secondly, how do you intend to approach Congress, whose cooperation you will need, after spending so much of your campaign bashing the Congress?
A: Well, I think the way to heal is to have meetings with various people - maybe those who have not supported us - make very clear through this forum and others that I mean what I said. And the American people are wonderful when it comes to understanding when a campaign ends and the work of business begins. I don't think I was particularly in a Congress-bashing mode for most of the campaign, but I will - I have my principles, the American people in voting for me voted for certain things. Congress understands that and I understand the Congress. I've served in the Congress. And so I don't think it'll be - you know, that they'll do everything my way but I will try very hard, because I start with a great respect for the institution in which I served. O.K.?
Quayle's Assignments
Q: Mr. Vice President, what kind of a job will you give Dan Quayle in your Administration? Will he have the same access to the -to all the papers that you saw from President Reagan, and will he - could you just describe what he'll do?
A: I haven't formulated into detail but certainly he will have access to the papers, access to the intelligence, access to the information because it is essential that a Vice President be up to speed on every sensitive matter involving the Government, lest something happen to the President. These two out on the aisle?
An Early 'Game Plan'
Q: Mr. Vice President, a lot of people said in 1980 President Reagan was able to really accomplish objectives in his first term because he had a "game plan" that he moved swiftly on in the first 90 days. Will you have a game plan and if so, sir, can you give us some sense of what it will be?
A: I will have a game plan. Part of what the transition is about is to spell out the priorities. I spelled them out in broad terms - in terms of keeping the economic expansion going and in terms of world peace. But the election ended yesterday; we will now have 70, however many days it is, to formulate a game plan, the first hundred days' priorities, if you will. And they'll be specific and I will do my level best to fulfill my commitments to the American people. Dave?
Relations With Soviets
Q: Mr. Vice President, in your campaign you laid out a very ambitious agenda to deal with the Soviet Union: eliminate chemical and biological weapons, conventional weapons, finish the work on strategic arms. Can any of this go forward as long as the Soviets delay their withdrawal from Afghanistan? And do you see any linkage between your plans looking ahead and the reality?
A: I would not draw any linkage - firm linkage - there, but clearly one of the things I've addressed myself to in this campaign is the need for continued reduction of regional tensions. And if the Soviets made a determination not to pull out of Afghanistan, which I doubt they do, that would - that would throw a complicating factor over the whole relationship. I believe that the Soviets will keep their commitment. Yes? Saul and Bill.
Q: Something you said a few days ago but haven't mentioned since, that you're going to be trying to seek an early meeting with Mr. Gorbachev. Now that you've named Jim Baker, do you expect that he will begin at some point soon to try to seek that meeting?
A: Not before Jan. 20, and what I said would - I would have the Secretary meet with the NATO leaders, his counterparts in NATO, and that then he would meet with Mr. Schevardnadze, and that then he would make clear to the Soviets that I would be willing to meet with Mr. Gorbachev, and that is about the way. But I don't think, Saul, that would start, you know, before the President - before I become President of the United States.
Aid to Nicaraguan Contras
Q: Mr. Vice President, a subject dear to the hearts of convservatives but less dear to the hearts of Democrats in Congress - and Democrats who still control Congress - is aid, military aid to the Nicaraguan contras. You have supported it consistently throughout your campaign, yet you didn't emphasize it consistently throughout your campaign. How high a priority will aid to the contras be in a Bush Administration?
A: It'll have a high priority because freedom and democracy in this hemisphere has a high priority. And I know these leaders in this hemisphere - I can't say I know Daniel Ortega that well, but I've met him a time or two - and I will press to keep the pressure on the Sandinistas to keep their commitment to the Organization of American States - the commitment being one to democracy and freedom. Yes, Lisa?
The Eradication of Bigotry
Q: Mr. Vice President, you spoke during the campaign about your desire to eradicate bigotry, yet you campaigned hardly at all in black neighborhoods and didn't receive very many black votes. Specifically, what are you prepared to do to assure these Americans that the next four years will not be a continuation of the last eight? And what would you try to do to reduce the number of racial incidents that have occurred in recent years?
A: Well, I hope I didn't understand the question properly because if you suggest the last eight have been eight years of bigotry, I just don't agree with that. I will do everything I possibly can. That's not legislative, necessary, it's using the bully pulpit of the White House to speak out against the kinds of incidents you're talking about. When you look back at the history of the United States of America, I think there are far fewer incidents built on bigotry than there have been. But I would certainly do my level best to make very clear from that White House that bigotry has no place in America.
Summit Talk With Soviets
Q: Mr. Vice President, let my follow up on the story about - on the question about the summit. When Jim Baker talks to the Soviets is he going to place any conditions on terms for you meeting with President Gorbachev? Or will you strictly get together with him for a get-acquainted session in the first hundred days or six months?
A: I am acquainted, I am acquainted with him. And what I want to do is see progress, and so I would have the Secretary of State do exactly what I've said. But there's no - I've never supported meetings just for the sake of having a meeting. I want some progress to take place but it doesn't have to be progress on Start or on one category or another.
We have arms control, we have human rights, we have regional differences, and I can see reasons to talk about any, provided there's reason to believe there will be progress. I would like to see my Secretary of State continue that which George Shultz has done in terms of the numbers of meetings with the Soviet Foreign Minister. I think that's been very, very helpful. Jessica?
Communication Methods
Q: Mr. Vice President, how are you going to communicate with the American people? You're a person who writes notes all the time and you like to telephone all the time, but with the demand on your time as President, how are you going to talk to the people?
A: Reach out and touch someone, use the telephone. And I'm not going to change in terms of my belief that the more personal contact you have the better. I recognize the parameters of this job are quite different, but I will continue to do what I've done in terms of contact. And I am one who works with -closely with the people that I've, you know, associated with on my staff; it's not just one person I talk to. I will continue, just by way of example, what I've been doing as Vice President and in terms of being briefed directly by the Central Intelligence Agency every single day. It's a little bit of a departure but that's the way I'm going to do it, and it puts me in contact more with the experts. But I'll try to keep touch as best I can.
Some Lessons Learned
Q: Mr. Vice President, now that you've been elected could you share with us the lessons you learned in the Reagan Administration, and specifically how you'll run your Administration differently?
A: Well, I'll share with you the reason I think our President has been effective: he takes a principled position and stays with it, and he fights for what he believes in. And true, as somebody suggested, he had the benefit of a Republican Senate when he started, but progress didn't stop when the Republican Senate - when control changed hands. So I've learned quite a bit about that: certain principles, fundamental principles, and then fight for them and stay with them. And that's what I will - I will try to do. And every President has his own management style. I've learned a lot about delegation. On the other hand, I also, as I've just responded here to Jessica, I believe that you have to stay in close touch individually with these people.
Reaching Out to Blacks
Q: Yeah, getting back to Lisa's question: we've noticed as we followed you in the campaign that you generally stayed in rather affluent suburban areas rather than poor inner cities, and not in black neighborhoods at all since the convention. And I wonder, as a symbol, is that a good symbol for a Presidency that will try to reach out and touch these people?
A: I think the campaign was properly designed, strategically operated. The message obviously got out to a lot of the American people and I'm very pleased with the amount of the vote. But in a campaign you obviously have to be sure you get your vote out. And that doesn't mean you don't want the votes of others, but you have to turn out your own people and reach out to as many people as you can.
I don't know if you were with us, Saul, at that breakfast in Baltimore put on by Josh Smith, a black businessperson there, on very short notice a magnificient crowd of people there. But I had to campaign, set the agenda, set the schedule and try to win this election. And that is done now. And I had a very nice talk, incidentally, last night and I want to thank him for it here from - a phone call from Jesse Jackson, with whom I met as Vice President in the Vice President's residence at least twice without any fanfare, talking about common objectives. Yeah?
A New Team in Washington
Q: Mr. Vice President, you said in your opening statement that you plan to bring a brand new team to Washington, but three of the present Cabinent members, Secretaries Brady, Cavazos and Attorney General Thornburgh, are regarded as Bush people. Do you plan to keep any or all of them on in the new Administration?
A: There could be, but I will have announcements to that later on as I, there will be, as I think I indicated, a major turnover but some people at various levels may be asked to remain. But as I have stated over the campaign, I think there's something to be said for reinvigorating the process by, with new people. Yeah? We'll just work our way down here.
The Vote as a Mandate
Q: Mr. Vice President, during the last weeks of the campaign you talked about getting a mandate and about mainstream values in America. Do you believe with the closest of the popular vote that you have a mandate? And could you be specific about what that means you will do?
A: Well, I don't know whether I want to use the word "mandate." I'm very pleased with the results. And I don't think it was overly close. I've got to be careful because I haven't seen the numbers. But I thought the latest I saw was around 54 percent, which I think most people would consider a big win. And with many states I think we exceeded - well, I don't know on the electoral vote - but big, strong support from many, many states. So I would simply say the American people have spoken. The verdict was clear and therefore I will take what I think the prime issues of the campaign were and work constructively with Congress to attain the will off the people. Yeah?
A Kinder, Gentler Nation
Q: Mr. Vice President, you said throughout the campaign and as recently as last night that you want a "kinder, gentler nation," and that you hear voices of the "quiet people." Two questions, sir. Beyond the rhetoric and afterblow, what specific programs are you proposing that will make this a kinder, gentler nation? And sir, what are those quiet people, those quiet voices, telling you?
A: Well, in the first place they spoke loud and clear last night, which I was pleased about. Secondly, I think to go, on the first part of your question, I think when I talk about investing in our kids and the many proposals I've made in that area, that would be an indication of how I will pursue this objective of a kinder and gentler nation. I threw in, as you may remember, the whole concept of trying to do the best I possibly can with the environment in that. I used child care as a part of that. Yes?
Formal News Conferences
Q: Mr. Vice President, you've made it clear that you appreciate how hard all of us, and all of us journalists work, while in the last months of this campaign you've made our jobs a lot harder by not holding news conferences very frequently, certainly not frequently enough for us to feel we can report on you as well as we might. As President, will you be holding frequent or regular news conferences?
A: Well, first, I think you've done a superb job reporting on me. And I know some of you aren't going to believe this, but this is our 208th press conference since I announced for President of the United States, and these aren't just shouted questions. These are where you sit there like this and take them or go to a rope line and have a microphone there.
Now, recently we haven't had that many, but I feel you have beautifully reported this campaign and that the message got out. And I will strive to - I won't strive to keep up 208 in a year and a, a year and a quarter, but I will do my best in terms of press conferences.
Q: Will you hold regular formal news conferences?
A: I'm not going to set a date. No, I'm not going to have one every Tuesday. I will do it, but I will hold regular press conferences and try to endeavor in the future as I have in the past to answer these questions. Owen? And then over here.
Setting Out Priorities
Q: Sir, you campaigned against abortions, for voluntary school prayer, for a line-item veto, for a balanced budget amendment. Would you make these all top priorities of your administration by pushing either a constitutional amendment? Or if Congress rejects that, would you lead an effort for a constitutional convention that would adopt these provisions?
A: I will be selling, setting out the priorities on these and many other issues during the transition, and then I'll make clear the major priorities. But on these issues that I've spoken on, I do feel very strongly about them. I have some real reservations about a constitutional convention, however. Yes? Working our way down.
A Message to Liberals
Q: Mr. Vice President, in the course of the campaign you've spent quite a bit of time ridiculing liberals, who make up a significant - and a significant number of people in the country consider themselves liberals. And you've created a fair amount of bitterness as a result. What specifically can you say to those people that consider themselves liberals? Are they --
A: I said I wanted to be President of all the people. And I don't think I've been, was ridiculing as a matter of fact, I was just trying to get the facts out there. And I think the American people understood that. But I can't do it their way. I don't plan to suddenly say, "Well O.K., I accept what I call the liberal agenda." Well, that was what this election was about. Come join us. If you've got some good ideas as to how to move this country foward, I need them. Yeah Cathy, and then Mark.
Working With Bentsen
Q: Mr. Vice President, Senator Bentsen complained rather bitterly about the tone of your campaign and spoke of distortions. You in turn objected to the Democrats' raising the issue of racism. What kind of toll did this race take on your relationship with Bentsen, and will you be able to work with him as --
A: Sure. He was most gracious in his call last night, pledging to work together, which is certainly my objective. And look, this campaign is over, there's no hard feelings about that. The American people are smart. They know a tough-fought campaign on both sides when they see it. So, I'm just going to keep saying what I've said here, what I said yesterday. And I think Senator Bentsen's responding yesterday as he did was extraordinarily generous, and I think he means it.
Yeah, Mark, and then Dave and then Tom.
Holding the Line on Taxes
Q: Mr. Vice President, you told the American people to read your lips, no new taxes. But some people on Capitol Hill believe that there will have to be revenue enhancements to reduce the deficit. You've ruled out income tax increases, but will you rule out revenue enhancements to reduce the budget deficits?
A: Well, you'd have to define for me what you mean by revenue enhancements. I got into a little flap in the campaign because I did support the catastrophic health plan. And there was some charge that that was a tax increase. I don't think it was. But I'm talking about holding the line on taxes. And I don't plan to deviate and I think the American people must have understood that when they voted in rather large numbers for my candidacy. Yeah, Dave?
Supreme Court Appointees
Q: Mr. Vice President, you may well have a chance to appoint one or more Supreme Court Justices in your Administration. You've promised to appoint men of conservative moderate views. Would someone who is pro-choice on abortion fit that category in any way?
A: I said I don't have a litmus test for judges. What I have is a test as to whether, in my view, they will legislate from the bench, in which case I wouldn't want them. Or whether they will faithfully interpret the Constitution of the United States, in which case I would. Yeah, Tom?
Economic Policies
Q: Mr. Vice President, a lot of economists keep saying that your idea of a flexible freeze to reduce the budget deficit is just an updated version of what somebody once called "voodoo economics." Why are you so confident that the same basic policy that failed to balance the budget under Ronald Reagan for eight years is going to have more success under you?
A: Because other economists think it will. You can cite some that think it won't and I can cite some that think it will. And it's the predication is there to have to keep the economy growing. And you have to have inflation - control that growth of spending to the rate of inflation, but there's a lot of good people that think it's a wonderful idea. So I would just push for it in the Congress as best I can. Yeah?
Symbols and Catch Phrases
Q: Mr. Vice President, we tend to judge our incoming Presidents by symbols as much as their policies. Have you given any thought to whose picture you're going to put in the Oval Office? And whether there is a pharse, a catch phrase, that you'll use for your Administration like the New Deal, the Fair Deal, the Square Deal? Will there be something to the Bush Administration we can hang our hats on?
A: I have not considered either one of those two things right now. And probably some thought will be given to the latter, in the transition period, but at this juncture I've not considered that. Mike?
Reaction to Victory
Q: Mr. Bush, last night at your victory celebration, you talked about healing the nation. But at a victory celebration it didn't look like you had the thrill of victory. I mean, you've been positioning yourself for this office for more than 10 years. We've seen you get pretty excited throwing a good horseshoe. You don't seem to be that up. You said you had some trouble sleeping last night. How does it feel? Has it hit you yet?
A: It's beginning to. And you're right about last night, because when I came over there there were still some uncertainty - not really when we got to the convention center, but when we were in a little family dinner and went back to the hotel. And there was still some uncertainty. And so I'd been through a tug and pull before it became clear that the numbers would work out as they have. And, of course, it was the culmination of a long effort.
And I do think that when you realize that you're elected President of the United States there must be a shifting of gears, a recognition that the path ahead is going to be a tremendous challenge. And you want to do your level best. I guess maybe I wasn't jumping with joy as much because my heart was filled with a certain gratitude to the people that helped me get here, not only staff people, campaign people, but family particularly. And so, it was an evening of mixed emotions for me.
And yeah, I think you're right, Mike, when the balloons came, it had a different feeling entirely than a campaign rally. The exhilaration was there underpinning it all, but I think the recognition that I've got a tremendous job ahead and that I need God's help to get it done was also part of that.
Q: But how does it feel now?
A: Somewhere between total exhilaration and recognition that the challenge ahead is going to be awesome. But I need to get some rest and I think everybody involved in this campaign needs to get some rest. And I will do that. But I can't use the word "exciting." I can use the word "gratified" at the outcome, better than many of us thought, but I will not underestimate the challenge ahead, and thus there's a seriousness that takes over right this minute. Yes?
Relationship With Quayle
Q: Mr. Vice President, you said earlier that you were going to provide the intelligence papers to Vice President Quayle. Do you intend to set up with Mr. Quayle the same sort of relationship you had with President Reagan, in terms of coming in regularly for lunch?
A: I will do that.
Working With Dole
Q: Mr. Vice President, in addition to God's help you're going to need Senator Dole's help. And throughout the campaign he has periodically given you --
A: What order do you place those in?
Q: But throughout the campaign he periodically has given you a little whack the side of the head, including last night when he suggested you didn't do enough to elect a Republican Senate. Do you need to have a peace meeting with him? Do you think you can work effectively with him, or would you like to see a different Republican leader?
A: I don't think it needs to be a peace meeting, but definitely I will meet with him. He is an effective Republican leader and I will work with him. And I think that he's done a wonderful job out on the campaign trail, and I think that we can work harmoniously together. The question is we've got to get some good support from the Democrats for some of these ideas, but just keep going. Yes?
Q: Mr. President -
A: Last one, here it is.
The Mandate Question
Q: Mr. Vice President, I'd like to return to the mandate question for just a moment. I wonder to what extent --
A: What?
Q: The mandate question. I wonder to what extent do you feel that now you can, in effect, create or invent a mandate on the basis that the American people voted for you as an individual rather than for a specific set of programs or policies.
A: I don't know how you sort that out yet, but I do feel that the vote was convincing enough, and the margin great enough and the numbers of states carried big enough, that it gives a certain confidence to the executive branch of the Government that I hope will carry over and influence the Congress, with whom I am pledged to work.
Thank you all very, very much. Thank you.
George Bush, The President-Elect's News Conference in Houston Online by Gerhard Peters and John T. Woolley, The American Presidency Project https://www.presidency.ucsb.edu/node/285613