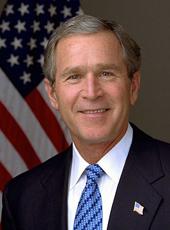 The President-Elect's News Conference in Austin Naming Condoleezza Rice as National Security Advisor and Alberto Gonzales and Karen Hughes as White House Counselors
PRESIDENT-ELECT BUSH: Good afternoon. Thank you all for coming.
I'm looking forward to my trip up to Washington today. Got a full day tomorrow, part on Capitol Hill, partly to interview folks for my Cabinet. I look forward to my visit with the president and the vice president on Tuesday.
Before I departed Austin, I thought it'd be important to continue announcing those who are going to serve in my administration. Today, I have the honor and privilege of naming three such persons, starting with Dr. Condoleezza Rice, who is going to be my national security adviser.
Dr. Rice is not only a brilliant person, she is an experienced person. She is a good manager. I trust her judgment. America will find that she is a wise person.
And I'm so honored you're joining the administration.
Secondly, I'm proud to announce that Al Gonzales, Supreme Court justice of Texas, has agreed to become my White House counsel. I understand how important it is to have a person who I can trust and whose judgment I trust to serve as the White House counsel.
I know firsthand I can trust Al's judgment, because he was my first counsel as governor. I then named him secretary of state of Texas, where he did a fantastic job, and then he became a Supreme Court judge.
Al is a distinguished lawyer. Al is a man who has only one standard in mind when it comes to ethics, and that is the highest of high standards.
So I'm honored you're back with me, Counselor. Look forward to working together.
And finally, as counselor to the president, Karen Hughes. I've known Karen for a long, long time. I--we knew each other when the definition of a motorcade was one car. She has been at my side, and I trust her a lot. She is going to help us in the White House with strategic planning. She is a woman who is frank, straightforward; she has got enormous judgment, as well.
So it is a huge honor to have these three citizens agree to go to Washington, D.C., to make a big sacrifice on behalf of our country, and America will be better off that these three have agreed to serve.
And so what I thought I would do is ask Condi and Al and Karen to say a few remarks, and then I would be glad to answer a few questions. I emphasize a few, because I've got to go upstairs and pack for the trip up to Washington.
Condi?
CONDOLEEZZA RICE: Thank you very much. Thank you very much, Mr. President-elect. I am absolutely delighted, and indeed honored, in fact, humbled, that President-elect Bush has asked me to serve as his national security adviser.
It is a wonderful time for the United States in foreign policy, because it is a time when markets and democracy are spreading, when our values are being affirmed around the world, and yet it's a time of great challenge.
And there is one thing that I know after having worked with Governor, now President-elect, Bush for the last 18 months, and that is that he is a man with tremendously good judgment, with strong values and principles. I know that he is tough. I know that he cares about America, and that he knows what makes America great in the world.
He will conduct a foreign policy that combines humility with strength.
And I very much look forward to being a part with the foreign policy team, of shaping that foreign policy, and carrying it out on his behalf. It's a great foreign policy team that he is putting together. Many of us have worked together before, and I know that it will be a team that will advance his agenda.
I also look forward to working with the very fine White House staff that Andy Card is assembling, because it is, after all, the role of the White House staff to make certain that the president's agenda is advanced in Washington, and abroad, as well.
If I may close with just a personal note, this is an extraordinary time for America because our values are being affirmed, and it's important to always remember what those values are at home. And I grew up in Birmingham, Alabama. I did not go to integrated schools until I was in tenth grade, and we moved to Denver, Colorado. And there is very often a lot said about whether we've made any progress as one America.
I think that you will see in the presidency of George W. Bush recognition of how important it is that we continue the last thirty-plus years of progress toward one America, that he will have an administration that is inclusive, an administration that is bipartisan, and, perhaps most importantly, an administration that affirms that united we stand and divided we fall. And I'm very proud to have a chance to be a part of it. Thank you very much.
BUSH: Counselor?
ALBERTO GONZALES: Mr. President-elect, this is the fourth time in six years that I've had the opportunity to say thank you.
Thank you for giving me another opportunity to serve.
I have the great privilege currently of serving on the Texas Supreme Court, and it's been a tremendous honor to serve the citizens of Texas, and to work with this particular group of justices.
But working with the president-elect for three years as his general counsel gave me the opportunity to get to know the type of man that he is, how he makes decisions, what kind of information is important to him in making those kinds of decisions. And in him I saw a man of unparalleled integrity and judgment.
And quite frankly, Mr. President-elect, I could not pass up the opportunity to come serve with you again, and I am very grateful. Thank you.
BUSH: Other counselor to the president.
KAREN HUGHES: Well, Mr. President-elect, it's been an amazing six and a half years since I first went to work with you.
I have worked with Governor--President-elect and Mrs. Bush; I'm still working on that--President-elect and Mrs. Bush for the last six and a half years. And I can – we've been through a lot of good times, and some difficult ones, and I can honestly say that I respect and admire both of them more today than on the day I went to work for them six and half years ago. And I – given all we've been through, I think that's an enormous compliment.
I'm honored to be a part of the president-elect's team. I'm honored to serve my country. I am the granddaughter of a coal miner. And my Grandpa Parfit (ph) didn't want his boys to grow up working in the coal mines, so he emphasized the importance of education. And my uncle became the superintendent of schools, and my dad was a major general in the United States Army.
And every day of his life, my grandfather Parfit was filled with a sense of awe and amazement and a deep humility and gratitude to God that we are blessed with an enormous sense of possibility here in America. And I hope that my son and all the children of our country grow up understanding that that same sense of possibility and opportunity is available to them.
I will work to serve you faithfully, sir. And I promise I will always give you my unvarnished opinions.
(LAUGHTER)
BUSH: No question about that.
QUESTION: Tomorrow, Mr. President-elect, you're having breakfast with Alan Greenspan.
BUSH: Yes, I am.
QUESTION: Do you think the Fed chairman shares your view that there is a recession on the horizon?
BUSH: I think it's best for him--for he and I to have our discussion first, and I look forward to it. I have always admired Alan Greenspan. He's got good judgment.
He's – I really do. I can't wait to hear what he has to say. And I'll let him speak for himself. One of the things I'm certain that I should not do as president-elect is to try to put words in the mouth of Alan Greenspan.
QUESTION: Mr. President-elect, in the last two days you have appointed two women, two African-Americans, a Hispanic-American. Aside from the fact that these are incredibly competent, qualified people, is there another message that you are sending to America with these first choices?
BUSH: You bet: that people that work hard and make the right decisions in life can achieve anything they want in America. And I think that my friend Al Gonzales, who is a great lawyer – but his background is such a compelling story.
And let me first say that he wouldn't be standing here if I knew he couldn't do the job. But he's a guy who grew up in a two-bedroom house, his mother and daddy working, you know, as hard as they possibly can to bring up six brothers and sisters?
GONZALES: Seven.
BUSH: Seven siblings; eight in the family. And now he's going to be sitting at the right hand of the president of the United States.
To me, these appointments – and each person has got their own story that is so unique, stories that really explain what America can and should be about.
And so I welcome them. I can't tell you how good of folks they are, not only in terms of the jobs they'll have, but just in the quality of character.
QUESTION: Mr. President-elect, you're about to go to Washington to try to reach out to the other party and unify the nation. You face a very divided Congress, and yet you and your top advisers have talked about not compromising at all on the $1.3 trillion tax cut.
Today, some Democratic leaders have said that would be the most divisive thing that could happen, not compromising. Is there no room for compromise here? And do you think this is the right signal to send as you begin this peacemaking trip to Washington?
BUSH: Well, Tom, I campaigned on a tax relief package that I firmly believe – believed then and believe even more now, is important as an insurance policy against any economic downturn.
And I look forward to discussing my vision of tax relief with the parties. I mean, it doesn't seem to make much sense for people to be drawing lines in the sand until we've had a chance to discuss things.
And so I'm going to go to Washington and be able to say to people, this is what I told the people, and explain why I told them what I told them. And I think it's a little early in the process for people to be declaring--making judgments on our plan before they've given me a chance to explain it.
Secondly, I think we have a unique opportunity to make the tax code more fair. And I know you've heard the story innumerable times. You probably still dream about this single mother with two children.
(LAUGHTER)
But the code is unfair for people at the bottom end of the economic ladder. And one of the reasons to cut marginal rates is to encourage economic activity. Another reason to affect marginal rates, particularly at the bottom end of the ladder, coupled with an increase in the child credit, is to make the code more fair for those who struggle to get into the middle class.
And so, I understand the process. And I look forward to making my case, and visiting with as many members of both parties as I can. And it's going to be an interesting couple of days. But it's the beginning of a relationship where they're going to find out about me, that I'll tell them what I believe and I'll listen to what they believe. And I'll talk about what I intend to do, and they'll talk about what they intend to do.
And it's the beginning of a dialogue that is crucial in order to get some positive things done, not only on tax relief, but on education reform and Social Security reform and Medicare reform, the need to strengthen the military. And I'm very optimistic.
Yes?
QUESTION: The last time you were in Washington, I believe it was six months ago, when you were still a candidate for the White House. As you are flying into Washington tonight as president-elect, is there some special feeling that you'll have?
BUSH: I'm sure there will be. Probably not quite as special as it will be right before the inauguration, but it will be special. It's going to be a – it will be a unique moment, or a series of unique moments, starting with sitting down and talking with Alan Greenspan, who America knows to be a distinguished, thoughtful economist. And I look forward to going to the Hill. And then I'm very much looking forward to talking with the vice president and to the president. And it's going to be, I'm confident, a memorable trip.
QUESTION: One last question. You spoke before of making the national security adviser a Cabinet post. Is that still...
BUSH: No, I've decided not to do that. Of course, I want Condi to come to every Cabinet meeting, but I think it's best that she not be a member of the Cabinet. I think it's best that she be an equal partner of the senior team in the White House.
Having said that, I can sure you that she and I will be spending an inordinate amount of time with each other. I will be seeing her on a daily basis and being briefed on the – yes, Patsy?
QUESTION: Mr. President-elect, can you tell us when you might begin putting together your economic team?
BUSH: Pretty soon. I've got some interviews to do and some further deliberations. I've got some people in mind, but I'm not quite ready to tell you who they are yet.
QUESTION: What about defense secretary? General Powell yesterday said that the issue had been resolved. Have you in effect selected Defense?
BUSH: No, I think what he meant by the issue being resolved, the issue is resolved as to who gets to pick the defense secretary.
No, I haven't yet.
Thank you all for coming. I look forward to seeing you in Washington.
George W. Bush, The President-Elect's News Conference in Austin Naming Condoleezza Rice as National Security Advisor and Alberto Gonzales and Karen Hughes as White House Counselors Online by Gerhard Peters and John T. Woolley, The American Presidency Project https://www.presidency.ucsb.edu/node/284760