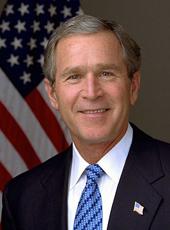 The President-Elect's News Conference Announcing the Nominations of Spencer Abraham as Secretary of Energy, Linda Chavez as Secretary of Labor, and Norman Mineta as Secretary of Transportation
BUSH: Happy new year to everybody.
Today it's my honor and privilege to submit three more nominations to my Cabinet.
First, I'm proud to introduce Senator Spencer Abraham of Michigan, who is my choice to be the secretary of energy.
Senator Abraham knows the issues of energy policy, and he understands the opportunities and challenges before us. He's ready to join me in seeking energy security for the United States. We understand our national security depends upon energy security.
In Michigan, during the campaign, I pledged a comprehensive energy policy for our country. I look forward to working with Senator Abraham to make sure that energy is available and affordable for all Americans. We must meet rising demand for energy with new domestic exploration and production. We must produce and conserve all forms of energy in America. And we must do so in an economically sound and environmentally sensitive way.
Spence is a veteran of the White House, he understands the Congress and will be an effective member of my Cabinet. I'm honored that he would join us.
Secondly, I'm going to submit the name of Linda Chavez as the secretary of labor.
She's a familiar voice on issues facing American workers, a staunch advocate of civil rights for everybody.
Linda is smart and capable.
We share a passion to make sure that nobody in America is left behind. We share a passion that says as the economy changes, our work force will be trained to meet the new economic opportunities in the 21st century.
Linda's a well known writer. She is a mother and a grandmother. She understands Washington well. After all, at one time, in her career she was a Democrat staffer. She was a member of a labor union at one point. She has served in a previous Republican administration.
I'm proud to have Linda on my team.
And finally, it is a great pleasure to announce that Norman Mineta has agreed to become the--have his name submitted as the secretary of transportation.
Secretary Mineta would bring a lot of experience to the job. He made a reputation in the halls of Congress as someone who understands that a sound infrastructure in America will lead to economic opportunity for all Americans.
Secretary Mineta and I look forward to working on issues, such as air safety, air travel, preserving the roads and bridges of America, assisting states and local communities in making their infrastructures are modern.
He's been an elected official elected at the local level in California, he served with distinction in the United States Congress and is currently President Clinton's United States secretary of commerce.
It is with great pleasure that I introduce these three members to you. I can't think of a better way to start the new year than to round out a Cabinet, one that I think is one of the strongest that any president has been ever able to assemble.
I'd like to introduce Senator Spence Abraham, who'll have a few remarks, as will the other nominees.
ABRAHAM: Mr. President-elect, I just want to begin by thanking you. It's a great honor for me to be asked to join what is already a tremendous team of talented people who will be part of this new administration.
I want to also say to the vice president-elect, thank you for being part of this process and for including me.
I just want to say that I think it is a testament to the special place that America is, that the grandson of four Lebanese immigrants can have the opportunity to serve in the Cabinet of the president of the United States. I'm very proud to have been given this opportunity.
As we know, many significant Energy Department-related issues face us at this time, ranging from the adequacy of supply to affordability to the development of new technologies to the issues of security at our facilities and more.
Fortunately, this administration is comprised of many individuals with incredible expertise in these areas. And I look forward to helping the president-elect to affectively address these challenges in the days ahead.
We have vast resources within the United States, and these are crucial to our country's security. We can make good use of them, while at the same time, I believe, meeting our responsibilities as good stewards for the land, the air and the water. So this is the duty of the next secretary of energy and I am very eager to take up the task. I very much appreciate the chance.
Thank you.
BUSH: Congratulations.
Linda Chavez?
CHAVEZ: Thank you very much, Mr. President-elect.
It is a tremendous honor and a great privilege to be here today and to be at this point.
There are a whole lot of people who are responsible for my being here, in addition to you and to Vice President-elect Cheney. I first want to thank my husband and my three sons, whose encouragement, patience and support have enabled me to accept the many challenges and opportunities that have come my way.
But I'd also like to remember someone who could not be here today, because he did not live to see this day, and that is my father.
As a house painter, he taught me the dignity of manual labor. As someone whose own childhood poverty cut short his education in the ninth grade, he nonetheless introduced me to the world of books and ideas. And those are what enabled me to take a path that was easier than his own.
I also want to thank my mother, who stood on her feet long hours in restaurants and in department stores to help support our family during my childhood, and whose love continues to give me courage.
If I am confirmed as secretary of labor, I intend to keep faith with the men and the women who still work at jobs like those my parents held.
I hope also to seek out new opportunities to increase the skills and the productivity of all Americans, to promote safe working conditions, and to administer the nation's labor laws. I intend to vigorously enforce the department's regulations to guarantee nondiscrimination by federal contractors.
And I want to work with employers to ensure that the department of labor assists the private sector in expanding economic opportunity and job growth.
President-elect Bush, I look forward to working with you as you lead this nation forward with vision, with strength and with compassion. Thank you very much for the honor of being here today.
BUSH: Mr. Secretary?
MINETA: Thank you very much, President-elect Bush.
Over the last year, this country has witnessed a very hard-fought election. And I was proud to stand with my party. I have been honored to serve in President Clinton's Cabinet as secretary of commerce. I am a Democrat, with both a small "d" and a large one.
And I am proud of and committed to my party's principles and it's heritage.
However, the campaign is over. And under our constitutional system, a decision has been rendered. And we are now in the essential transition period when we move from campaigning to governance.
As you have said time and time again, Mr. President-elect, the challenge before all of us as Americans, regardless of party affiliation, is to find those areas where we can build bipartisan consensus on the policies and the programs that are needed to move this nation forward.
Now that sentiment has been echoed in comments made by both President Clinton and Vice President Gore, and I share it completely.
In my career as a city council member, and mayor of San Jose, California, and as a member of Congress, and as a business person and, since July, the secretary of commerce, I have always tried to build that kind of consensus.
I believe that there is no more fertile ground for building a bipartisan consensus on what is necessary and right for our country than in the area of transportation policy. There are no Democratic or Republican highways, no such thing as Republican or Democratic traffic congestion, no such thing as Republican or Democratic aviation and highway safety.
Cargo is not shipped by Republican or Democratic railroad ships, barges or pipelines.
Our national transportation policy must have one overriding bipartisan goal, and that is to give our economy the tools and the infrastructure it needs in order to create and sustain growth and prosperity.
In particular, it is no accident that in the areas in our nation where the economy has excelled, the number one issue is improving the transportation system. Inadequate infrastructure is one of the chief threats to a thriving economy.
Ours is a dynamic and evolving society and our transportation policies must reflect and nurture that reality. That is a belief that all of us share, and it is certainly one on which the president-elect, the vice president-elect and I strongly agree.
I am honored that President-elect Bush has sought my participation in his Cabinet. And I look forward to working with him and the Congress to face the challenges that will be presented to the Department of Transportation in the coming years.
I am also honored to have the opportunity to once work again with my friend and former colleague, Vice President-elect Cheney, and with the White House chief of staff-designate, Andy Card, with whom I worked closely during his tenure as secretary of transportation.
Thank you, again, Mr. President-elect, for this honor and for providing me this truly unique opportunity to serve our nation.
I promise you and the American people that I will do my best to make you and them proud of our nation's transportation system.
Thank you very, much.
BUSH: I'll take a few questions in the spirit of the year 2001.
QUESTION: Mr. President-elect, given President Clinton's meeting with Arafat, I wonder if you're concerned at all if the current administration's in any way tying your hands at the 11th hour on the Middle East.
BUSH: No. I'm appreciative of the fact that the president is working endlessly to try to bring the parties together to achieve a lasting peace. I appreciate his efforts. He's a man, obviously, who's going to work up to the last minute of the last day of his administration, which is what the American people expect, and so do I. And I appreciate so very much his strong attempt.
Follow up on this?
QUESTION: Yes.
BUSH: This will be the only question you get. Make sure it's the right one.
QUESTION: Do you see any reason to believe that the Israelis and Palestinians will sign a peace deal in the next 18 days before your inauguration, or by the Israeli election time of February 6?
BUSH: It's hard for me to tell from my perspective. But I do know we have one president, and our nation will speak with one voice. And the voice with which we'll speak is the voice of President Clinton. And as I say, he's giving it the very best shot he can, and I certainly hope it works.
QUESTION: Mr. President-elect, OPEC plans to cut oil production by a million and a half barrels on January 17. Are you concerned this will affect the current heating oil situation or raise gas prices in the future? And would you consider raising the issue with the Saudis or other OPEC members before that January 17 meeting?
BUSH: No, the nation needs to speak with one voice.
We have one president. But the fact that OPEC is thinking about reducing world supply of crude oil and thereby affecting the price at the pump and the price of heating oil, indicates the need for us to have an energy policy that makes us less dependent on foreign sources of crude.
The ideal world is one in which we don't have to worry about somebody reducing supplies on the world markets. We've got a long way to go from there. But we need to be exploring in an environmentally-sensitive way for oil and gas here at home.
Secondly, a cornerstone of our diplomatic efforts will be to work with our friends in the Middle East, particularly as it relates to matters of energy.
But no, the president of the United States will be the president until January the 20th, and our nation will speak with one voice.
QUESTION: You've now named a Cabinet that was very diverse in terms of gender and ethnicity and experienced in private sector and federal government. What does your Cabinet say, do you think, about your management style, about how you intend to make decisions as president?
BUSH: I appreciate that.
First, it says I'm not afraid to surround myself with strong and competent people. I believe the American people want a president who seeks the best; people from all walks of life who are strong, experienced, capable Americans. I'm going to work with every Cabinet member to set a series of goals for each Cabinet--for each area of our government. And I'll work with the Cabinet secretaries to help achieve those goals. But I fully expect to get--I fully expect to be given a straightforward talk, an honest opinion. And I expect people to work for one thing in mind: that which is best for America.
Now, I'm proud of this Cabinet. And I hope the American people realize that a good executive is one that understands how to recruit people and how to delegate, how to line authority and responsibility, how to hold people accountable for results, and how to build a team of people.
And that's exactly what we're going to do. This is a team of people who will be dedicated to doing what is right for America.
QUESTION: Mr. President-elect, as you prepare your economic plan to submit to Congress, I'm wondering if you could tell us, do you believe, sir, that if you cut taxes, whether it's the marriage penalty or marginal rates, revenues to the federal government necessarily increase; that is to say, you adopt the Reagan philosophy that lower taxes create a revenue source for the government, they do not create deficits. Or do you believe tax cuts could create deficit problems in the future?
BUSH: Well, a couple of things: The tax relief package that I talked about in the campaign, was phased-in based upon projections so that we wouldn't run a deficit.
Secondly, I do believe that a properly structured tax relief plan will cause revenues eventually to go up. I believe that a tax relief package, if properly structured--and I'm confident ours is properly structured--will encourage economic growth and vitality and more job creation.
And I am concerned, as I have said, that there are some warning signs on the horizon. This is an administration that certainly hopes the economy remains strong. It'll make our job a heck of a lot easier. But ours is going to be an administration that anticipates any potential problem. And I'm worried about an economic slow down, and I believe it is important for us to ensure against any economic slow down by a responsible tax relief package.
QUESTION: You've taken great pains, obviously, to diversify your Cabinet, but are you concerned that with the nomination of Senator Ashcroft and specifically the battle that's brewing, coming from civil rights groups and others, that that will undercut that accomplishment in any way?
BUSH: Well, first of all, I would hope that all of our nominations sail through, but that's not generally the way it goes. I'm sure there's going to be some tough questioning for some of our nominees.
But they're all fully prepared to handle the tough questioning.
And I hope people do talk to John Ashcroft about his vision of civil rights and his concept of fairness in America because I certainly did. I want to remind you that he was the man who became the attorney general of the state of Missouri. He was elected as the governor of the state of Missouri and as United States senator in the state of Missouri; a man who has a record of taking his heart and philosophy to the people of a swing state and got elected. And I'm confident that he'll withstand the scrutiny about his fairness and his heart.
Unfortunately, sometimes politics enters into the confirmation process. I understand that, and so does he. But I'm confident that when it's all said and done, Senator Ashcroft will be confirmed by the Senate.
QUESTION: Jesse Jackson has said, specifically, that he will lead a charge against Senator Ashcroft. I'm wondering if that complicates both your effort to meet with Reverend Jackson and your effort to reach out to minority groups, specifically African-Americans?
BUSH: Well, I find--I mean, Jesse Jackson is--in the great land of America, can do anything he wants to do; he can try to block any nomination he wants. But I think those who are going to make the determination as to whether or not any of these nominees get confirmed, the United States senators, if they are objective and they take a look at, in this case, Senator Ashcroft's heart and his record, they'll confirm him.
Yes?
QUESTION: To follow up, are you concerned that the looming fight over Senator Ashcroft's nomination might not enable you to start uniting the country, that partisanship will explode on Capitol Hill?
And can you share with us any other steps you might take besides appointing Secretary Mineta to help that process?
BUSH: Well, yes, I intend to continue to reach out to Democrats, to discuss with Democrats ways to get an education bill through the Congress, or ways to work on patients' bill of rights or Medicare reform. I understand how the legislative process works. I really understand it when there's a split Senate, in terms of reaching out to both parties.
The first part of your question was about Senator Ashcroft: Do I worry that a nomination battle is going to make it harder for me to unite? No, I don't. I mean, nomination battles are part and parcel of the country. There's going to be some tough questioning. But I'm confident that when people look at John Ashcroft's record and listen to what he has to say, and realize that he's going to enforce the law and not politicize the attorney general's office, he will be confirmed.
Yes, sir?
QUESTION: Mr. President, happy new year.
BUSH: And to you and yours.
QUESTION: You've talked about, during the campaign, that you and Vice President Gore have raised many of the same issues, although you differ on proposed solutions. And no disrespect intended, sir, the other side got more--more voters sided with the issues of the other side. So to what extent are you in a mindset to embrace some of the issues offered by the other side?
BUSH: Well, first, had I thought the campaign was--the candidate who won the most votes would be the president, I would have campaigned differently. For example, I might have spent a little more time and a little more time in my own state of Texas trying to maximize the popular vote. But I campaigned as if the one who got the most electoral votes would become the president.
Secondly, I believe the reason I'm standing here is because of the agenda I articulated during the course of the campaign. And I intend to take that agenda, that I tried to spell out as clearly as I could to the American people, to the halls of Congress.
QUESTION: Last question, Mr. President-elect: Can you talk about why you feel it was important to have a Democrat in your Cabinet, besides the qualifications of Mr. Mineta, the symbolism that you feel it might bring?
BUSH: You bet. First, I don't want to skip over the qualifications. This man is perfectly suited for the job. He made a career in the halls of Congress focusing on transportation issues with a philosophy that we share. And I can't wait for people in our party to hear Norm talk about his vision for transportation.
But it's also important to send a signal that this is an administration that recognizes talent when we see it regardless of political party. And this is an extraordinarily talented American. I love his story. I'm so honored that he agreed to join the administration. And he's going to make a great addition.
I wish everybody a continued happy new year. I look forward to seeing you at the next availability.
QUESTION: When will that be?
BUSH: Good question. See you later.
George W. Bush, The President-Elect's News Conference Announcing the Nominations of Spencer Abraham as Secretary of Energy, Linda Chavez as Secretary of Labor, and Norman Mineta as Secretary of Transportation Online by Gerhard Peters and John T. Woolley, The American Presidency Project https://www.presidency.ucsb.edu/node/285411