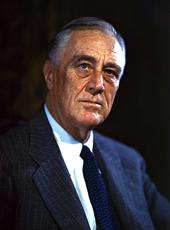 The Governor Enters the First Primary Campaign for the Presidential Nomination
My dear Mr. McLean:
If it is the desire of our party leaders in your State that my name be presented at your coming primaries as a candidate for the Democratic nomination for the Presidency, I willingly give my consent, with full appreciation of the honor that has been done me.
It is the simple duty of any American to serve in public position if called upon. One who believes in new standards of 'Government for meeting new problems, in the translation of forward-looking thought into practical action, must welcome a chance to do his share toward that end.
As Governor of a State containing nearly thirteen million people, I am, especially at this time, obligated to a still higher duty. These people when they reelected me in 1930 gave to me a great confidence that I would continue the task of helping to solve the serious problems which confront us. Our Legislature is now in session. If I am to be faithful to this trust I must devote myself to the obtaining of progressive laws, and the immediate administering of executive duties in the interest of the people of this State.
Were I now to divert my efforts in any degree by personal efforts in furtherance of my own political future, I would not only be untrue to my own convictions, but I would also stamp myself as one unworthy to be my party's choice as leader.
I know that you will understand the good faith in which I tell you this; and also my hope that our party will place before the Nation candidates who stand for progressive ideals of Government, who represent no mere section, no narrow partisanship and no special class.
I am grateful that my friends of North Dakota wish to present my name in the primary elections for the approval of the people of North Dakota, and I accede to that request.
Faithfully yours,
Hon. F. W. McLean,
Secretary, State Central Democratic Committee,
Grand Forks, North Dakota
Franklin D. Roosevelt, The Governor Enters the First Primary Campaign for the Presidential Nomination Online by Gerhard Peters and John T. Woolley, The American Presidency Project https://www.presidency.ucsb.edu/node/288102