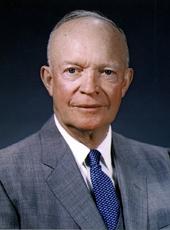 The Declaration of Washington: Joint Declaration by the President and the Prime Minister of the United Kingdom.
WE ARE CONSCIOUS that in this year of 1956, there still rages the age-old struggle between those who believe that man has his origin and his destiny in God and those who treat man as if he were designed merely to serve a state machine.
Hence, we deem it useful to declare again certain truths and aims upon which we are united and which we are persuaded are supported by all free nations.
1. Because of our belief that the state should exist for the benefit of the individual and not the individual for the benefit of the state, we uphold the basic right of peoples to governments of their own choice.
2. These beliefs of ours are far more than theory or doctrine. They have been translated into the actual conduct of our policy both domestic and foreign. We are parties to the Atlantic Charter, the United Nations Charter, the Potomac Charter and the Pacific Charter. In them we have, with other friends, dedicated ourselves to the goal of self-government and independence of all countries whose people desire and are capable of sustaining an independent existence. During the past ten and more years 600 million men and women in nearly a score of lands have, with our support and assistance, attained nationhood. Many millions more are being helped surely and steadily toward self-government. Thus, the reality and effectiveness of what we have done is a proof of our sincerity.
3. Further, we know that political independence cannot alone assure men and nations full opportunity to pursue happiness and to fulfill their highest destiny. There is likewise need for economic sustenance and growth. This, too, we have helped to provide. We seek to develop with others a large volume of mutually beneficial trade. Likewise we seek, through Technical Assistance, the Colombo Plan and other programs we support, to help economic progress in the less developed countries and to raise the living standards of their peoples. In these programs we have not sought nor desired extension of either economic or political power. The purpose is not to dilute, but to enrich and secure their freedom.
4. During this period of notable cooperative progress in the free world, those who assert the supremacy of the State and deny the inherent rights of man have also been active. Millions of people of different blood, religions and traditions have been forcibly incorporated within the Soviet Union, and many millions more have in fact, although not always in form, been absorbed into the Soviet Communist bloc. In Europe alone, some 100 million people, in what were once 10 independent nations, are compelled, against their will, to work for the glorification and aggrandizement of the Soviet Communist State.
The Communist rulers have expressed, in numerous documents and manifestos, their purpose to extend the practice of Communism, by every possible means, until it encompasses the world. To this end they have used military and political force in the past. They continue to seek the same goals, and they have now added economic inducements to their other methods of penetration.
It would be illusory to hope that in their foreign policies, political and economic, the Soviet rulers would reflect a concern for the rights of other peoples which they do not show towards the men and women they already rule. Any free nation that may be persuaded by whatever threat, promise or enticement to embrace Communism will lose its independence and its people will forfeit their rights and liberties. These contrasting records of recent years reflect the essence of the struggle between free countries and the Communist rulers.
5. In the face of the Communist challenge, almost 50 nations which cherish freedom have drawn together in voluntary associations for their collective security. These associations uphold for all their members the right to independent existence, the right to free expression and the right to differ. The purpose of their union is to preserve those national rights, just as within a state people join together to preserve their individual rights.
6. We reject any thought that the cleavage we have described should be resolved by force. We shall never initiate violence. Moreover, we shall use our full influence to assure that Soviet efforts to inflame old antagonisms will not succeed in breaking the peace. The United Nations provides appropriate machinery to assist countries desiring peacefully to bridge their differences and to settle disputes.
Many nations of the free world are ever anxious to proffer their good offices to promote the same end. Our two countries stand constantly ready to aid in negotiation and conciliation with others directly concerned, so as to achieve just settlements of the concrete issues that now trouble the world.
7. We shall persevere in seeking a just and lasting peace and a universal and effectively controlled disarmament which will relieve mankind of the burden and the terror of modern weapons. Meanwhile, the society of free nations must retain the power needed to deter aggression. We recognize that such power should never serve as a means of national aggrandizement but only as an essential shield for every member of the community of nations.
We are determined to make the conquest of the atom a pathway to peaceful progress, not a road to doom.
8. We will not be deflected from the policies and purposes we have herein stated. On the contrary, we will maintain and, where necessary, strengthen and extend them. Thus, we shall help ourselves and others to peace, freedom and social progress, maintaining human rights where they are already secure, defending them when they are in peril and peacefully restoring them where they have temporarily been lost.
While resolutely pursuing these aims, which are the products of our faith in God and in the peoples of the earth, we shall eagerly grasp any genuine opportunity to free mankind of the pall of fear and insecurity which now obscures what can and should be a glorious future.
DWIGHT D. EISENHOWER

ANTHONY EDEN
Dwight D. Eisenhower, The Declaration of Washington: Joint Declaration by the President and the Prime Minister of the United Kingdom. Online by Gerhard Peters and John T. Woolley, The American Presidency Project https://www.presidency.ucsb.edu/node/233717