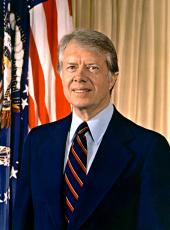 The Cyprus Conflict Letter to the Speaker of the House and the Chairman of the Senate Foreign Relations Committee.
Dear Mr. Speaker: (Dear Mr. Chairman: )
In accordance with the provisions of Public Law 95-384, I am submitting the following report on progress made during the past 60 days toward the conclusion of a negotiated solution of the Cyprus problem.
In my last Cyprus report to the Congress, dated September 25, I noted that the recess in the intercommunal talks continues despite persistent and intensive efforts by UN Secretary General Waldheim and his staff to bring the two parties back to the conference table. I regret to report that in the intervening 60 days these efforts have still not borne fruit.
The United States shares the view that only sustained intercommunal talks can lead to a just and lasting settlement of the Cyprus problem. We believe that the continuing good-offices efforts of the Secretary General are the most promising way to achieve a serious negotiation. I am pleased that our November 1978 proposals provided impetus for the current UN initiative. We have strongly supported that initiative since it began, and we shall continue to do so. In part due to our support, the Secretary General and his staff are making progress toward finding a formula on the basis of which the talks might resume.
The current session of the UN General Assembly is creating opportunities to explore avenues of progress on the Cyprus question. Secretary Vance had meetings with President Kyprianou in New York on September 26 and October 4. Other U.S. officials are in contact with principals in the Cyprus dispute, and with interested third parties, to prepare for the General Assembly debate on Cyprus. We hope that after the General Assembly completes its discussion of Cyprus, both sides will find it possible to resume the intercommunal negotiations. It is essential that they not allow the quest for short-term advantage to erode their mutual objective of finding a settlement which meets the basic needs of all people on the island.
The long and tortuous history of the Cyprus problem demonstrates that peaceful progress has never been easy. The obstacles, while formidable, are not insurmountable. We continue to believe that progress is achievable, and we are vigorously seeking it. Toward that end, we remain in close touch with all parties to the Cyprus dispute, the United Nations, our European allies, and other states which have a legitimate role to play and which desire to contribute to the achievement of our common goal.

Sincerely,
JIMMY CARTER
Note: This is the text of identical letters addressed to Thomas P. O'Neill, Jr., Speaker of the House of Representatives, and Frank Church, chairman of the Senate Foreign Relations Committee.
Jimmy Carter, The Cyprus Conflict Letter to the Speaker of the House and the Chairman of the Senate Foreign Relations Committee. Online by Gerhard Peters and John T. Woolley, The American Presidency Project https://www.presidency.ucsb.edu/node/249251