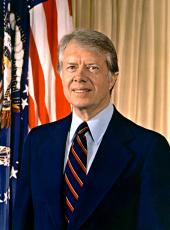 The 96th Congress Letter to the Speaker of the House and the Majority Leader of the Senate.
I am writing to congratulate you on the productive session that the 96th Congress has had to date. Through your strong and effective leadership and our cooperation, we have addressed the critical energy, economic, national security and social issues that had been too long ignored by previous Administrations and Congresses. I am proud of our cooperative relationship and our achievements to date, and I know you agree that a great deal more must be accomplished in the post-election session.
Through our cooperative efforts, we have enacted legislation that will be the building blocks of our Nation's energy policy for decades to come. The Synthetic Fuels Corporation Act, the Crude Oil Windfall Profits Tax Act, the Low-Income Energy Assistance Act, the Emergency Energy Conservation Act, the Stand-by Gasoline Rationing Plan, the Conservation and Solar Bank Act, a major new gasohol program, and the Wind Energy Systems Act will make major contributions to strengthening our country and reducing our Nation's dependence on foreign oil. Already the initiatives we have taken in the last four years have helped to reduce oil imports by 2 million barrels per day below 1977 levels.
With your leadership, we have enacted legislation to deregulate the railroad, trucking and banking industries, and passed the Regulatory Flexibility Act to reduce the burden of regulations on small business. These bills are a major step forward in our efforts to reduce the unneeded intrusion of Federal regulation into our free market system. They represent the most profound change in relations between government and the private sector since the New Deal.
We have created a new Department of Education, reorganized the government's programs to assist developing nations, and approved a plan reorganizing our international trade activities. These actions will streamline our government and make it more effective and responsive to the needs of our citizens.
Together, we have worked to reduce the growth in Federal spending and to strengthen our Nation's economy. Our efforts this year in the budget, appropriations, and reconciliation processes will achieve efficiencies amounting to tens of billions of dollars in the coming years. I am particularly proud that you and the Congressional Democrats beat back Republican attempts to enact a hastily developed, ill-conceived, inflationary, election-year tax cut.
While we have tightened the budget, we also have expanded programs that specifically meet the needs of our Nation's unemployed and disadvantaged citizens. We have extended the time period for ratification of the Equal Rights Amendment; expanded funding and eligibility for veterans programs, particularly for Vietnam-era veterans; passed an expanded authorization for higher education programs; enacted new authorizations for our community development, urban development, and housing programs; enacted new authorizations for our agriculture and farm credit programs; provided full voting rights to the District of Columbia; and enacted reforms in the food stamp, social services, child welfare, and disability insurance programs.
With your cooperation, we have strengthened our Nation's commitment to a strong national defense and improved our relations with our Allies and the Third World. We have enacted a Defense Authorization bill and military pay legislation that will strengthen our armed services and ensure that our defense capability is second to none. We have enacted legislation that will enhance our relations with the People's Republic of China; approved legislation to improve oversight of our intelligence activities; and enacted the legislation required to implement the Middle East peace treaty.
While the record of the 96th Congress is one of which we can all be proud, substantial work remains to be done in the post-election session to complete action on the Budget Resolution, appropriations bills, and a number of essential pieces of legislation. Substantial progress already has been made on these bills, but final action is essential. It is unfortunate that the partisan tactics of some Republican Members have prevented final action on many of these proposals until the postelection session.
I am pleased with the work of the 96th Congress thus far and I look forward to continuing our strong working relationship.
Sincerely,
JIMMY CARTER
Note: This is the text of identical letters addressed to Thomas P. O'Neill, Jr., Speaker of the House of Representatives, and Robert G. Byrd, Majority Leader of the Senate.
Jimmy Carter, The 96th Congress Letter to the Speaker of the House and the Majority Leader of the Senate. Online by Gerhard Peters and John T. Woolley, The American Presidency Project https://www.presidency.ucsb.edu/node/252096