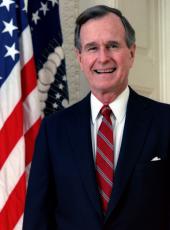 Thanksgiving Address to the Nation
Good evening. Like many of you, I'm spending tomorrow with family. And we'll say grace and carve the turkey and thank God for our many blessings and for our great country.
This holiday also marks the adjournment of Congress. And I've worked with Congress, extending my hand across the party aisle, advancing legislation to free our streets of the fear of crime and drugs. We proposed ways to clean the air, the water, and the land around us, and we've joined with the Nation's Governors to enter an historic compact to better our schools. And especially touching is that so many Americans have answered the call for community service, the Thousand Points of Light, by rolling up their sleeves and pitching in for the hopeless, the helpless -- each volunteer, a beacon of light for someone who has lost his way.
And this will be a very special Thanksgiving. It marks an extraordinary year. But before our families sit down tomorrow, we will give thanks for yet another reason: Around the world tonight, new pilgrims are on a voyage to freedom, and for many, it's not a trip to some place faraway but to a world of their own making.
On other Thanksgivings, the world was haunted by the images of watchtowers, guard dogs, and machineguns. In fact, many of you had not even been born when the Berlin Wall was erected in 1961. But now the world has a new image, reflecting a new reality: that of Germans, East and West, pulling each other to the top of the wall, a human bridge between nations; entire peoples all across Eastern Europe bravely taking to the streets, demanding liberty, pursuing democracy. This is not the end of the book of history, but it's a joyful end to one of history's saddest chapters.
Not long after the wall began to open, West German Chancellor Kohl telephoned, and he asked me to give you, the American people, a message of thanks. He said that the remarkable change in Eastern Europe would not be taking place without the steadfast support of the United States -- fitting praise from a good friend. For 40 years, we have not wavered in our commitment to freedom. We are grateful to our American men and women in uniform, and we should also be grateful to our postwar leaders. You see, we helped rebuild a continent through the Marshall plan; and we built a shield, NATO, behind which Americans, Europeans could forge a future in freedom.
For so many of these 40 years, the test of Western resolve, the contest between the free and the unfree, has been symbolized by an island of hope behind the Iron Curtain: Berlin. In the 1940's, West Berlin remained free because Harry Truman said: Hands off! In the 1950's, Ike backed America's words with muscle. In the 1960's, West Berliners took heart when John F. Kennedy said: "I am a Berliner." In the 1970's, Presidents Nixon, Ford, and Carter stood with Berlin by standing with NATO. And in the 1980's, Ronald Reagan went to Berlin to say: "Tear down this wall!" And now we are at the threshold of the 1990's. And as we begin the new decade, I am reaching out to President Gorbachev, asking him to work with me to bring down the last barriers to a new world of freedom. Let us move beyond containment and once and for all end the cold war.
We can make such a bold bid because America is strong and 40 years of perseverance and patience are finally paying off. More recently, quiet diplomacy, working behind the scenes, has achieved results. We can now dare to imagine a new world, with a new Europe, rising on the foundations of democracy. This new world was taking shape when my Presidency began with these words: "The day of the dictator is over." And during the spring and summer we told the people of the world what America believes and what America wants for the future. America believes that "liberty is an idea whose time has come in Eastern Europe." America wants President Gorbachev's reforms, known as perestroika, to succeed. And America wants the Soviets to join us in moving beyond containment to a new partnership. Some wondered if all this was realistic. And now, though we are still on the course set last spring, events are moving faster than anyone imagined or predicted.
Look around the world. In the developing nations, the people are demanding freedom. Poland and Hungary are now fledgling democracies -- a non-Communist government in Poland and free elections coming soon in Hungary. And in the Soviet Union itself, the forces of reform under Mikhail Gorbachev are bringing unprecedented openness and change.
But nowhere in the world today, or even in the history of man, have the warm hearts of men and women triumphed so swiftly, so certainly, over cold stone as in Berlin, indeed, in all of East Germany. If I may paraphrase the words of a great poet, Robert Frost: There is certainly something in us that doesn't love a wall.
When I spoke to the German people in Mainz last May, I applauded the removal of the barriers between Hungary and Austria, saying: "Let Berlin be next." And the West German people joined us in a call for a Europe whole and free.
Just yesterday, the West German Foreign Minister gave me a piece of the Berlin Wall, and it's on my desk as a reminder of the power of freedom to bring down the walls between people. It brought back memories of 7 years ago, when I went to Modlareuth, a small town in Germany also known as Little Berlin -- a divided village, really, its cobbled streets were blocked by barbed wire and concrete; and on the one side freedom and on the other, despair. And I talked with the townspeople not 150 yards from the specter of armed guards in towers. Someday I'd like to go back to Little Berlin and see families reunited, see neighbors once apart coming together. How wonderful that would be!
Change is coming swiftly, and with this change the dramatic vindication of free Europe's economic and political institutions. The new Europe that is coming is being built -- must be built -- on the foundation of democratic values. But the faster the pace, the smoother our path must be. After all, this is serious business. The peace we are building must be different than the hard, joyless peace between two armed camps we've known so long. The scars of the conflict that began a half a century ago still divide a continent. So, the historic task before us now is to begin the healing of this old wound.
During our visit to Poland and Hungary last July, I found new encouragement that we were on track: There was, at long last, the chance for a fundamental change. I saw firsthand acts of healing and reconciliation. And it was in Warsaw, at my lunch for General Jaruzelski and the leaders of Solidarity, that I met a woman who had worked, at great personal risk, for the release of jailed Solidarity members. And she was asked: "How is it possible, after such a short time, to break bread with the men who ordered those imprisonments? Why the absence of bitterness?" And she replied: "Our joy at what is happening now is more powerful than memory." I wish you could have been there, for what we witnessed was extraordinary. The old antagonisms melted away as former adversaries stood up, often with tears in their eyes, and toasted the future. Our guests knew that history would judge them by how well they would cooperate. Well, there is a spirit of cooperation in Eastern Europe. The result: Poland and Hungary are being transformed.
They deserve our support, and they're getting it. We have matched our words with action: new loans and grants, teams of American economic experts working to help them adjust to a free market society, clearing the way for U.S. investment and trade with Poland and Hungary. Now the peoples of these nations can finally expect their hard work to lead to a better life.
These same winds of change are sweeping our own hemisphere, democracy transforming the Americas with stunning speed. Regrettably, there are some exceptions -- Panama, Nicaragua, and Cuba. And these last two are holding out against their people only because of the massive support of weapons and supplies from their Communist allies. And so, when I see President Gorbachev, I'll ask him to join with us to help bring freedom and democracy to all the people of Latin America.
And so, as we celebrate the events of Eastern Europe, remember that some walls still remain between East and West. These are the invisible walls of suspicion, the walls of doubt, misunderstanding, and miscalculation.
It was while in Eastern Europe last summer that I decided to make a personal effort to break through these last barriers. And back in May, I set down five steps that the Soviets should take that would inevitably result in improved relations with the West: First, reduce Soviet forces; second, support self-determination in Eastern Europe; third, work with us to end regional disputes; fourth, achieve a lasting pluralism and respect for human rights; and fifth, join with us in addressing global problems, including the international drug menace and dangers to the environment. Serious problems still remain, especially those regional conflicts, but the Soviet Union has made progress in these five areas that is undeniable.
With that in mind, I invited President Gorbachev to meet me 10 days from now. This is a first meeting, a time for exploration. It is not a time for detailed arms control negotiations best left for next year's summit. I want President Gorbachev to know exactly where the United States stands. Let me be clear: America stands with freedom and democracy. We are not meeting to determine the future of Europe. After all, the peoples of Europe are determining their own future. And though there will be no surprises sprung on our allies, we will miss no opportunity to expand freedom and enhance the peace. But to those who question our prudent pace, they must understand that a time of historic change is no time for recklessness. The peace and the confidence and the security of our friends in Europe -- it's just too important.
We will seek President Gorbachev's assurance that this process of reform in Eastern Europe will continue, and we will give him our assurance that America welcomes this reform not as an adversary seeking advantage but as a people offering support. Our goal is to see this historic tide of freedom broadened, deepened, and sustained. We find enormous encouragement in its peaceful advance and its acceptance by the Soviet Union. We can now raise our hopes on other issues: our common environment, our common war against drugs, as well as human rights and the regional conflicts that remain.
Immediately after my visit with President Gorbachev, I'll go to Brussels to consult with our partners in NATO, the very alliance that has kept the West free for 40 years. I will assure them that no matter how dramatic the change in Eastern Europe or in the Soviet Union itself, the United States will continue to stand with our allies and our friends. For in a new Europe, the American role may change in form, but not in fundamentals. After all, the Soviet Union maintains hundreds of thousands of troops throughout Eastern Europe. Study the map, review history, and you'll see that this presence, with the Soviet Union's natural advantage of geography, cannot be ignored. So, even if forces are significantly reduced on both sides, a noble goal indeed, we will remain in Europe as long as our friends want and need us.
Off the island nation of Malta, Mikhail Gorbachev and I will begin the work of years. We can help the peoples of Europe achieve a new destiny in a peaceful Europe whole and free. And I will tell President Gorbachev, the dynamic architect of Soviet reform, that America wants the people of the Soviet Union to fulfill their destiny, and I will assure him that there is no greater advocate of perestroika than the President of the United States.
And when we meet, we will be on ships at anchor in a Mediterranean bay that has served as a sealane of commerce and conflict for more than 2,000 years. This ancient port has been conquered by caesar and sultan, crusader and king. Its forts and watchtowers survey a sea that entombs the scuttled ships of empires lost -- slave galleys, galleons, dreadnoughts, destroyers. These ships, once meant to guard lasting empires, now litter the ocean floor and guard nothing more than reefs of coral. So, if the millennia offers us a lesson, perhaps it's this: True security does not come from empire and domination. True security can only be found in the growing trust of free peoples.
It's been said that peace is not the work of a single day, nor will it be the consequence of a single act; and yet every constructive act contributes to its growth; every omission impedes it. Peace will come, in the end, as a child grows to maturity -- slowly, until we realize one day in wonder the child is almost grown. It is our hope that Malta will be such a constructive act: guiding brave pilgrims on their journey to a new world of freedom. And so, on this Thanksgiving Eve, as I prepare for my journey to Malta, I wish you a good night and safe travel. God bless you and your family, and God bless the United States of America.
Note: The President spoke at 9:01 p.m. from Camp David, MD. The address was broadcast live on nationwide radio and television.
George Bush, Thanksgiving Address to the Nation Online by Gerhard Peters and John T. Woolley, The American Presidency Project https://www.presidency.ucsb.edu/node/263842