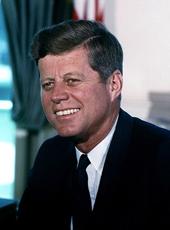 Text of a Telegram Sent to Hon. Stanley Mosk, Attorney General for the State of California, by Senator John F. Kennedy
I have long been aware that the traffic in illicit narcotics is one of our major law enforcement problems. I am told that all the marihuana and approximately 75 percent of the heroin being peddled in your State of California originates outside the United States. The Federal Government must obviously assume some responsibility for halting the international traffic in narcotics. This will mean that we must use every enforcement agency at both the State and local level, and that we must enlist the cooperation of our good neighbors on the borders.
I am aware of House Resolution 431, which was adopted in April of this year suggesting a White House conference. In addition, Resolution 20 adopted by the National Conference of Attorney Generals in July called for a similar conference on this problem. I believe such a conference can serve a valuable purpose. It should seek a method for securing uniform State-Federal enforcement. It should recommend a method of implementing machinery for consultation between the United States, Mexico, and Canada, and it should consider a Federal-State hospital program for the addict, as well as such other appropriate matters that will help alert the Nation and contribute to the solution of the narcotics problem. In answer to the question in your telegram I assure you that, if I am elected President I will convene the White House Conference on Narcotics as soon as it is reasonably practicable.
JOHN F. KENNEDY
John F. Kennedy, Text of a Telegram Sent to Hon. Stanley Mosk, Attorney General for the State of California, by Senator John F. Kennedy Online by Gerhard Peters and John T. Woolley, The American Presidency Project https://www.presidency.ucsb.edu/node/274090