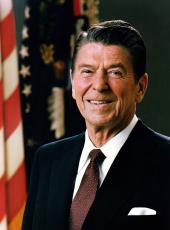 Text of a Foreword Written for Irish Times Magazine on the President's Visit to Ireland
For many Americans, coming to Ireland is like coming home. That is certainly true in my case. My great, great grandfather, Thomas Reagan, lived in the town of Doolis, Ballyporeen, in the county of Tipperary. His youngest son Michael, and Michael's son John, who was my grandfather, emigrated to the United States.
Nancy and I look forward to visiting Ballyporeen to see the church records of my ancestors and to meet family members and friends. We hope to make new friends while enjoying traditional Irish hospitality and savoring the beauty of this precious land.
In a way, my visit to your country is the story of Irish-American relations come full circle. My ancestors, like so many of their compatriots, left Ireland to seek a new beginning in a young and growing country. These Irish immigrants helped to build America with their bodies, their intellect and their love of beauty and culture—and their sense of humor, I should add. They wrote one of the most remarkable success stories in American history. The United States owes much to these men and women for their many contributions to our society in the arts, literature, drama and countless other fields.
Today, some 40 million of my fellow Americans—including 14 other U.S.. Presidents-trace their roots to Ireland. As an Irish-American, I am honored to represent the United States as I return to a dynamic and growing country that is America's gateway to Europe.
America's friendship with the people of Europe is nowhere closer than with the people of Ireland. The respect and affection that the people of America have for your country are deep and sincere, founded upon the most durable bonds of family and common values.
I can personally say that we "Sons of Ireland in America" are proud of our Irish heritage of individualism and of our tenacious love of freedom.
Our two countries share many deeply held values, not the least of which are justice and peace. We have a common heritage of government by popular consent and of respect for the rule of law. Irishmen and Americans share other values too: importance of the family, deep religious beliefs, respect for individual rights and an abiding commitment to political, social and economic opportunity.
We have learned over the centuries since the first large party of Irish immigrants arrived in America in 1621, that peace, prosperity and freedom are the keys to the future, not only for ourselves, but also for our children. Ireland can be proud of its contribution to international peacekeeping and of its role in reducing international tensions.
Speaking for my country, I can say that Americans believe that the tide of history is a freedom tide, and that the values of freedom, democracy and independence that we have developed over the centuries will endure beyond the lives of all of us here today.
The history of friendship between the Irish and American peoples is a long one. I hope that my visit to Ireland will serve to honor and to strengthen that long tradition of friendship.
Ronald Reagan, Text of a Foreword Written for Irish Times Magazine on the President's Visit to Ireland Online by Gerhard Peters and John T. Woolley, The American Presidency Project https://www.presidency.ucsb.edu/node/261442