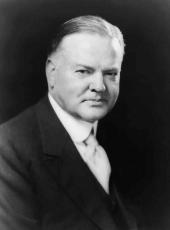 Telephone Remarks to the National Automobile Chamber of Commerce.
I AM GLAD to extend this greeting to the automobile industry of the United States as represented at your banquet in New York City tonight.
I am informed that if I were speaking to every person whose livelihood is directly or indirectly dependent upon the industry, I should be speaking to 1 person in every 10 of the people of our country. Therefore, the prosperity of the industry is in the anxious thoughts of the Nation, and everybody wishes you well in your plans to expand the manufacture and use of your product.
The despondency of some people over the future is not borne out by the statistical evidence or prospects in respect to the automobile industry. I am informed by the Department of Commerce that despite the depression you have manufactured and sold during this year, 1930, over 3,500,000 new automobiles. You have also disposed of the large inventories of a year ago. Hundreds of miles of new roads are being constructed every day in the world and these increasing miles must be equipped with more automobiles. I am informed also that the consumption of gasoline during the last year shows an increase of 5 percent over even the highly optimistic year of 1929. This certainly means that we have been cheerful in the use of our automobiles. I do not assume they are being used for transportation to the poorhouse. While I am aware that many people are using the old automobile a little longer, it is obvious that they are still using it and that it is being worn out. Altogether the future for the industry does not warrant any despondency.
No one needs to recall the utility and importance of the automobile in our national life. I have often wondered, however, if part of its popularity was not due to the exhilarating sense of power that we all inhale through the mastery over time and space we gain from it. It brings a sense of freedom that makes our spirits rise even though it sometimes invites for some people the depressing ministrations of a motorcycle policeman.
I wish you success in your meeting and in the organization plans which you put forward for the new year. Every automobile and truck which you make and sell adds to employment in a hundred different trades. Yours is indeed a great and vital industry, the success of which is important to every one of us. I sincerely wish you a prosperous new year.
Note: The President spoke at approximately 9:40 p.m. via telephone to the annual dinner gathering in the Hotel Commodore in New York City. The dinner was held in conjunction with the 31st Annual Automobile Show.
Herbert Hoover, Telephone Remarks to the National Automobile Chamber of Commerce. Online by Gerhard Peters and John T. Woolley, The American Presidency Project https://www.presidency.ucsb.edu/node/207377