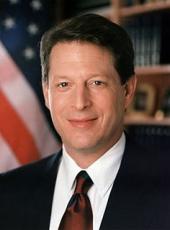 Telephone Remarks to the International Union of Electronic, Electrical, Salaried, Machine and Furniture Workers
This is a great day for the working men and women of America. By bringing together two of our most dynamic unions, the IUE and the CWA, you're creating a powerful new force for all working families, organized or not.
Six and a half weeks from now, Americans will choose not just a new President, but a new future. There's a lot at stake. We may never have a chance like this again - to make sure prosperity enriches not just the few, but all our families.
That's why I'm running a campaign on the issues. That's why I'm talking specifics, everywhere I go. And I'm eager for the debates to begin.
Now, the other side said they wanted to talk about the issues. But that didn't seem to last very long.
With our whole future at stake, this is no time for personal attacks - which is why I'll never make any. After all, this election isn't about me or Governor Bush. It's about you and your future. And that's what I'm going to focus on in these final days of decision.
We've come a long way these past eight years. But this election is not an award for past performance. I'm not asking you to vote for me on the basis of the economy we have.
I ask for your support on the basis of the better, fairer, more prosperous America we can build together.
We have to start with a strong, growing economy that enriches all our families. We can't leave anyone behind.
I'm committed to turning around the manufacturing sector in America. You've literally built this country - and you deserve a President who's going to fight for you.
I'll make sure every worker can get the skills they need to keep up - by giving tax credits for job training, and making most college tuition and job training tax deductible.
I'll work to make sure that when we export our products, we don't export jobs and technology with them. That means enforcing our trade laws and negotiating trade agreements that lift up workers around the world, instead of dragging them down.
There's one more thing we must do to strengthen working families, and that's strengthening the right to organize. I'll make sure that fundamental right is never blocked, never stopped, and never taken away.
There's a real choice in this election: will we have a President who stands up to the powerful forces, and fights for families? That's the kind of President I intend to be.
I'll take on the HMO's and fight for a real Patients' Bill of Rights - to take the medical decisions away from the HMO bean-counters, and give them back to the doctors and nurses and health care professionals.
I'll take on the big drug companies and pass a real prescription drug benefit for all seniors under Medicare - not a pretend plan that leaves out millions of middle-class seniors and makes the others beg the HMO's for coverage.
At a time of rising prices for gas and home heating oil, I'll stand up to the big oil companies, and fight against big oil profiteering. In fact, I'm calling for urgent measures to help stabilize oil and gasoline prices at lower levels. I'll never go along with an agenda that's of big oil, by big oil, and for big oil.
I know this about the job of the President: it's the only job in the Constitution that is charged with the responsibility of fighting for all the people. Not one state, or one district; not the wealthy or the powerful -- but all the people. Those who need a voice; those who need a champion; those who need to be lifted up, so they are never left behind.
I want to fight for you. If I'm entrusted with the Presidency, I know I won't always be the most exciting politician. But I will never stop fighting for you - and I will never let you down.
Early to bed, early to rise, work like hell and organize!
Albert Gore, Jr., Telephone Remarks to the International Union of Electronic, Electrical, Salaried, Machine and Furniture Workers Online by Gerhard Peters and John T. Woolley, The American Presidency Project https://www.presidency.ucsb.edu/node/285653