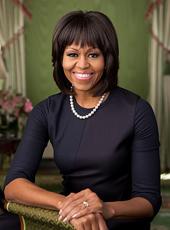 Telephone Remarks by the First Lady to the 100,000 Jobs Mission Coalition's Second "Virtual Convening"
Hello everyone, and thank you all for joining this call. I want to start by thanking Tony for that very kind introduction and for his work on behalf of the 100,000 Jobs Mission.
Tony is a perfect example of the kind of talent and commitment to service that define our newest generation of veterans.
They're highly skilled men and women who have served as IT specialists, operations managers, convoy drivers, and so much more. They've overseen millions of dollars' worth of assets… mastered the latest technologies… and managed dozens – even hundreds – of their peers. Many of them have served in combat, where one wrong move could mean the difference between life and death. And in the process, they've gained skills that you simply can't teach anywhere else.
The same goes for our military spouses – so often, they're working full time and raising kids, while also volunteering in their communities… and maybe even squeezing in night class for good measure. They're uprooting their lives and families and restarting their careers as their families are transferred from base to base. And they're doing it all while dealing with the emotions of a deployment – constantly wondering what kind of danger lies ahead for their loved one.
These are exactly the kinds of people anybody would want on their team – they're resilient, driven, nimble and creative. And I say that from personal experience. I work with military personnel and military spouses all across the White House, including several outstanding members of my own staff.
So it is simply unacceptable that any veterans and military spouses are struggling to find jobs and support their families. While the unemployment rate has dropped significantly for post-9/11 veterans, it still lags behind the general population, particularly for our youngest veterans. And that's why, four years ago, Dr. Jill Biden and I started our Joining Forces initiative to support our troops veterans and military families.
And you all felt the exact same way – that's why, around the same time, you all built this coalition and got working on this issue alongside us. And what you all have accomplished is truly amazing. When you started the 100,000 Jobs Mission back in 2011, there were just 11 companies involved. But together, you pledged that you would hire 100,000 veterans and military spouses by 2020.
Since then, you've grown your coalition from 11 companies to more than 185. You've blown past your original goal and you've hired more than 217,000 vets and military spouses. And now you're raising the bar for yourselves once again and pledging to hire 300,000 by 2020.
And you're not just focused on the quantity of hires, but the quality. You're working to make sure that you're not just connecting folks to jobs, you're connecting them to careers and communities. You're sharing best practices with each other… you're developing training courses to help familiarize corporate leaders with military culture and structure… and you're creating Business Resource Groups, which give veterans – and non-veterans – at your companies a chance to form a community and support each other.
So I wanted to be on this call today to say thank you. And that starts with the folks at JPMorgan Chase who have been leading the charge from day one… especially your Director of Military and Veterans Affairs, Maureen Casey. But we know that this story is more than just one company – together, you all have played such a pivotal role in helping us drive down veterans unemployment. And I want to specifically thank all of the HR and hiring managers on this call – thank you for going to those vets hiring fairs and poring through resumes to find the vets who will help your companies succeed. I am so grateful to all of you and everyone else on this call for your outstanding work.
But let's be clear, while we've made some real progress, we still have so much work left to do. There are still thousands of troops transitioning back to civilian life. Many of them have gone to school on the GI Bill to get even more training. Others might be looking for a long-term career that can better support their families. So I want to ask all of you to make this a permanent commitment within your companies – not just until you all hit that 300,000th hire, but for the years and decades beyond. Keep pushing yourselves to hire more vets and military spouses. Keep finding new ways train, retain, and help veterans thrive in your companies. And keep growing this coalition – reach out to other businesses… tell them about your best practices… show how they can benefit from hiring our veterans.
And I promise that we'll have your back every step of the way. We've got folks throughout the Administration – from the VA to the Departments of Defense and Labor to us at Joining Forces – who are working hard to make it easier for you hire vets and military spouses. Last year, the VA rolled out an online Veterans Employment Center at ebenefits.va.gov, where employers can post job openings and connect with verified veterans looking to get hired. We direct our transitioning service members, military spouses, and veterans to this site when they're looking for jobs. So if your company isn't already registered with the site, be sure to sign up right after this call. And if there's a way we can make it work better for all of you – by all means, let us know. You can give feedback right to our Joining Forces team – their contact information is included in this webinar.
Because I know that if we're all working together… if we make veterans' employment an central part of how we do business in this country – then we'll make a difference not just for our newest generation of veterans and military families, but for all those who serve our country in the years ahead. So thank you all again for everything you've done – and I look forward to working with all of you in the years ahead. God bless.
NOTE: As prepared for delivery.
Michelle Obama, Telephone Remarks by the First Lady to the 100,000 Jobs Mission Coalition's Second "Virtual Convening" Online by Gerhard Peters and John T. Woolley, The American Presidency Project https://www.presidency.ucsb.edu/node/320942