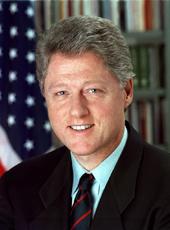 Telephone Remarks to a Rally for Representative Julia Carson
Let me say, first of all, I'm just sick I can't be there. But I think you know that for the last 2 days I've been up day and night, literally. I was up all night last night because of the continuing violence in the Middle East and the responsibility the United States has to do everything we can to get things calmed down and get back to the peace process. Nothing else would keep me away.
I want to say to all my friends in Indiana, you ought to be very proud of Joe Andrew. He has done a great job with the DNC. And I think I can speak for every Democrat outside Indiana; we are proud of Bart Peterson and thrilled that he is the mayor of Indianapolis.
I want to thank Governor Frank O'Bannon for working so closely with me, and Lieutenant Governor Kernan and your attorney general. And I want to tell you that I've known Evan Bayh since he replaced me as the youngest Governor in America, and he and Susan do you great credit in Washington every single day. I have no doubt that the future is unlimited for him.
Most of all, I want to tell you that there is nobody in Congress I like any better than Julia Carson. She is one of a kind. And when she kind of sidles into a room and takes a stand for education or children or moving people from welfare and poverty into work, everybody listens to her. And she's acquired an unusual amount of influence in Congress in a very short time because she deals with people so effectively and she has such credibility and she's so compelling when she makes a point. I've just sort of learned to do what she asks me to do without her having to argue it now. [Laughter]
I'd like to just make a simple argument tonight in Indiana, because you've got a lot of Republicans there, but the Democrats are doing better. Why are the Democrats doing better? Because you deliver.
And I just want to say to you that, you know, this is the first time in 26 years I haven't been on a ballot at election time. So I'm telling you this as a person who, within a matter of 4 months, will be like most of you out there, just another American citizen. This country is in good shape. We are moving in the right direction. We are better off than we were 8 years ago, and we need to keep changing in the right direction. That is the strongest argument for why every election this year is important, every Senate seat, every House seat, every governorship, and of course, most important of all, the election for President and Vice President.
Now, in Indiana, you've done well because people have seen you produce results. And I want you to go out there, between now and election day, and ask everybody you know in Indiana and in the States bordering Indiana, all of which are critical to our success, to remember what it was like 8 years ago. Look at what it's like now. That's because we changed the direction of the country. We've got a better economic policy, a better education policy, a better health care policy, a better environmental policy, a better foreign policy. And we need to keep changing in that direction.
And people need to understand that once in a lifetime, maybe once in 50 or 60 years, a country gets a chance to do what we've got to do now, with all this prosperity and progress and confidence, with no crisis at home and no threat to our security abroad. We've got a chance and a responsibility to build the future of our dreams for our kids, and we need to put in office people who are committed to that. Every voter needs to understand there are real differences between our party and theirs and our candidates and theirs, starting at the top and going all the way through.
We've got a different economic policy. We want to keep paying down the debt, give people a tax cut we can afford to send their kids to college, to save for retirement, for child care when they're working, for long-term care when they've got their folks or disabled children living at home with them. But we've got to have enough money to invest in education and pay down the debt.
They offer everybody a bigger tax cut, but that and their privatization of Social Security plan and their promise to spend will put us right back in deficits. The Democratic Party is the fiscally responsible party in America today that will keep interest rates lower, and every American will have lower home mortgages, car payments, credit card payments, college loan payments. Businesses will borrow money for less, and they'll create more jobs and higher incomes.
If you want to keep this prosperity going, vote for the Democrats. That's the message that you've got to get out there all over America.
But if you look at all the other areas where we're different—we're for a real Patients' Bill of Rights, and they're not. We're for a Medicare prescription drug program that every senior who needs it can buy into on a voluntary basis, and they only want to help half the people who need the medicine. Their plan won't work. It has already been tried in one State, and they keep on doing it. It's wrong. We are the party that wants to help provide the medicine that our seniors need and deserve, and every American needs to understand that. Every American needs to understand that we are the party for smaller class sizes and modern schools and afterschool and summer school and preschool programs for the kids who need it and a tax deduction to pay for the cost of college tuition so that everybody's child can have 4 years of college. That's the Democratic Party, and people need to know that, and I want you to help them know that.
And for all of you there, the most important thing I want you to do is make sure Julia Carson wins an overwhelming reelection. She's a wonderful woman and a great Representative in Congress.
Thank you, and God bless you all.
NOTE: The President spoke at 4:25 p.m. from the Residence at the White House to the rally at the Indianapolis Colts Complex in Indianapolis, IN. In his remarks, he referred to Joseph J. Andrew, national chair, Democratic National Committee; Gov. Frank O'Bannon, Lt. Gov. Joseph E. Kernan, and State Attorney General Karen Freeman-Wilson of Indiana; and Senator Bayh's wife, Susan. Representative Carson was a candidate for reelection in Indiana's 10th Congressional District.
William J. Clinton, Telephone Remarks to a Rally for Representative Julia Carson Online by Gerhard Peters and John T. Woolley, The American Presidency Project https://www.presidency.ucsb.edu/node/228476