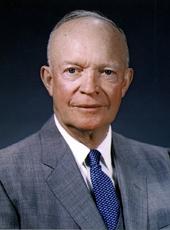 Telephone Broadcast to the AFL-CIO Merger Meeting in New York City.
Mr. Meany, Mr. Schnitzler, members of the Executive Council,

Delegates to this Convention and ladies and gentlemen of the

AFL-CIO everywhere in America:
You of organized labor and those who have gone before you in the union movement have helped make a unique contribution to the general welfare of the Republic--the development of the American philosophy of labor. This philosophy, if adopted globally, could bring about a world, prosperous, at peace, sharing the fruits of the earth with justice to all men. It would raise to freedom and prosperity hundreds of millions of men and women--and their children--who toil in slavery behind the Curtain.
One principle of this philosophy is: the ultimate values of mankind are spiritual; these values include liberty, human dignity, opportunity and equal rights and justice.
Workers want recognition as human beings and as individuals-before everything else. They want a job that gives them a feeling of satisfaction and self-expression. Good wages, respectable working conditions, reasonable hours, protection of status and security; these constitute the necessary foundations on which you build to reach your higher aims.
Moreover, we cannot be satisfied with welfare in the aggregate; if any group or section of citizens is denied its fair place in the common prosperity, all others among us are thereby endangered.
The second principle of this American labor philosophy is this: the economic interest of employer and employee is a mutual prosperity.
Their economic future is inseparable. Together they must advance in mutual respect, in mutual understanding, toward mutual prosperity. Of course, there will be contest over the sharing of the benefits of production; and so we have the right to strike and to argue all night, when necessary, in collective bargaining sessions. But in a deeper sense, this surface struggle is subordinate to the overwhelming common interest in greater production and a better life for all to share.
The American worker strives for betterment not by destroying his employer and his employer's business, but by understanding his employer's problems of competition, prices, markets. And the American employer can never forget that, since mass production assumes a mass market, good wages and progressive employment practices for his employee are good business.
The Class Struggle Doctrine of Marx was the invention of a lonely refugee scribbling in a dark recess of the British Museum. He abhorred and detested the middle class. He did not foresee that, in America, labor, respected and prosperous, would constitute--with the farmer and businessman--his hated middle class. But our second principle--that mutual interest of employer and employee--is the natural outgrowth of teamwork for progress, characteristic of the American economy where the barriers of class do not exist.
The third principle is this: labor relations will be managed best when worked out in honest negotiation between employers and unions, without Government's unwarranted interference.
This principle requires maturity in the private handling of labor matters within a framework of law, for the protection of the public interest and the rights of both labor and management. The splendid record of labor peace and unparalleled prosperity during the last 3 years demonstrates our industrial maturity.
Some of the most difficult and unprecedented negotiations in the history of collective bargaining took place during this period, against the backdrop of non-interference by Government except only to protect the public interest, in the rare cases of genuine national emergency. This third principle, relying as it does on collective bargaining, assumes that labor organizations and management will both observe the highest standards of integrity, responsibility, and concern for the national welfare.
You are more than union members bound together by a common goal of better wages, better working conditions, and protection of your security. You are American citizens.
The roads you travel, the schools your children attend, the taxes you pay, the standards of integrity in Government, the conduct of the public business is your business as Americans. And while all of you, as to the public business, have a common goal--a stronger and better America--your views as to the best means of reaching that goal vary widely, just as they do in any other group of American citizens.
So in your new national organization, as well as in your many constituent organizations, you have a great opportunity of making your meetings the world's most effective exhibit of democratic processes. In those meetings the rights of minorities holding differing social, economic, and political views must be scrupulously protected and their views accurately reflected. In this way, as American citizens you will help the Republic correct the faulty, fortify the good, build stoutly for the future, and reinforce the most cherished freedoms of each individual citizen.
This country has long understood that by helping other peoples to a better understanding and practice of representative government, we strengthen both them and ourselves. The same truth applies to the economic field. We strengthen other peoples and ourselves when we help them to understand the workings of a free economy, to improve their own standards of living, and to join with us in world trade that serves to unite us all.
In the world struggle, some of the finest weapons for all Americans are these simple tenets of free labor. They are again: mart is created in the Divine image and has spiritual aspirations that transcend the material; second, the real interests of employers and employees are mutual; third, unions and employers can and should work out their own destinies. As we preach and practice that message without cease, we will wage a triumphant crusade for prosperity, freedom, and peace among men.
To close, it is fitting that we let our hearts be filled with the earnest prayer that, with the help of a kind Providence, the world may be led out of bitterness and materialism and force into a new era of harmony and spiritual growth and self-realization for all men. Thank you very much.
Note: The President spoke at 2:30 p.m. from Gettysburg.
The meeting was held in the 71st Regimental Armory in New York City. The President's opening words "Mr. Meany, Mr. Schnitzler" referred to George Meany and William F. Schnitzler, President and Secretary-Treasurer, respectively, of the AFL-CIO.
The President's remarks were released at Gettysburg.
Dwight D. Eisenhower, Telephone Broadcast to the AFL-CIO Merger Meeting in New York City. Online by Gerhard Peters and John T. Woolley, The American Presidency Project https://www.presidency.ucsb.edu/node/233773