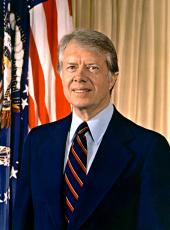 Telegrams to the Heads of Major Oil Companies on Home Heating Oil
I applaud your leadership in initiating Texaco's program to alleviate home heating oil prices and supply hardships this winter.
Members of my staff have already met with Texaco representatives to assure that federal and local activities are coordinated with Texaco's program. In addition, I have sent a telegram to other oil companies asking that they take similar action.
Sincerely,
JIMMY CARTER
Note: This is the text of identical telegrams sent to: Richard I. Galland, director, chairman of the board, and chief executive officer, American Petrofina, Inc.; John E. Swearingen, chairman of the board and chief executive officer, Standard Oil Co. (Indiana); Orin E. Atkins, chief executive officer and chairman of the board, Ashland Oil Inc.; Robert O. Anderson, director, chairman of the board, and chief executive officer, Atlantic Richfield Co.; Alton W. Whitehouse, Jr., chairman of the board, Standard Oil Co. (Ohio); William T. Smith, president, Champlin Petroleum Co.; H. J. Haynes, chairman of the board, Standard Oil. Company of California; Robert V. Sellers, chairman of the board and chief executive officer, Cities Service Co.; Robert G. Reed, chief executive officer, Clark Oil and Refining Corp.; Oscar S. Wyatt, Jr., chairman of the board, Coastal States; R. E. Bailey, chairman of the board and chief executive officer, Conoco, Inc.; Henry A. Rosenberg, Jr., chairman of the board, Crown Central Petroleum Corp.; Clifton C. Garvin, Jr., chairman of the board and chief executive officer, Exxon Corp.; John F. Anderson, president, Farmland Industries Inc.; Harold E. Berg, chairman of the board, Getty Oil Co.; Jerry McAfee, chairman of the board, Gulf Oil Corp.; Leon Hess, chairman of the board and chief executive officer, Amerada Hess Corp.; McClaran Jordan, president, Kerr-McGee Refining Corp.; Charles Koch, chief executive officer, Koch Industries, Inc.; H. D. Hoopman, president and chief executive officer,. Marathon Oil Co.; Rawleigh Warner, Jr., director. chairman of the board, chairman of executive committee, and chief executive officer, Mobil Oil Corp.; W. F. Martin, chairman of the board and chief executive officer, Phillips Petroleum Co.; John F. Bookout, Jr., chief executive officer, Shell Oil Co.; Theodore A. Burris, chairman of the executive committee, chairman of the board, and president, Sun Oil Company, Inc.; James L. Ketelsen, chairman of the board, chief executive officer, and president, Tenneco, Inc.; Morton M. Winston, chief executive officer and president, Tosco Corp.; and Fred L. Hartley, president and chairman of the board, Union Oil Company of California
Jimmy Carter, Telegrams to the Heads of Major Oil Companies on Home Heating Oil Online by Gerhard Peters and John T. Woolley, The American Presidency Project https://www.presidency.ucsb.edu/node/247785