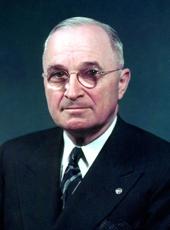 Telegrams to Management and Labor Leaders Concerning Industrial Disputes Involving the General Motors Corporation and the U.S. Steel Corporation.
I HAVE TODAY sent a message to the Congress recommending legislation authorizing the President to appoint fact finding boards in industrial disputes involving nation-wide industries on the certification by the Secretary of Labor that collective bargaining and conciliation have failed to produce agreement and that stoppage of work would vitally affect the national public interest.
The following is an excerpt from that message:
"In order to avoid any delay in the settlement of the most important existing strikes, I am appointing such a Fact-finding Board for the present stoppage in the dispute between General Motors Corporation and the United Automobile Workers. While this board will not have the statutory powers which I hope the Congress will soon authorize, I am sure that the American people will expect the employer and the employees to cooperate with the board as fully as if appropriate legislation had already been passed.
"In the meantime, I am asking both parties to the dispute to display the same kind of patriotism as they displayed during the war. I am asking all the workers to return to work immediately, and I am asking the employers to proceed energetically with full production. I make this appeal on behalf of the American people to their fellow citizens who are now responsible for this major obstacle holding up our reconversion program.
"In connection with the threatened strike involving the United States Steel Corporation and the United Steel Workers, I am appointing a similar board. The public will expect full cooperation with the board by both sides. I am making the same appeal to the United Steel Workers to remain at work pending the report of the board's findings and recommendations."
I hope very much that it will be possible for you to comply with this request of the President of the United States.
HARRY S. TRUMAN
Note: This is the text of identical telegrams addressed to Mr. Charles E. Wilson, President, General Motors Corporation; Mr. Philip Murray, President, United Steel Workers of America; Mr. Benjamin F. Fairless, President, United States Steel Corporation; Mr. R. J. Thomas, President, and Mr. Waiter Reuther, Vice President, United Automobile Workers of America.
Harry S Truman, Telegrams to Management and Labor Leaders Concerning Industrial Disputes Involving the General Motors Corporation and the U.S. Steel Corporation. Online by Gerhard Peters and John T. Woolley, The American Presidency Project https://www.presidency.ucsb.edu/node/230021