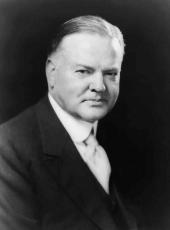 Telegram to the Chairman of the Republican National Committee on Election Results in Maine
The result of the election in Maine imposes need for renewed and stronger effort that the people may fully understand the issues at stake. We have known all along that, owing to the ravages of the world depression, our fight is a hard one; but we have a strong case and a right cause. Our task is to acquaint every man and woman in the country with the facts and issues which confront the nation.
In periods of emergency and stress, steadfast adherence to sound principles of government is indispensable to national security and a prerequisite to recovery in business, agriculture and employment. Adherence to these principles has saved the country during the last twelve months from all manner of destructive panaceas. This adherence and the measures' and policies we have adopted have preserved these principles and laid the foundation for recovery.
My chief concern now is that the work of reconstruction shall go forward steadily and that the forces we have mobilized to that end, and which are beginning to prove effective, shall continue. This transcends all personal and partisan considerations.
HERBERT HOOVER
[Hon. Everett Sanders, Chairman, Republican National Committee, Palmer House, Chicago, Ill.]
Note: The telegram was in response to a message from Mr. Sanders, also dated September 13, which follows:
The President:
The narrow margin of democratic success in the Maine gubernatorial contest is plainly insufficient to assure that state to the democratic presidential candidate eight weeks hence, and I firmly expect you to carry that state. I was of course disappointed in the vote but not greatly disturbed. Since eighteen eighty Maine has five times in presidential years elected a governor, state ticket and congressional delegation in September of opposite political faith to the president elected sixty days later. After the defeat of the republican candidate for governor in Maine in September eighteen eighty the country rallied to the importance of national issues and returned President Garfield triumphantly in November, the state of Maine reversing its September position. I have every confidence that history will repeat itself in November in Maine and that throughout the country the verdict of the people on National issues will be overwhelming in your favor.
EVERETT SANDERS
Herbert Hoover, Telegram to the Chairman of the Republican National Committee on Election Results in Maine Online by Gerhard Peters and John T. Woolley, The American Presidency Project https://www.presidency.ucsb.edu/node/207511